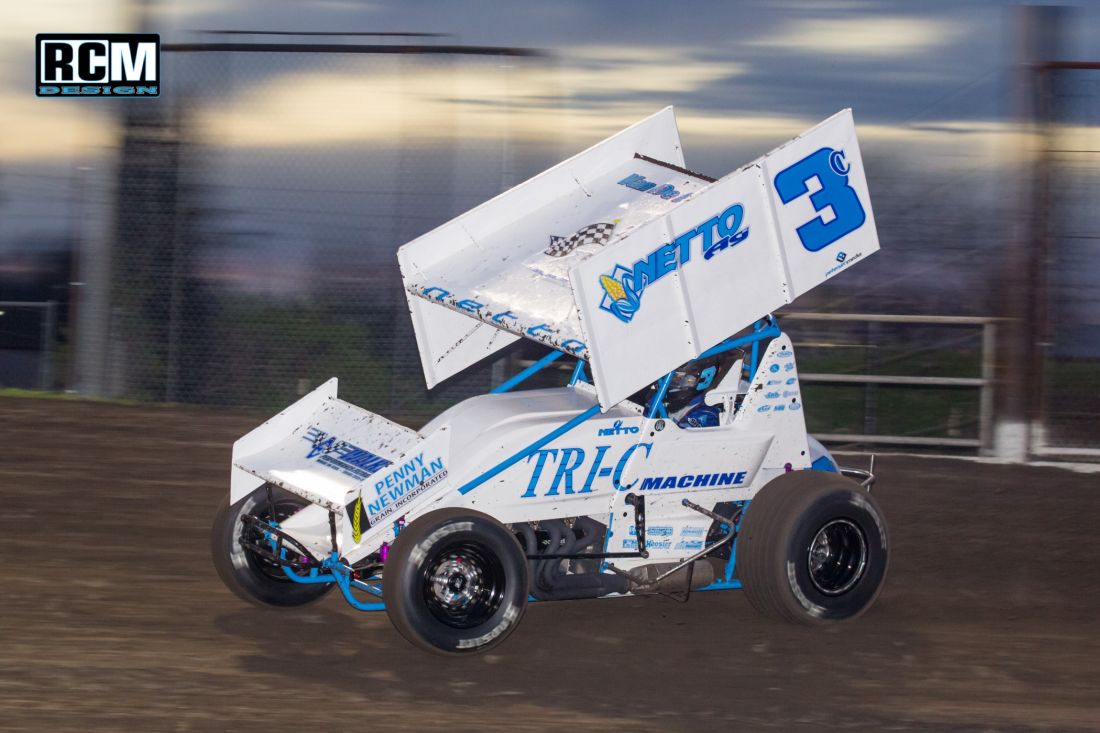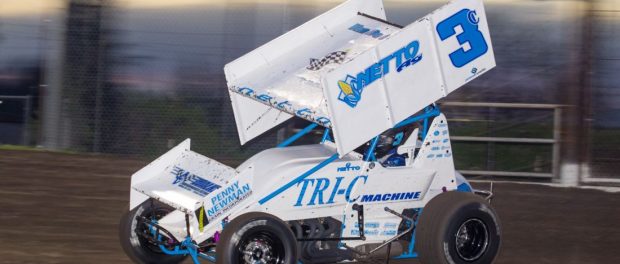 From Petersen Media
One week after winning his season opener in Marysville, CA, DJ Netto pocketed a second place finish in his first 410ci race of the year. Traveling to Chico, CA for the Mini Gold Cup, Netto battled with Kyle Hirst on a slick surface before coming up just short of his second win of the season.
"We had a really good car all night long on Friday, and had something for Kyle if the rubber doesn't go down on the track" DJ Netto said. "We were really good up top, and in traffic he got to searching and got up before I could get around him, and then it was on."
Timing the Clyde and Marion Lamar No. 3c machine in fifth fastest in qualifying time trials, Netto would battle with Sean Watts in heat race action before a late run would see him come up just inches short of the win.
Moving into the redraw, the Hanford, CA driver would the 'four' pill and grid the field from the second row for the 25-lap 'A' Main. Battling with Sean Watts for the opening laps for the third spot, Netto would soon get the position as he then set his sights on second running, Willie Croft.
Able to use the top to his advantage, Netto would get by Croft on the fifth lap and then his pursuit for the lead ramped up. As Kyle Hirst continued to work the bottom, Netto pounded the top and closed in on the race leader as laps continued to click off.
Just after the race's halfway point, lapped traffic came into play and Netto was in position to pounce. Glued to the top, Netto would see traffic force Hirst up to the top just ahead of him and his progress would slow as Hirst too found the rubber that was starting to go down on the speedway.
Continue to stalk Hirst's every move, Netto remained in the second spot as the race drew to a close. Taking a shot on the last lap, Netto would make things close, but Hirst would have too much grip and he would settle for a second place finish.
"We have been able to get two races in now, and we have really had an extremely strong car both nights," Netto added. "We head to Las Vegas, NV this week to meet up with the World of Outlaws, and I have some confidence heading into a track that I have struggled at in the past. I have to thank Clyde and Marion Lamar for what they continue to do for me, as well as my family, and my guys who work on this thing."