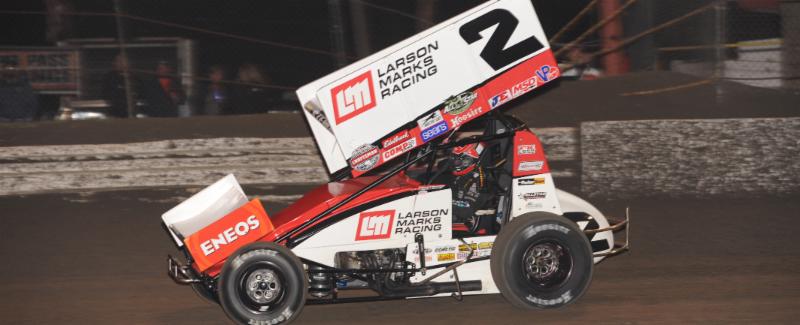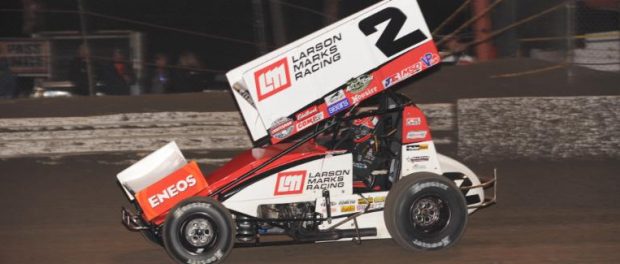 From Spire Sports & Entertainment
MOORESVILLE, N.C. (March 13, 2017) – The World of Outlaws Craftsman Sprint Car Series traveled further west to double-down in Sin City. The Larson Marks Racing team competed Thursday and Friday night at the Dirt Track at Las Vegas Motor Speedway and earned two top-10 finishes.
On Thursday, Larson Marks Racing driver Shane Stewart went out 18th in Qualifying Group 2 and earned the second-quickest lap time of the night. He started on the pole of the fourth heat race and led every lap to transfer into the Craftsman Club Dash. After the four pill was drawn for the inversion, Stewart started on the pole of the dash and won, earning the pole starting position for the 25-lap main event.
After taking the green flag, Stewart jumped to the early lead. He quickly approached lapped traffic and on lap 6 he got tangled with a lapped car. After going to the work area, the Larson Marks team, with help from other crews, made repairs to the No. 2 and Stewart restarted from the rear of the field. The caution was displayed with 9 laps remaining and Stewart restarted in the 16th position. He would advance seven more positions in the closing laps to earn a ninth-place finish.
On Friday, Stewart timed in with the seventh-quickest lap time in Group 2 of qualifying. He started and finished fourth in the third heat race. After starting the 30-lap main event from the 14th position, Stewart was up to seventh by the halfway point of the race. In the closing laps of the race, Stewart advanced two more positions to earn a fifth-place finish.
"It was a good weekend for our Larson Marks team," said Stewart. "We had fast cars both nights, unfortunately I messed up Thursday night and set the team back in the feature. I'm thankful the LMR guys were able to make repairs and get me back out on track to rebound."
The Larson Marks Racing team will be back in action on Friday, March 17 at Thunderbowl Raceway in Tulare, Calif.