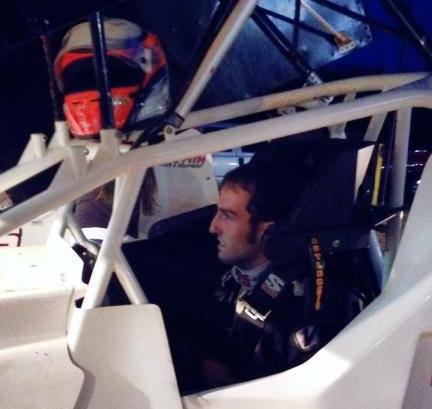 Inside Line Promotions

HIGHLANDS, Texas (March 21, 2017) – Channin Tankersley has a new look in 2017.
Tankersley, who moved to Ohio last December for a new job, is teaming up with Kyle Turner Motorsports for approximately 20 races this season. That partnership begins this Saturday when the duo will compete at Battleground Speedway in Highlands, Texas, for the 10th annual Gulf Coast Nationals with the ASCS Gulf South Region.
"I raced a couple of races for him last year," Tankersley said. "It's pretty much a new partnership. He's super laid back and gave me free reign to do it how I want. He gives us what we need and I couldn't ask for anything more than that."
Tankersley said he is flying home later this week to finish the race car in preparation to compete at his home track.
"I'm looking forward to it because I get to race and I get to see my family," he said. "I haven't been back home since around New Year's."
Tankersley is coming off a career-best season when he recorded his second ASCS Gulf South Region championship and five feature victories, including one at Battleground Speedway. He also finished second at the track during the only other ASCS Gulf South Region race at the bullring.
"Battleground Speedway is only a few minutes from my parent's house so we've been there a lot throughout the years," he said. "It's a track I usually run well at so hopefully that trend continues with Kyle Turner Motorsports on Saturday. I think we can be a contender right out of the box."
UP NEXT –
Saturday at Battleground Speedway in Highlands, Texas, for the 10 th annual Gulf Coast Nationals with the ASCS Gulf South Region
MEDIA LINKS –
Facebook: https://www.facebook.com/ChanninTankersley
Twitter: https://twitter.com/TankRacing
APPAREL –
Tankersley has t-shirts ranging from youth medium to 4XL for sale at his race trailer.
SPONSOR SPOTLIGHT – Challenger Drilling
Based in Tomball, Texas, Challenger Drilling specializes in providing quality Horizontal Directional Drilling services to a variety of markets, including Oil and Gas Transmission, Cathodic Protection, Water and Sewer. For more information, visit http://www.ChallengerDrilling.com .
"Jeff with Challenger Drilling has been helping me since 2012 and has been a great asset to our team," Tankersley said. "I really appreciate his support."
Tankersley would also like to thank Kyle Turner Motorsports, Blackfoot Electric and Day Motorsports for their continued support.
INSIDE LINE PROMOTIONS –
Inside Line Promotions specializes in affordable public relations and media management for motor sports drivers, teams, sponsors, tracks, series, events, organizations and manufacturers. ILP Founder Shawn Miller leverages professional journalism with new media technologies and social networking to improve your exposure and the return on investment for your sponsors.
To meet the media relations needs of your program by joining Team ILP, contact Shawn at 541-510-3663 or Shawn@InsideLinePromotions.com . For more information on Inside Line Promotions, visit http://www.InsideLinePromotions.com .