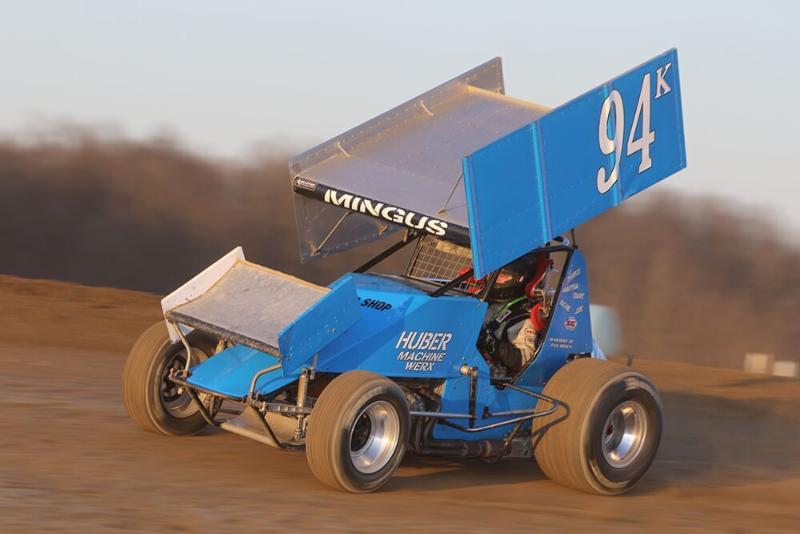 Inside Line Promotions
HURON, Ohio (March 23, 2017) – Although last year was his first year on dirt, Kevin Mingus views the upcoming season his rookie year as he will no longer split time between a 305ci winged sprint car on dirt and a pavement late model.
The focus is dirt this year and Mingus can hardly contain his excitement to start the season this Friday at Attica Raceway Park in Attica, Ohio.
"This is my 13th season overall, but realistically my first full year on dirt," he said. "Last year we had about 22 races scheduled for the late model and 15 for the sprint car and we lost quite a few to rain. This year we have 45 scheduled for the sprint car. It's the most races ever for me.
"We really didn't get a lot of time in the sprint car. In asphalt racing you get two sets of hot laps, qualifying, 10-lap heats and a feature. You get a lot more time to adjust on the car. With the dirt deal you get a couple of laps of hot laps, an eight-lap heat and a 10-lap B Main. You get less than 25 laps unless you make the A Main. It did give me and Kurt (Huber, the team owner) a chance to work on communication and learn setups."
Over the winter Mingus and the Kurt Huber Racing/Kevin Mingus Motorsports team worked to improve the equipment, including a newer chassis and engine.
"While things like reaction time can carry over to the dirt the rest is completely new to me," Mingus said. "Heck, I had to learn the whole tear-off deal. And everything is either new or different on the car this year. But I think I learned how to communicate with Kurt on what I'm feeling and that will be a huge help. All the tools are there for us this year. We just need to put it in the right order. Hopefully all the hard work pays off and by the time we get to June we're making the A Main on a consistent basis."
Mingus knows he will learn a lot this year and appreciates the hard work his team has put in this winter.
"Look at those national power rankings and most of the top drivers compete at Attica and Fremont (Speedway in Fremont, Ohio) each week," he said. "I learned so much just watching them last year."
UP NEXT –
Friday at Attica Raceway Park in Attica, Ohio
MEDIA LINKS –
Facebook: https://www.facebook.com/Kevin-Mingus-Motorsports-149334941749104
Twitter: https://twitter.com/KevinMingus
Snapchat: Kevinoz10
SPONSOR SPOTLIGHT – Huber Machine Werx
Huber Machine Werx, which is based in Vermillion, Ohio, and is owned by Kurt and Martha Huber (Kurt is a former sprint car driver), does machining work for small companies.
"Kurt and all the guys on the team have put in a tremendous amount of time this winter and they will all season," Mingus said. "We all work regular jobs during the week and then spend evenings in the shop and weekends at the track. No one gets paid. They do it because they love the sport and love being a part of it and we try to make it fun. I'm a little in shock that we are ready to go racing already and that all these people believe in me. I can't thank them all enough."
Mingus would also like to thank DB3 Imaging, Mid-America Chemical Corporation, Jamie and Austin Neel, Hillbilly Rod Shop, Midwest Equipment Company Crane Rental and FK Rod Ends for their continued support.
INSIDE LINE PROMOTIONS –
Inside Line Promotions specializes in affordable public relations and media management for motor sports drivers, teams, sponsors, tracks, series, events, organizations and manufacturers. ILP Founder Shawn Miller leverages professional journalism with new media technologies and social networking to improve your exposure and the return on investment for your sponsors.
To meet the media relations needs of your program by joining Team ILP, contact Shawn at 541-510-3663 or Shawn@InsideLinePromotions.com. For more information on Inside Line Promotions, visit http://www.InsideLinePromotions.com .