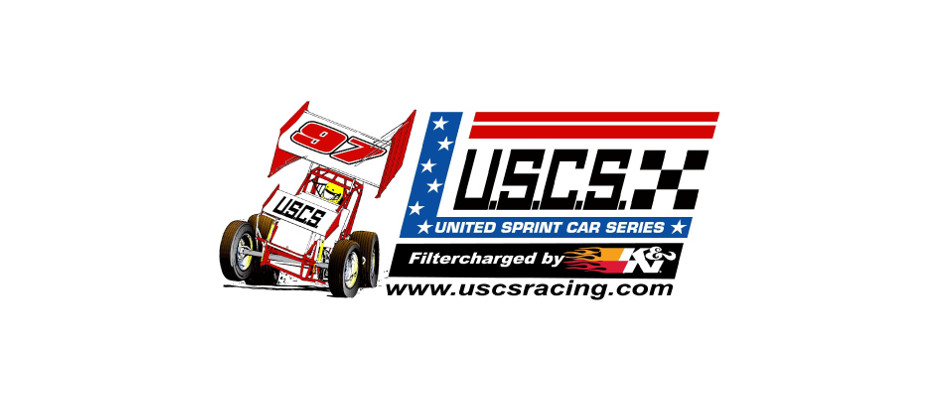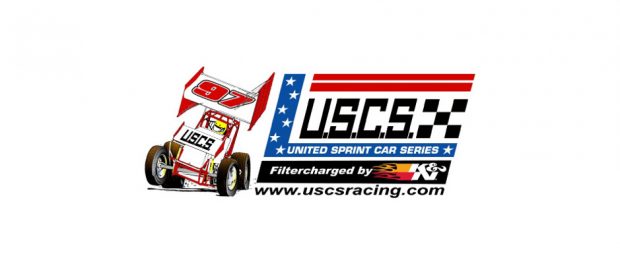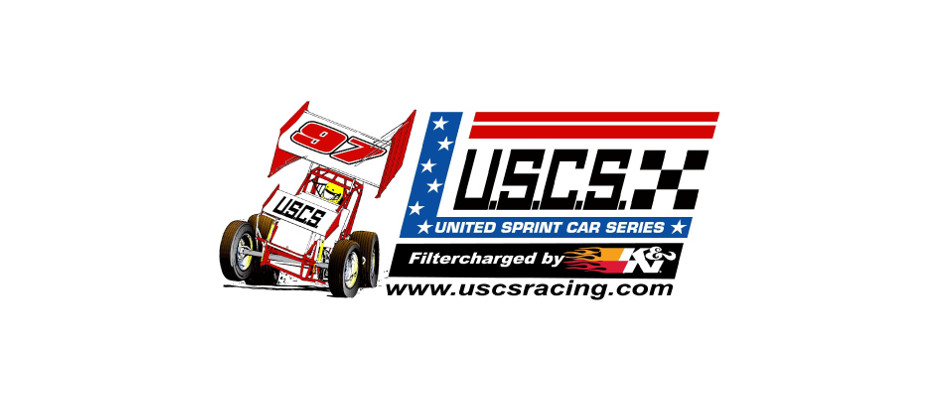 From Pete Walton
ATLANTA (March 25, 2017) – The Fayetteville, Georgia based United Sprint Car Series Outlaw Thunder Tour presented by K&N Filters winged sprint cars make their spring 2017 visit to Bubba Raceway Park in Ocala, Florida on Friday March 31st and Saturday April 1st. The event is entitled the USCS Spring Speed Xplosion. The series' 130 mile-per-hour USCS winged Outlaw type sprint cars headline the two-day weekend of racing action at the semi-banked three-eighths mile D-shaped oval track. The racing card also includes the 100 mile per hour www.rockauto.com USCS 600 Sprint Car Series winged mini sprints and Florida Mini Sprint Action series on both nights in a head to head duel. Saturday's racing card will add two popular Bubba Raceway Park divisions when the V-8 Thunder Stock and Florida T. Q. Late Models join the weekend's action.
The United Sprint Car Series portion of the event will give a driver who can sweep the weekend's elements an opportunity to pick up $3500 in cash prize winnings plus contingency awards including Friday night's 20-lap preliminary USCS sprint car main event win and by arriving first in the www.rockauto.com USCS Victory Lane. Saturday night's 30-lap Championship final as well.
The event is expected to draw winged sprint car drivers from at least seven states including several of the series 2016 feature winners. Heading the entry list is 2015 and 2016 USCS National Champion, Morgan Turpen from Cordova, Tennessee who is also the current National points leader.
Morgan Turpen was a five-time USCS main event winner in 2016. The 23-year-old Turpen struck first in the series 2017 racing season at Hattiesburg Speedway in Mississippi with a trip to the www.rockauto.com USCS Victory Lane as the victor in the season opener. She bested last season's USCS Rookie of the Year, teenager Danny Sams III from Englewood, Florida and three-time NASCAR Sprint Cup Champion Tony Stewart from Columbus, Indiana in the runner-up and third positions at the top of a talented 25 car field.
Turpen is an eleven-time USCS feature winner and the top ranked female sprint car driver in the country. She currently leads her team-mate and 11-time USCS National Champion, Terry Gray who is in the runner-up spot in the National point standings by less than 10 points. Gray, who is also at the top of the talented entry list, was also a 2016 USCS feature winner and has 90 career USCS feature wins.
An impressive list of top drivers from the Southeastern United States are entered including 2016 USCS Florida State Champion Danny Martin, Jr. from Sarasota, Florida. Martin stormed to a win on both nights of that USCS stop at Bubba Raceway Park to sweep the event. Martin also won five times in USCS competition in 2016 while running a limited schedule.
Another challenge for all these drivers will be to beat track favorite 15-year-old Tyler Clem from Tampa, Florida who won in three different type race cars at the track in 2016. (Sprint Car, Late Model and Modified). Clem, at age fourteen, finished in the runner-up spot behind Martin in last September's Florida State Championship Race.
Other expected USCS Outlaw Thunder Tour entries for the USCS Spring Speed Xplosion include: The 2015 USCS Rookie of the Year, Nick Snyder from Marco Island, Florida and 2016 USCS Rookie of the Year, 15-year-old Danny Sams III from Englewood, Florida are both entered as well. Danny Sams III is in third place in the National point standings behind Turpen and Terry Gray.
A pair of racing brothers, Brandon McLain, who was the 2014 USCS Rookie of the Year, and past Carolina Racesaver Sprint Series Champion, Jake McLain both from Indian Trail, North Carolina are entered as well. Former Carolina Racesaver Sprint series Champion Jake McLain from Indian Trail, North Carolina are on the list as well. Jake McLain was also a past USCS Southern Thunder Tour Rookie of the Year Two other Carolina drivers, Jimmy Mabe, who came out of retirement late last season and his team-mate Matt Carr, both from Fayetteville, North Carolina are pre-entries. Matt Carr is an accomplished mini sprint racer and will be competing for the USCS Rookie of the Year title.
Other past series Rookie of the Year drivers joining the Carolina duo on the entry list will be 2012 USCS Rookie of the Year, Jeff Willingham from Ripley, Mississippi and 2011 USCS Rookie of the Year and 2016 season finale winner Jordon Mallett from Greenbrier, Arkansas who is fifth in the USCS National point standings.
. .
Newcomer to the series Garrett Green from Valrico, Florida who is quite accomplished as an eighteen-year-old sprint car driver and has wins on both paved and dirt ovals. Green was the Anderson Speedway (Indiana) Little 500 Rookie of the Year" in the famed 500-lap race held on Memorial Day weekend h year at age thirteen. Green plans to compete regularly with the USCS in 2017 and will strengthen the line-up of USCS regulars on the tour in the title chase.
Other veteran sprint car drivers expected to enter include Joe Larkin from Suwannee, Georgia and Brian Thomas from Pendergrass, Georgia. A first-time USCS competitor from the State of California is Jeff Oliver who is now a resident of Georgia and will enter both nights.
Seven drivers who hail from the state of Florida that are USCS regulars are also entered including Terry and Tanner Witherspoon, Shawn Murray and Darren Orth all from Jacksonville, Florida. Two more Sunshine State veteran USCS regulars entered are Tony Agin from Fort Myers and Bob Auld from Largo are pre-entered as well.
The showdown between the Florida based Florida Mini Sprint Action series and the www.rockauto.com USCS 600 Sprint Car Series winged mini sprint series is also expected to draw entries from as far away as North Carolina and Mississippi. Those USCS entries include Two-time Champion, Bobby Zaiontz from Columbus, Mississippi and 2015 and 2016 series Champion Remeno Loyal from Powder Springs, Georgia. Also entered is young gun Conner Morrell from who was the 2016 www.rockauto.com USCS 600 Sprint series Rookie of the Year. Morrell leads the series point standings after a solid first weekend when he won the season opener at Hattiesburg Speedway on March 3rd.
Also, entered in the USCS mini sprint division is 2016 title runner-up David Hall from Tampa, Florida. Hall's team-mates, Dirk Miller, and Robby Hoffman also from Tampa, Florida and who were all three 2016 feature race winners in the series are entered. FMSA defending Champion, Robbie Smith and the whole contingent of FMSA regulars are expected to be at Bubba Raceway Park to defend their home turf against the invaders from the North.
Bubba Raceway Park is located at 9050 N.W. Gainesville Rd. in Ocala, Florida 34482 The track telephone: is 352.622.9400. For event info please visit www.bubbaracewaypark.com or the speedway's Facebook page at Bubba Raceway Park. The USCS series Official website is located at www.uscsracing.com The USCS phone numbers are Office at 770-460-7223 or Mobile at 770-865-6097.