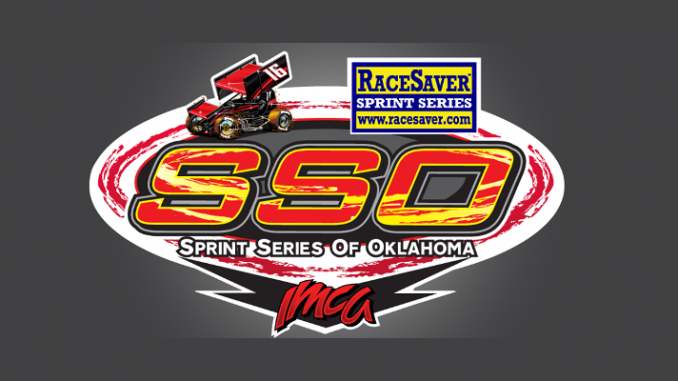 From David Smith Jr.
PARK CITY, Ks. (April 17, 2017) – The Sprint Series of Oklahoma IMCA Racesaver Sprint Car Series presented by Smiley's Racing Products is ready for point race number two on the season as they make a special Friday night appearance at Southern Oklahoma Speedway in Ardmore this Friday night. The SSO will be joined once again by the Sprint Series of Texas.
When the tour opened their season at the Southern Oklahoma race track it was current SSO point leader Chad Koch getting the best of a thirty-one-car field to claim his first career series victory and he became the eleventh different SSO feature winner in the past eleven events held dating back to last year's inaugural season. John Carney II won the first two events of 2016 and since then Brandon Long, Carney, Jake Martens, Michelle Melton, Chad Wilson, Joe Wood, Jr., Andy Shouse, Luke Cranston, Marcus Thomas, Austin Mundie and Koch have all reached victory lane.
Pauls Valley's Gary Owens currently sits second in the SSO points, just one point out of the point lead, while SST regular Michael Day, Jake Martens and Michelle Melton round out the top five.
Drivers six through ten in the current point standings are also expected, including Joe Wood, Jr., Dale Wester, Brandon Long, Zach Blurton and Jesse "Chip" Graham.
Other touring regulars expected include defending series and IMCA national champion Andy Shouse, Cody Whitworth, Loyd Clevenger, Shayla Waddell, Jerry Jumper, Chris Kelly, Blake Baccus and Blake Scott. A strong field of rookie of the year contenders will be on hand, including Dillon Laden, Josh Toho and Tanner Conn.
Newcastle, Oklahoma's Steven Shebester will be making his debut into sprint car racing from the micro scene.
This event will be race number three on the season for the Sprint Series Texas and are led by current point leader Dale Wester.
He will come into the night holding a slim two-point lead of Michael Day while Jesse "Chip" Graham sits third in the SST standings, just four points out of the top spot. Robert Vetter, Jeff Day, Blake Baccus, Tucker Doughty (who won the series season opener back in February), Koch, Austin Mundie and Owens all round out the series top ten.
Gates will open at 5:00 PM with race action slated for a 7:30 PM start time for the SSO and SST Friday night showdown at Southern Oklahoma Speedway. Grandstand admission will be $20 for adults; $15 for ages 6-12 with all pit passes $30.
Southern Oklahoma Speedway is located off of I-35 to exit 29, east on Hwy 70 approximately 0.7 mile, then south on Hwy 77 for two miles. Track information can be found on their official website www.southernoklahomaspeedway.com; their facebook page: Southern Oklahoma Speedway.
Information on the Sprint Series of Texas can be found on their official website www.racesst.com and their facebooke page: Sprint Series of Texas.
To learn more about the Sprint Series of Oklahoma check out their official facebook page: Sprint Series of Oklahoma. More information can be obtained by SSO director Jim Messmer (405) 417-2202 and for technical inquires call Ernie Messmer (405) 818-9007.
SSO officials would like to welcome Smiley's Racing Products for becoming presenting partner with the series as they will be giving $1000 cash to the 2017 SSO champion.
The series would also like to thank the following for climbing aboard as contingency partners with the series for 2017: Hoosier Racing Tires, Danny Holloway, Martens Machine Shop, Saldana Racing Products, Pyrotech Race Cells, Rod End Supply, Outlaw Wings, Keizer Wheels, Bishops Racing Products and Messmer Racing.
Current 2017 Sprint Series of Oklahoma presented by Smiley's Racing Products point standings as of March 25:
1) Chad Koch 40
2) Gary Owens 39
3) Michael Day 38
4) Jake Martens 37
5) Michelle Melton 35
6) Joe Wood Jr. 34
7) Dale Wester 32
8) Brandon Long 31
9) Zach Blurton 30
10) Jesse "Chip" Graham 29
11) Loyd Clevenger 28
12) Josh Toho 26
13) Dillon Laden 25
14) Robert Vetter 24
15) Chris Kelly 22
16) Andy Shouse 21
17) Shayla Waddell 16
18) Jerry Jumper 14
19) Tanner Conn 13
20) Blake Baccus 12
Current Sprint Series of Texas Point Standings:
1) Dale Wester 70 Points
2) Michael Day 68 Points
3) Chip Graham 66 Points
4) Robert Vetter 58 Points
5) Jeff Day Jr 46 Points
6) Blake Baccus 43 Points
7) Tucker Doughty 40 Points
.. Chad Koch 40 Points
9) Austin Mundie 39 Points
.. Gary Owens 39 Points