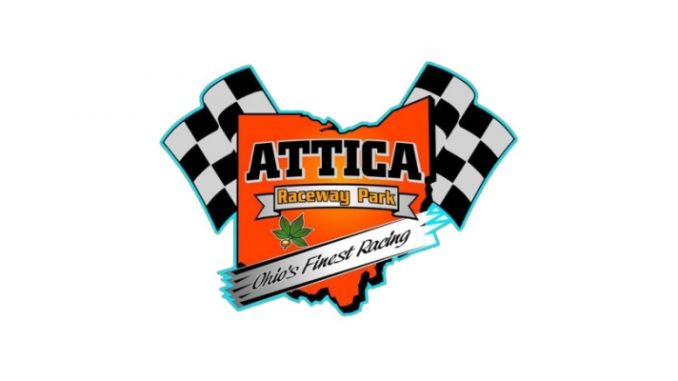 From Brian Liskai
ATTICA, Ohio (April 21, 2017) – Once in the lead, Doug Drown pulled away for a convincing late model victory on Bazell Race Fuels Night at Attica Raceway Park. Paul Weaver would also dominate in the 305 sprint feature while Shawn Valenti scored a half track victory in the dirt trucks as well.
In the Summit Racing Equipment UMP Late Model feature Drown, who rolled off 11th on the starting grid, battled Rusty Schlenk for several laps mid-way through before taking the lead on lap 16 and then pulled away the remaining laps for his second win of the season. Ironically, the victory ties Drown with Schlenk for the top spot in all time wins in the division at Attica, each with 22 checkers.
"It was a heck of a race between two of the best here when you go off the wins. It was fun racing with him (Schlenk) like that. I kept seeing him there and knew I wasn't pulling away really and the lapped traffic I got lucky and picked them off. It was a heck of a battle. I don't think I've been up on the wheel like that going in and out of traffic and racing for position. Hats off to the guys…Cody has a new set-up on tonight. I was a little disappointed on my end last Saturday..as Mrs. Burns calls it 'a half bubble off' …we weren't half a bubble off tonight. I also want to thank Keith Berner and Brent for giving me a heck of a shock package," said Drown beside his Hall's Auto Sales, Efco Power Equipment, ABR Farms, Kar Connection, Malcuit Racing Engines, Hoosier Tires backed machine.
Paul Weaver, who failed to start the feature last Saturday due to engine problems, took the lead in the Fremont Fence 305 Sprint feature on lap seven and pulled away until a red flag on lap 11. But that didn't slow down Attica's defending track champion as he drove away when the green reappeared to record his third win out of four events. For Weaver, who leads all drivers in career 305 sprint wins, it was his 38th victory at "Ohio's Finest Racing" speedplant.
"This thing is so easy to drive you or even my wife could win with it. I've raced for about 30 years now and I'll say if I had this car from day one…it would be the oldest car out there..I'd never sell it. This is an '09 Maxim. Bob Hampshire had it in his loft for about three years. I wrecked my car and asked if he wanted to sell it and I've had it on and off the track a couple of times and wrecked it. He called Maxim and they had one more just like it and he bought it. I think he's saving it for Creed (Kemenah) his grandson," Weaver said.
"When I turned 50 last November I didn't think I'd win another race so I must be going down hill from here," joked Weaver.
Valenti, who is also racing a 410 sprint car in 2017, led all 15 laps of the dirt truck feature, taking the checkers over a half a track ahead of the field for his 12th career Attica victory.
"We're just out here having fun. Learning to buzz the cushion around here in a 410 definitely helps in this thing. I have to thank A+ Auto Center. If anyone needs car work done go see Adam Jones. Also want to thank Craig Miller Trucking, Best Performance, Dave Story Equipment and JP Enterprise. Without these guys it wouldn't be possible," Valenti said.
In the 25 lap late model feature Charlie Duncan and Jarrett Rendel brought the field to green with Duncan gaining the advantage as Ryan Markham took second bringing Schlenk to third. Duncan pulled away slightly as Markham and Schlenk battled for second with Devin Shiels and Drown in tow.
Rendel would bring out the caution with five laps and on the restart Gregg Haskell and Bob Hornikel got together.
When the green flew the battle was on between Duncan, Schlenk, Markham and Drown. Duncan and Schlenk raced side by side over the next four laps before Schlenk drove to the high side of Duncan for the lead on lap 10. Schlenk raced into lapped traffic by lap 12 with Duncan and teammate Drown battling for second with Markham staying close.
Schlenk encountered heavy lapped traffic with 10 laps to go, allowing Drown and Markham to close as Duncan faded to fourth. Drown used the lapped cars to his advantage to take the lead on lap 16 and pulled away slightly.
Schlenk had one last rally in him and closed on Drown's rear bumper with five laps to go. Drown would slice his way through the lapped cars and took the win over Schlenk, Markham, Duncan and Eric Spangler.
Seth Schneider and Kelsey Ivy brought the field to green for the 25 lap 305 sprint feature with Schneider taking the lead over fourth starter Weaver with Ivy, Jason Keckler and Ricky Peterson in tow.
The action was halted by a Brad Keckler spin with three laps in. Weaver used the restart to apply pressure to Schneider with Jason Keckler, Nate Dussel (up from 11th), Peterson, Steve Rando and Jordan Ryan in pursuit. Weaver executed a perfect slider for the lead on lap seven and quickly pulled away.
Heavy lapped traffic faced the leaders by lap 10 with Weaver leading Schneider while Jason Keckler and Dussel battling for third. Ryan and Rando tangled on lap 11 with both flipping on the front stretch. Both drivers were uninjured but Weavers lead was wiped out.
When the green flew so did Weaver, pulling away to a commanding lead while Schneider ran comfortably in second with Jason Keckler, Dussel and now Jamie Miller having an entertaining battle for third.
Weaver's lead was insurmountable as he took the white flag. Schneider would slip off the cushion in turn two, giving second to Dussel. Weaver would drive to nearly a five second victory over Dussel, Miller, Jason Keckler and Kyle Capodice.
The 15 lap dirt truck feature was essentially over when the green flew. Outside front row starter Valenti jumped into the lead and disappeared from the field. However, the race for second was very entertaining involving Cory McCaughey, Matt Foos, Dustin Keegan and Jim Holcomb.
Valenti would take the checkers in the non-stop affair over Foos, Keegan, McCaughey and Holcomb.
Attica Raceway Park will be back in action Friday, April 28 on Kear's Speed Shop Night. It will be an All Pro Aluminum Cylinder Heads FAST Championship Series presented by Ohio Logistics night for the Hammer Pallets 410 Sprints and a JLH General Contractor FAST 305 Sprint Series presented by Engine Pro with the late models also in action.
For more information go to www.atticaracewaypark.com or follow the track on Twitter @atticaracewyprk or on Facebook at www.facebook.com/atticaracewaypark and Instagram at attica_raceway_park.
Attica Raceway Park
Bazell Race Fuels Night
Friday, April 21, 2017
Staring position [*]
Fremont Fence 305 Sprints
Heat 1 – (8 Laps, top 5 to A)
1. 94K-Kevin Mingus[1] ; 2. 20I-Kelsey Ivy[2] ; 3. 8-Bobby Clark[6] ; 4. 1W-Paul Weaver[8] ; 5. 77I-John Ivy[7] ; 6. 2L-Landon LaLonde[3] ; 7. 47-Matt Lucius[4] ; 8. 49H-Jerry Hill[5]
Heat 2 – (8 Laps, top 5 to A)
1. 66-Jamie Miller[3] ; 2. 11X-Jordan Ryan[5] ; 3. 36-Seth Schneider[2] ; 4. 12-Kyle Capodice[6] ; 5. 1X-Tyler Street[1] ; 6. 23-Chase Baker[4] ; 7. 3X-Brad Keckler[7] ; 8. 09-Justin Adams[8]
Heat 3 – (8 Laps, top 5 to A)
1. 19R-Steve Rando[2] ; 2. 25-Jason Keckler[1] ; 3. 1-Nate Dussel[7] ; 4. 2-Ricky Peterson[4] ; 5. 9R-Dustin Rall[5] ; 6. 14-Luke Daugherty[3] ; 7. 66D-Chase Dunham[6] ; 8. 67-Allan Ferrell[8]
B-Main 1 – (10 Laps, top 5 to A)
1. 2L-Landon LaLonde[1] ; 2. 23-Chase Baker[2] ; 3. 3X-Brad Keckler[5] ; 4. 14-Luke Daugherty[3] ; 5. 66D-Chase Dunham[6] ; 6. 09-Justin Adams[8] ; 7. 47-Matt Lucius[4] ; 8. 49H-Jerry Hill[7] ; 9. 67-Allan Ferrell[9]
A-Main 1 – (25 Laps)
1. 1W-Paul Weaver[4] ; 2. 1-Nate Dussel[11] ; 3. 66-Jamie Miller[12] ; 4. 25-Jason Keckler[3] ; 5. 12-Kyle Capodice[7] ; 6. 36-Seth Schneider[1] ; 7. 94K-Kevin Mingus[6] ; 8. 8-Bobby Clark[9] ; 9. 77I-John Ivy[13] ; 10. 9R-Dustin Rall[15] ; 11. 2L-Landon LaLonde[16] ; 12. 1X-Tyler Street[14] ; 13. 23-Chase Baker[17] ; 14. 14-Luke Daugherty[19] ; 15. 20I-Kelsey Ivy[2] ; 16. 3X-Brad Keckler[18] ; 17. 66D-Chase Dunham[20] ; 18. 2-Ricky Peterson[5] ; 19. 19R-Steve Rando[8] ; 20. 11X-Jordan Ryan[10]
Hard Charger: 1-Nate Dussel +9
Summit Racing Equipment Late Models
Heat 1 – (8 Laps)
1. 240-Doug Drown[2] ; 2. 27S-Eric Spangler[1] ; 3. 88-Andrew Reaume[5] ; 4. 15B-Mike Bores[7] ; 5. 44-Matt Shipley[3] ; 6. 30-Nate Potts[4] ; 7. B4U-Brad Eitniear[6]
Heat 2 – (8 Laps)
1. 51-Devin Shiels[3] ; 2. CJ1-Rusty Schlenk[4] ; 3. 5M-Ryan Markham[5] ; 4. 71-Dave Hornikel[7] ; 5. 69-Jeff Warnick[1] ; 6. 53M-Hillard Miller[6] ; 7. 42*-Bob Mayer[2]
Heat 3 – (8 Laps)
1. 97-Brett Miller[2] ; 2. 240X-Charlie Duncan[7] ; 3. 03-Jim Gingery[4] ; 4. 006-Jarrett Rendel[3] ; 5. RH21-Gregg Haskell[5] ; 6. 06-Jake Rendel[6] ; 7. 19-Cody Scott[1]
A-Main 1 – (25 Laps)
1. 240-Doug Drown[11] ; 2. CJ1-Rusty Schlenk[5] ; 3. 5M-Ryan Markham[3] ; 4. 240X-Charlie Duncan[1] ; 5. 27S-Eric Spangler[8] ; 6. 51-Devin Shiels[4] ; 7. 15B-Mike Bores[9] ; 8. 88-Andrew Reaume[6] ; 9. 44-Matt Shipley[13] ; 10. 03-Jim Gingery[12] ; 11. 30-Nate Potts[16] ; 12. 71-Dave Hornikel[10] ; 13. 06-Jake Rendel[18] ; 14. 97-Brett Miller[7] ; 15. 69-Jeff Warnick[14] ; 16. 53M-Hillard Miller[17] ; 17. 42*-Bob Mayer[20] ; 18. 006-Jarrett Rendel[2] ; 19. RH21-Gregg Haskell[15] ; 20. B4U-Brad Eitniear[19]
Hard Charger: 240-Doug Drown +10
Dirt Trucks –
Heat 1 – (8 Laps)
1. 17X-Dustin Keegan[3] ; 2. 36M-Cory McCaughey[1] ; 3. 7B-Shawn Valenti[6] ; 4. 4-Matt Foos[4] ; 5. 4S-Keith Sorg[8] ; 6. 16-Jim Holcomb[7] ; 7. 4X-Eddie Bryant[5] ; 8. 5S-Brad Stuckey[2]
A-Main 1 – (15 Laps)
1. 7B-Shawn Valenti[2] ; 2. 4-Matt Foos[4] ; 3. 17X-Dustin Keegan[3] ; 4. 36M-Cory McCaughey[1] ; 5. 16-Jim Holcomb[6] ; 6. 4X-Eddie Bryant[7] ; 7. 4S-Keith Sorg[5] ; 8. 5S-Brad Stuckey[8]