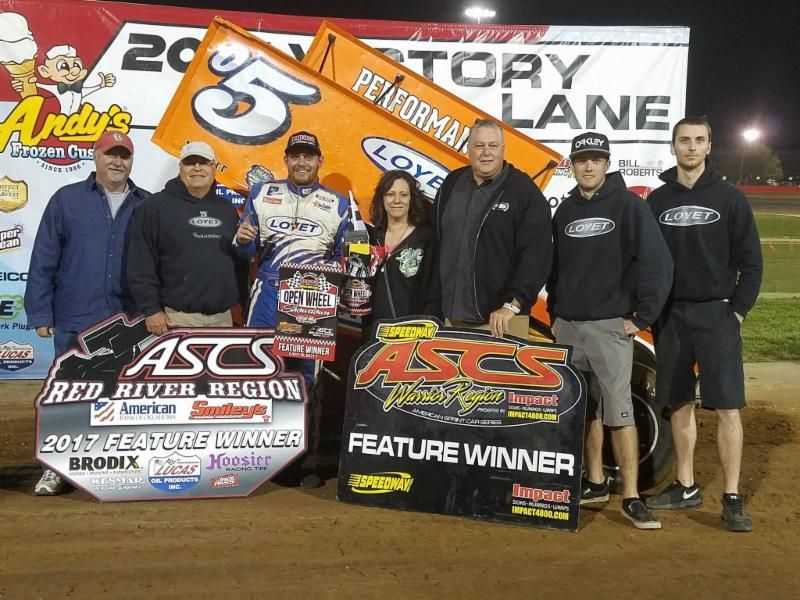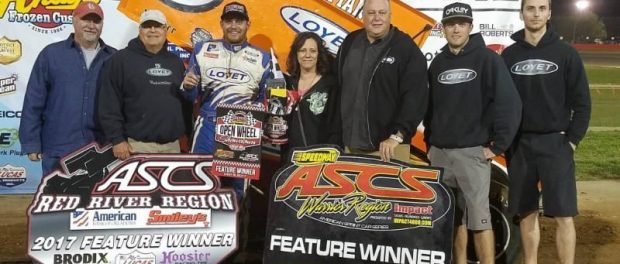 From Bryan Hulbert
WHEATLAND, Mo. (May 6, 2017) – Winning out over a three car battle with a last lap pass to seal the deal, Missouri's Brad Loyet returned to ASCS victory Lane at Lucas Oil Speedway in the regional showdown between the between the American Bank of Oklahoma ASCS Red River Region presented by Smiley's Racing Products and the Speedway Motors Warrior Region presented by Impact Signs, Awnings, and Warps.
Taking the green from the third row in the sixth annual Impact Signs Open Wheel
Showdown, the Vacuworx No. 05 of Loyet wasted little time moving forward as Jonathan Cornell took the early advantage from the pole starting position.
Up to second on Lap 9, Loyet was joined by Oklahoma's Alex Sewell the following lap as the pair stalked the No. 28. Taking over the runner-up spot from the No. 05, Sewell slid his way into the lead on Lap 13. Fending off slide jobs from the No 28, the Sedalia ace finally reclaimed the top spot on the 18th circuit.
Still anyone's race as Brad moved back to second with seven laps to run, it all came down to the final turn. Charging the bottom of turn three in second, the slide job off the final turn was gold with Loyet picking up the evening's $2,000 winner's check.
The runner-up finish is the best of the season for Cornell after three races with Alex Sewell likewise posting his best ASCS result so far in 2017. From seventh, Josh Baughman crossed fourth with New Mexico's Johnny Herrera fifth from 14th. Evan Martin crossed sixth with Washington's Gary Taylor seventh from 16th. Finishing eight was Dustin Morgan with a run from 19th followed by Cody Baker and Mile Paulus to complete the top-ten.
The Speedway Motors ASCS Warrior Region is in action with the Lucas Oil ASCS National Tour presented by the MAVTV Motorsports Network on Thursday, May 11 at Lakeside Speedway in Kansas City, Kan. before venturing to Springfield Raceway in Springfield, Mo. on Saturday, May 13. Between those dates, the American Bank of Oklahoma ASCS Red River Region presented by Smiley's Racing Products returns to Humboldt Speedway in Humboldt, Kan. before teaming back up with the ASCS Warriors at Springfield.
For continued updates on the American Sprint Car Series, from the National Tour to any of the seven regions that make up the ASCS Nation, log onto http://www.ascsracing.com.
Race Results:
ASCS Red River / ASCS Warrior
Lucas Oil Speedway – Wheatland, Mo. \
6th annual Impact Signs Open Wheel Showdown
Saturday, May 6, 2017
Car Count: 30
Heat 1 (8 Laps): 1. 28-Jonathan Cornell[1]; 2. 38-Cody Baker[2]; 3. 5D-Zach Daum[3]; 4. 45X-Johnny Herrera[5]; 5. 86-Tony Bruce Jr[4]; 6. 1X-Gary Taylor[6]; 7. D6-Dakota Gaines[8]; 8. 92J-J.R. Topper[7]
Heat 2 (8 Laps): 1. 17-Josh Baughman[1]; 2. 85-Forrest Sutherland[3]; 3. 05-Brad Loyet[8]; 4. 12S-Taylor Walton[6]; 5. 84-Brandon Hanks[2]; 6. 93-Dustin Morgan[7]; 7. 26M-Fred Mattox[5]; 8. 10-Kevin Brewer[4]
Heat 3 (8 Laps): 1. 8-Alex Sewell[1]; 2. 34-Corey Nelson[2]; 3. 21-Miles Paulus[5]; 4. 44-Jared Sewell[4]; 5. 7L-Mark Chisholm[3]; 6. 3-Brian Gramm[6]; (DNS) 52-Blake Hahn
Heat 4 (8 Laps): 1. 14K-Kyle Bellm[6]; 2. 4-Evan Martin[5]; 3. 11M-Jason McDougal[1]; 4. 27-Danny Thoman[7]; 5. 27T-Tucker Klaasmeyer[2]; 6. 20G-Jake Greider[3]; 7. 8M-Kade Morton[4]
B Feature (12 Laps): 1. 86-Tony Bruce Jr[3]; 2. 1X-Gary Taylor[8]; 3. 44-Jared Sewell[2]; 4. 84-Brandon Hanks[6]; 5. 93-Dustin Morgan[4]; 6. 3-Brian Gramm[9]; 7. 26M-Fred Mattox[12]; 8. D6-Dakota Gaines[10]; 9. 11M-Jason McDougal[1]; 10. 27T-Tucker Klaasmeyer[7]; 11. 8M-Kade Morton[13]; 12. 7L-Mark Chisholm[5]; 13. 20G-Jake Greider[11]; 14. 92J-J.R. Topper[14]; 15. 10-Kevin Brewer[15]; 16. 52-Blake Hahn[16]
A Feature (25 Laps): 1. 05-Brad Loyet[6]; 2. 28-Jonathan Cornell[1]; 3. 8-Alex Sewell[3]; 4. 17-Josh Baughman[7]; 5. 45X-Johnny Herrera[14]; 6. 4-Evan Martin[5]; 7. 1X-Gary Taylor[16]; 8. 93-Dustin Morgan[19]; 9. 38-Cody Baker[10]; 10. 21-Miles Paulus[4]; 11. 86-Tony Bruce Jr[15]; 12. 12S-Taylor Walton[12]; 13. 34-Corey Nelson[11]; 14. 27-Danny Thoman[9]; 15. 3-Brian Gramm[20]; 16. 5D-Zach Daum[13]; 17. 44-Jared Sewell[17]; 18. 84-Brandon Hanks[18]; 19. 14K-Kyle Bellm[8]; 20. 85-Forrest Sutherland[2]