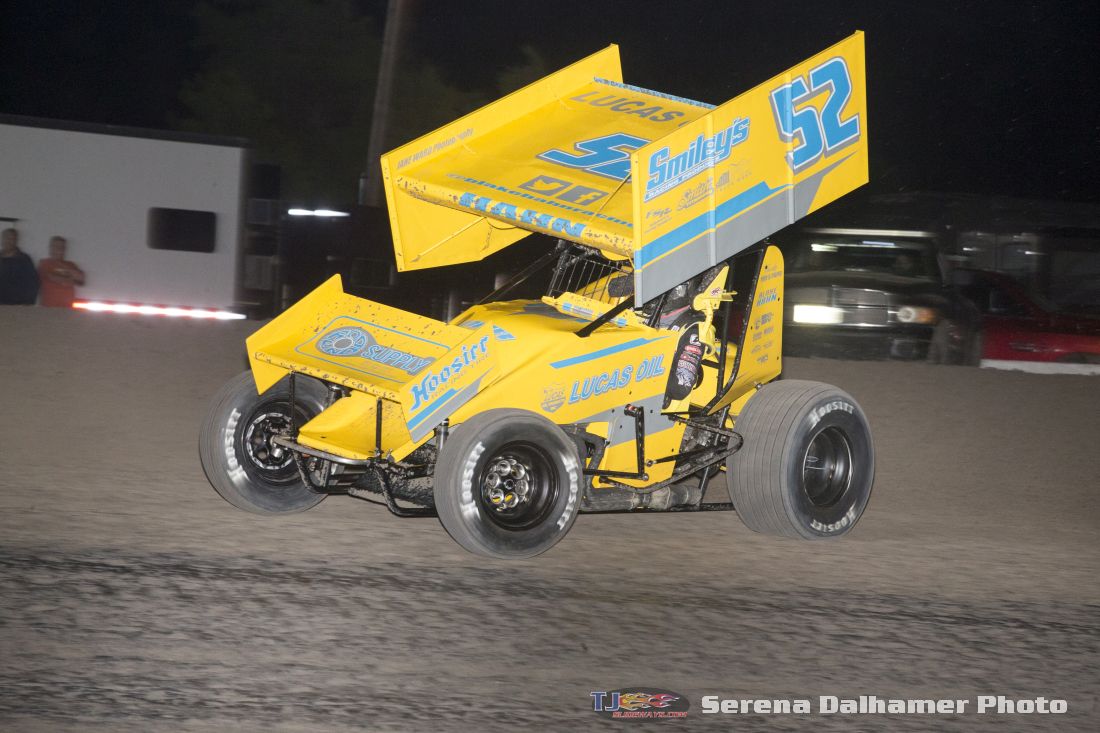 From Bryan Hulbert
HUMBOLDT, Kan. (May 12, 2017) – Coming up just shy one year ago, Blake Hahn won a thriller of a feature event over Kyle Bellm at the Humboldt Speedway with the American Bank of Oklahoma ASCS Red River Region presented by Smiley's Racing Products.
Making the win even more impressive was Hahn's ability to control his Griffith Truck and Equipment No. 52 as it was discovered that the Jacobs Ladder was broken in several spots.
Chasing Kyle Bellm at the start, Hahn from fourth, railed the cushion of the three-eighths oval to move to the runner-up spot on the opening lap. Through a pair of early race restarts, the pair exchanged the lead several times with Hahn taking over the lead officially on Lap 6.
Gaining some breathing room before finding traffic at the race's mid-point, trouble clearing a slower machine brought Bellm back into the mix with Sam Hafertepe, Jr. in tow. With his Hoosier starting the graze the outside concrete, Hahn's night nearly ended as a small trip through the cushion slammed the No. 52 into the wall in turns three and four. On Hahn's back bumper on Lap 14, the caution flew the following lap to position a single lapped car among the top-three.
Still running just off the wall, Hahn kept pace as a line of rubber began to come into play through turns one and two. A car width off the top, Bellm began moving his line to begin running down the No. 52. Taking the white flag, Bellm set his sights on a last lap slide job, only to have the caution bring the field back to a green, white, checkered finish.
Keeping pace with the No. 52 on the restart, it would not be enough as Hahn pocketed the night's $2,000 winner's check. Bellm second was chased to the finish by Sam Hafertepe, Jr. with Seth Bergman fourth. Racing from 16th, Alex Sewell finished fifth with Jonathan Cornell, Sean McClelland, Johnny Herrera, Wayne Johnson, and Dustin Morgan making up the top-ten.
The American Bank of Oklahoma ASCS Red River Region presented by Smiley's Racing Products returns to competition on Saturday, May 13 at Springfield Raceway in Springfield, Mo. along with the Speedway Motors ASCS Warrior Region presented by Impact Signs, Awnings, and Wraps.
For continued updates on the American Sprint Car Series, from the National Tour to any of the seven regional tours that make up the ASCS Nation, log onto http://www.ascsracing.com.
Race Results:
ASCS Red River Region
Humboldt Speedway – Humboldt, Kan.
Friday, May 12, 2017
Car Count: 31
Heat 1 (8 Laps): 1. 52-Blake Hahn[5]; 2. 2C-Wayne Johnson[3]; 3. 92J-J.R. Topper[1]; 4. 26M-Fred Mattox[6]; 5. 8-Alex Sewell[7]; 6. 20G-Jake Greider[2]; 7. 5$-Danny Smith[4]; 8. 10C-Jeremy Campbell[8]
Heat 2 (8 Laps): 1. 15H-Sam Hafertepe Jr[1]; 2. 23-Seth Bergman[3]; 3. 93-Dustin Morgan[4]; 4. 14K-Kyle Bellm[8]; 5. 8M-Kade Morton[5]; 6. 7M-Chance Morton[6]; 7. 31-Casey Willis[2]; 8. (DNF) 85-Forrest Sutherland[7]
Heat 3 (8 Laps): 1. 28-Jonathan Cornell[1]; 2. 1-Sean McClelland[2]; 3. 45X-Johnny Herrera[7]; 4. 2-Mikey Walker[5]; 5. 95-Matt Covington[6]; 6. 0J-Jeremy McCune[3]; 7. 07-Michael Bookout[8]; 8. 3-Brian Gramm[4]
Heat 4 (8 Laps): 1. 9$-Kyle Clark[6]; 2. 21R-Andrew Deal[1]; 3. 44-Jared Sewell[3]; 4. 77X-Alex Hill[2]; 5. 17W-Harli White[5]; 6. 11M-Jason McDougal[7]; 7. (DNF) 76-Jay Russell[4]
B Feature 1 (12 Laps): 1. 95-Matt Covington[2]; 2. 92J-J.R. Topper[1]; 3. 11M-Jason McDougal[4]; 4. 20G-Jake Greider[6]; 5. 8M-Kade Morton[3]; 6. 31-Casey Willis[8]; 7. 07-Michael Bookout[5]; 8. 3-Brian Gramm[7]; (DNS) 76-Jay Russell
B Feature 2 (12 Laps): 1. 8-Alex Sewell[1]; 2. 0J-Jeremy McCune[5]; 3. 10C-Jeremy Campbell[7]; 4. 17W-Harli White[3]; 5. 5$-Danny Smith[6]; 6. (DNF) 7M-Chance Morton[4]; 7. (DNF) 77X-Alex Hill[2]; (DNS) 85-Forrest Sutherland
A Feature (25 Laps): 1. 52-Blake Hahn[4]; 2. 14K-Kyle Bellm[1]; 3. 15H-Sam Hafertepe Jr[5]; 4. 23-Seth Bergman[7]; 5. 8-Alex Sewell[16]; 6. 28-Jonathan Cornell[2]; 7. 1-Sean McClelland[9]; 8. 45X-Johnny Herrera[8]; 9. 2C-Wayne Johnson[3]; 10. 93-Dustin Morgan[11]; 11. 11M-Jason McDougal[19]; 12. 9$-Kyle Clark[6]; 13. 21R-Andrew Deal[10]; 14. 0J-Jeremy McCune[18]; 15. 44-Jared Sewell[13]; 16. 2-Mikey Walker[14]; 17. 26M-Fred Mattox[12]; 18. 92J-J.R. Topper[17]; 19. 10C-Jeremy Campbell[20]; 20. 95-Matt Covington[15]