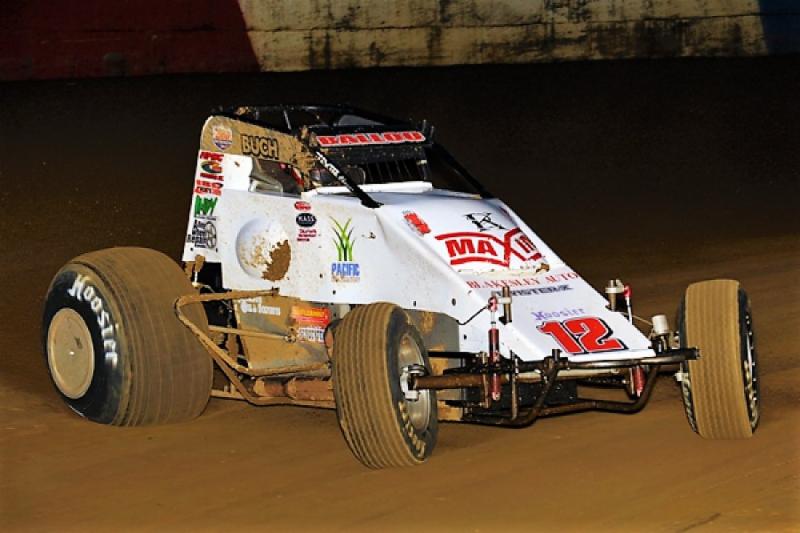 Two weeks ago, in his return to the cockpit of a USAC AMSOIL National Sprint Car for the first time in eight months, Robert Ballou made the contingent on hand stand up and take notice that he hadn't missed a beat.
His second race back in Eldora Speedway's #LetsRaceTwo resulted in a commanding victory and placed him right at the top of the totem pole of favorites heading into this Wednesday night's "Tony Hulman Classic" at the Terre Haute (Ind.) Action Track.
It was a moment that recalled some of the greatest USAC comebacks seen in recent history such as Lee Kunzman's National Midget win at Tri-County Speedway in Cincinnati in 1971, where he returned to victory in his first race after suffering a broken neck, arm and severe burns in a sprint crash at Missouri's I-70 Speedway in 1970. Or Pancho Carter's return after severe lower extremity injuries in a testing crash at Phoenix, in which he won his first two USAC Sprint Car appearances at Indianapolis Raceway Park and Winchester (Ind.) Speedway after a five-month layoff.
The "Hulman Classic" is an event in which Ballou has won twice in a row. Only two other drivers have accomplished that feat: Steve Butler (1987-88) and Levi Jones (2008-09).
Rocklin, California's Ballou has unprecedented territory to claim this time around as he aims to become the first driver to win three consecutive "Hulmans." Only Jones (2005-08-09) and Cary Faas (1992-94-98) have even won three total in the 46-year history of the event.
In last year's "Hulman Classic," Ballou and Thomas Meseraull waged war in a back-and-forth slider-fest before Ballou pulled ahead with less than 10 laps remaining to prevail at the Action Track.
Ballou is among five past winners expected to compete in Wednesday night's race, including Dave Darland (1993 & 2014), Jerry Coons, Jr. (2010 & 2013), Jon Stanbrough (2002 & 2007) and Chris Windom (2011). Windom has won the last two appearances by USAC at Terre Haute, a National Sprint Car triumph in October of 2016 and the "Sumar Classic" Silver Crown season opener in April of this year.
The "Hulman Classic" began with George Snider's victory in 1971 and continues today as the longest, annually-contested event on the USAC AMSOIL National Sprint Car calendar. Except for a brief period between 1988 and 1991 when the event moved to the pavement at Indianapolis Raceway Park, the Hulman Classic has always been held at the half-mile Terre Haute Action Track.
Former winners of the race include ten Indianapolis 500 veterans, 14 past USAC National Sprint Car championships and even an NHRA Top Fuel Drag Racing star, Doug Kalitta.
Pit gates open for the Hulman Classic at 3pm with the grandstands set to open at 4. Cars hit the track at 6:30.