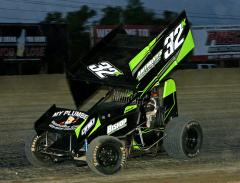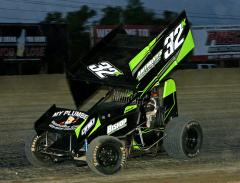 By David Smith Jr.
Park City, Kansas – May 28, 2017 – Todd Schwartz wasted little time getting to the lead from his third starting position and then held off pressuring Joe Wood, Jr. on the final lap to claim his first career Sprint Series of Oklahoma IMCA RaceSaver Sprint Car Series presented by Smiley's Racing Products/Myers Racing Engines United Rebel Sprint Series co-sanctioned feature Sunday night during "Sprint Car Maynia" at 81 Speedway in Park City, Kansas.
Brandon Anderson and Wood started on the front row for the twenty-five-lap feature with Schwartz taking the lead as the green flag fell. Wood would move into the runner-up position on lap three and found himself five car lengths behind the leader by lap five.
The leaders first encounter with slower cars occurred on lap eight when Chad Koch, who was running fifth, got the end result of two cars making contact on the front stretch and came to a stop in turn one.
At the races midway point it was still Schwartz the leader with Wood still five car lengths behind in second.
Lap thirteen saw a scary moment in the feature when Andy Shouse and Brandon Long, who were running third and fourth respectively, made contact coming out of turn two causing Long to execute a series of flips down the backstretch. Long's car was destroyed and Long shaken and sore but otherwise uninjured.
Once race action resumed Schwartz kept out front and despite entering slower traffic with three laps to go as well as one final attempt at a pass for the lead in turns three and four on the last lap, would hold on to claim his first career series victory and a $1000 paycheck.
Wood settled for second while tenth starting Jake Martens came home third. Seventh starting Steven Richardson represented URSS well with a fourth-place finish while thirteenth starting Ty Williams rounded out the top five.
The four, eight lap heat races for the thirty-four-car field were won by Long, Zach Blurton, Richardson and Keefe Hemel while Williams and Nate Berry claimed the two, twelve lap "B" features.
Next up for the Sprint Series of Oklahoma IMCA RaceSaver Sprint Car Series presented by Smiley's Racing Products will be a pair of race events. It will begin on Friday night, June 23, at Southern Oklahoma Speedway in Ardmore before making their first and only scheduled appearance of the season at Oklahoma Sports Park in Ada on Saturday night, June 24.
To learn more about the Sprint Series of Oklahoma check out their official facebook page: Sprint Series of Oklahoma. More information can be obtained by SSO director Jim Messmer (405) 417-2202 and for technical inquires call Ernie
Messmer (405) 818-9007.
SSO officials would like to welcome Smiley's Racing Products for becoming presenting partner with the series as they will be giving $1000 cash to the 2017 SSO champion.
The series would also like to thank the following for climbing aboard as contingency partners with the series for 2017: Hoosier Racing Tires, Danny Holloway, Martens Machine Shop, Saldana Racing Products, Pyrotech Race Cells, Outlaw Wings, Keizer Wheels, Bishops Racing Products and Messmer Racing.
Sprint Series of Oklahoma/United Rebel Sprint Series
81 Speedway/Park City, Kansas
May 28, 2017
34 Cars
1st Heat (8 Laps): 1) Brandon Long, 2) Brandon Anderson, 3) Eric Mathews, 4) Darren Berry, 5) Brian Herbert, 6) Justin Fisk, 7) Shayla Waddell, 8) Jerry Jumper, 9) Blake Dacus
2nd Heat (8 Laps): 1) Zach Blurton, 2) Joe Wood, Jr., 3) Todd Schwartz, 4) Andy Shouse, 5) Cody Jarvis, 6) Jed Werner, 7) Shane Sundquist, 8) Mike Scott, 9) Blake Scott
3rd Heat (8 Laps): 1) Steven Richardson, 2) Chad Koch, 3) Dave Berry, 4) Loyd Clevenger, 5) Kaden Taylor, 6) Eric Plousard, 7) Howard Van Dyke, 8) Cody Lampe
4th Heat (8 Laps): 1) Keefe Hemel, 2) Jake Martens, 3) John Webster, 4) Dillon Laden, 5) Ty Williams, 6) J.D. Johnson, 7) Tanner Conn, 8) Warren Fields
1st B Feature (12 Laps): 1) Ty Williams, 2) J.D. Johnson, 3) John Webster, 4) Brian Herbert, 5) Justin Fisk, 6) Warren Fields, 7) Aaron Plousard, 8) Howard Van Dyke, 9) Kaden Taylor, 10) Jerry Jumper, 11) Blake Scott
2nd B Feature (12 Laps): 1) Nate Berry, 2) Loyd Clevenger, 3) Dillon Laden, 4) Jed Werner, 5) Shane Sundquist, 6) Tanner Conn, 7) Cody Lampe, 8) Cody Jarvis, 9) Mike Scott, 10) Shayla Waddell, 11) Blake Dacus
A Feature (25 Laps): 1) Todd Schwartz, 2) Joe Wood, Jr., 3) Jake Martens, 4) Steven Richardson, 5) Ty Williams, 6) J.D. Johnson, 7) Zach Blurton, 8) Brandon Anderson, 9) Darren Berry, 10) John Webster, 11) Jed Werner, 12) Loyd Clevenger, 13) Chad Koch, 14) Dillon Laden, 15) Keef Hemel, 16) Nate Berry, 17) Eric Mathews, 1) Brian Herbert, 19) Brandon Long, 20) Andy Shouse