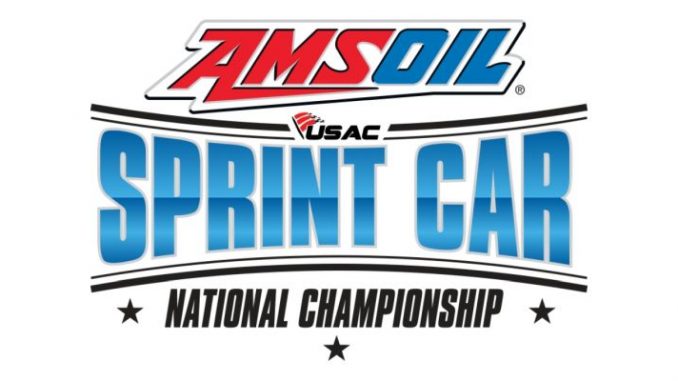 By Richie Murray
Through the mazes of farmland in America's heartland, racetracks spring up out of the soil as if they were auto racing's version of the field of dreams.
If you build it, the racers will come. From far and wide and everywhere in-between.
That they will this weekend when the racing heroes of today embark on a journey to Mid-America to showcase what USAC's brand of racing is all about. No wings. Just ruts, guts and the glory that lies 30 laps ahead.
Two venues emerge at the forefront of USAC AMSOIL National Sprint Car racing this weekend with the racy I-80 Speedway in Greenwood, Nebraska hitting leadoff for the series this Friday night, June 2nd.
USAC Sprint Car history in Nebraska is surprisingly short with the first of its five visits to the Cornhusker state coming just five years ago. This will be the first trip for the series to the 4/10-mile dirt oval located a half-hour southwest of Omaha.
Dave Darland is twice a winner at I-80 with the Sprint Bandits Tour 'N Topless series in 2007 and 2008. The Lincoln, Indiana driver is also the only multi-time USAC Sprint winner in Nebraska, picking up both at Eagle, and is hoping to ride the wave of momentum after earning an unsanctioned sprint win at Kokomo on Memorial Day.
Chad Boespflug won in Nebraska a year ago, also at Eagle, after taking the lead on lap two and soaring to one of his six USAC victories in 2016. But, the Hanford, California native aims to regain his form this weekend after a rough two-night trip to Eldora in May where point leader Justin Grant picked up his season-leading third win while Robert Ballou, an I-80 Sprint Bandits winner in 2006, returned from injury in fantastic form on night two.
On deck a night later on Saturday night, June 3rd is one of the select venues on racing's Mount Rushmore: Iowa's Knoxville Raceway. Of course, the half-mile at the Marion County Fairgrounds is synonymous with the legendary Knoxville Nationals and wing sprint car racing, but this Saturday night, the wings have been grounded as USAC races into town for the ninth time ever, and for the first time since 2011.
Knoxville held its first USAC Sprint race back in 1968 when eventual two-time series champ Gary Bettenhausen took top honors while drivers Dick Tobias (1971), Sam Sessions (1972), Tom Bigelow (1973), Sheldon Kinser (1982), Sammy Swindell (1988) and Bud Kaeding (2010) followed up with victories of their own.
Brady Bacon took a Sprint Bandits feature victory at I-80 in 2009, and the two-time USAC National Sprint Car champ from Oklahoma was the most recent to bag a Knoxville victory in USAC's last foray to Knoxville and has been clawing at the door of his first series win all season in the Dooling/Hayward Motorsports No. 63.
Also hitting the highway for Knoxville is four-time and defending USAC Southwest Sprint Car champion R.J. Johnson from Arizona, who ventures to south central Iowa to make his Knoxville debut in a car fielded by Tampa, Florida's R.J. Johnson. No, that's not a typo.
After three straight rainouts for the series leading into this upcoming weekend's two events, everyone's eager to get back on their respective horses. That time has finally arrived!
Pit gates open for Friday's "I-80 Dirt Classic" at I-80 Speedway at 4pm. Grandstands open at 5:30. Adult General Admission tickets are $23. Children Age 6-12 are $5. Pit Passes are $40.
Action gets underway Saturday at Knoxville when cars hit the track at 6:45pm! Adult General Admission tickets are $20. Teens Age 13-19 are $15. Children Under Age 12 are Free. Pit Passes are $40.