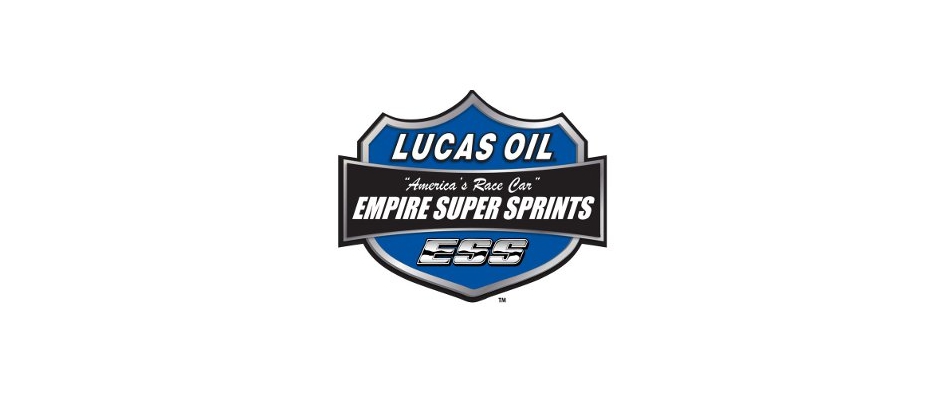 By Dean Reynolds
DRUMMONDVILLE, PQ – When Jason Barney drew outside pole for the 25 lap A-Main at Autodrome Drummond on Saturday night he knew that he had to take full advantage. From green to checkered he did just that but it wasn't without a crowd pleasing challenge from both Paulie Colagiovanni and Coleman Gulick.
The win for the Brewerton, NY star was his second on the 2017 Lucas Oil Empire Super Sprint campaign and also marked his 15th career trip to the winner's circle. The total take home was $2,050 and also points for the overall championship, the 1000 Islands RV Centre Canada Tour and the Fondations 4 Saisons Quebec Series.
"When we drew the outside pole I knew we had to make this work. With these teams in ESS when you get a break like that you feel very fortunate," Barney said in victory lane with the Schneider Packing #87 behind him. "The track was real fast on top, it's not normally what we do but it was the fastest way around."
Barney did indeed jump out to lead the first circuit with Colagiovanni giving chase right from the start as well.  The sprinters were at blistering speeds up on the top side of the Drummond oval.
"Lapped cars came up quick and you try to get as close as you can to them to prevent someone from trying to make a pass on the inside," he continued. "I just had a feeling they were on me, I wanted to try to go low a few times but I knew that I didn't want to leave the top cause it was so fast."
Even though Barney knew Gulick started in sixth, so far this year it's been his biggest challenger for the 2017 title "I know Coleman had to be coming and to tell you the truth I was waiting for him to pull a slider on me but it never came," Barney went on. "I'm so blessed to have this team, Brandon works so hard and we have good equipment, I just hope the driver will be ready as well"
Gulick was coming at the end. From his sixth starting spot he did have to pass some of ESS' best to get to the leading duo which also included Steve Poirier.
"The track was just so fast up top which made everyone fast," Gulick said, "It took me a while to get by Steve and then to catch those two."
Once Gulick got up to third it was a wild three car battle through slower traffic that had the huge crowd buzzing.  Coming down for the white flag, Gulick made one last move to slip by Colagiovanni to secure second at the finish.
"I had a good run on him going into three, I had to make the move and it worked," said Coleman, "I was hoping I could also get close enough to try a move on Jason but just not quite enough."
For Gulick it was a good weekend in Quebec with this runner-up finish backing up his win the night before at Granby.  "It's been a good weekend for us so far, can't wait to come back to Quebec," and he went on to the ultimate goal, "The goal is the ESS championship, we just need to keep good finishes."
While Colagiovanni was looking for the right time to make a move on Barney and then losing second on the last lap, he was all smile afterwards.  Just 24 hours earlier his #10 was parked on the wall and under a billboard at Granby.  He used the same car to take third.
"Yea, last night was a tough one, not what we wanted for sure," said the teenage former rookie of the year. "We put the same car back together and it was fast.  I was hoping to see if I could make a move on Jason and I tried on the last lap but most the momentum and Coleman got me.  Still, I am happy though."
Poirier came home in fourth followed by Matt Billings.  Rounding out the top ten were Shawn Donath, Dale Gosselin, Alain Bergeron, Paul Kinney and hard charger of the night, New Hampshire's Dan Douville.
Lucas Oil Empire Super Sprints (25-lap A-Main) – Jason Barney ($2,050), Coleman Gulick ($1,350), Paulie Colagiovanni ($1,025), Steve Poirier ($880), Matt Billings ($790), Shawn Donath ($695), Dale Gosselin ($655), Alain Bergeron ($670), Paul Kinney ($635), Dan Douville ($675), Matt Tanner ($635), Chad Miller ($545), Lee Ladouceur ($525), Alex Vigneault ($540), Jeff Cook ($510), Brett Wright ($505), Anthony Cain ($500), Guillaume Neiderer ($500), Yan Bilodeau ($500), Jordan Poirier ($525), Dave Axton ($500), Chris Jones ($600).
Lap Leader – Barney (1-25)
ESS Bonuses:
Hoosier Tires Bridesmaid Bonus – Gulick $100
E&V Energy Fast Time – Jones, S. Poirier, Vigneault $25
Car Mate Trailers Heats – Gulick, J. Poirier, Bergeron $25
Engler Machine and Tool Halfway – Barney $50
Insinger Performance Hard Charger – Douville (9 pos.) $50
Scorpion Security Products Last Car Lead Lap – Tanner $50
Ohsweken Speedway 22nd Anniversary – Jones $50
Scorpion Security Products 12 Redraw – Jones $25
Fondations 55 Pick 5 – Billings $35
Hoosier Tire – Vigneault $200
For more Information on the Lucas Oil Empire Super Sprints:
Web: www.empiresupersprints.com
Twitter: @ESSprints
Facebook: https://www.facebook.com/EmpireSuperSprints


Android App: Empire Super Sprints