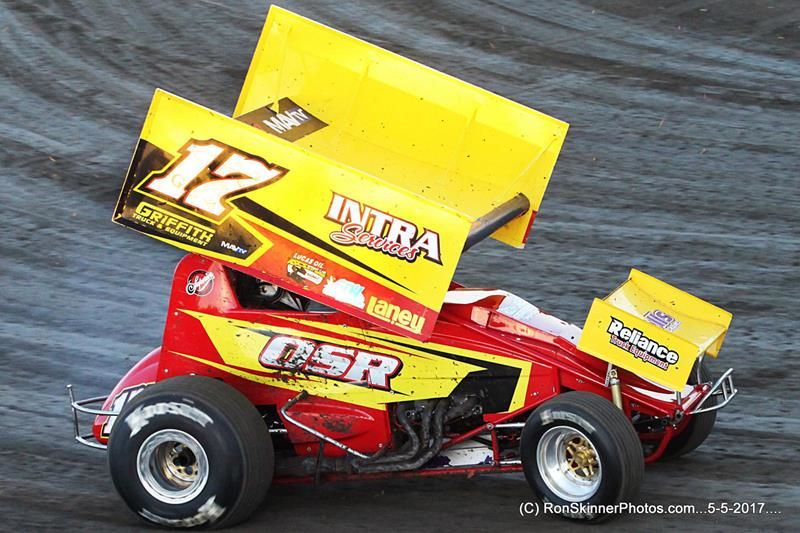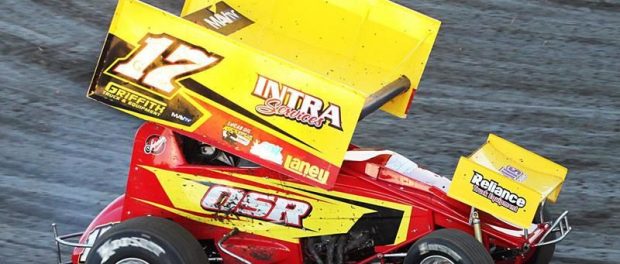 From Bryan Hulbert
CLEVELAND, Texas (June 16, 2017) – Picking up his first ASCS sanctioned win on the season, Channin Tankersley defended his home turf at Bronco Motor Speedway with the Griffith Truck and Equipment ASCS Gulf South Region as they squared off against the Lucas Oil ASCS Southern Outlaw Sprints.
Piloting the "Old School Racing" No. 17, Channin was joined on the podium by current Gulf South Regional point's leader, Ray Allen Kulhanek, who came up from sixth with Jacob Allen following from fifth to complete the podium.
John Pate was fourth with eighth starting Zane Lawrence fifth.
Coming from the B-Feature, Michael Miller was the highest finishing ASCS/SOS driver. Brandon Hanks from 12th was followed by Chris Solomon, who clawed his way up from 18th. Paul Solomon and Caleb Martin made up the top-ten.
The regional showdown heads for Battleground Speedway in Highlands, Texas on Saturday, June 17. For continued updates on the American Sprint Car Series, from the National Tour to any of the seven regional tours that make up the over 150 races across the ASCS Nation, log onto http://www.ascsracing.com.
Race Results:
ASCS Gulf South vs. ASCS/SOS
Bronco Motor Speedway – Cleveland, Texas
Friday, June 16, 2017
Car Count: 27
Heat 1 (8 Laps): 1. 57-Jacob Lucas, [2]; 2. 29-Kyle Amerson, [4]; 3. 84-Brandon Hanks, [1]; 4. 12-Scott Smith, [3]; 5. 83-Chris Solomon, [5]; 6. 00-Tristan Lee, [6]; (DNS) 30-Johnnie Wasson,
Heat 2 (8 Laps): 1. 88-Scottie McDonald, [1]; 2. 17-Channin Tankersley, [3]; 3. 9-Lane Whittington, [4]; 4. 1-Randy Allen, [2]; 5. 28-James Cooper, [6]; 6. F13-Cody Barksdale, [7]; 7. 88X-Brandon Blenden, [5]
Heat 3 (8 Laps): 1. 36-John Pate, [2]; 2. 7-Paul Solomon, [3]; 3. 6-Dustin Gates, [5]; 4. 52-Cody Karl, [1]; 5. 21-Butch David, [6]; 6. 24-Brandie Jass, [4]; 7. 02-Tony Russell, [7]
Heat 4 (8 Laps): 1. 21T-Ray Allen Kulhanek, [1]; 2. 76-Zane Lawrence, [6]; 3. 11X-John Carney II, [4]; 4. 51-Caleb Martin, [3]; 5. 116-Nick Snyder, [5]; 6. 4M-Michael Miller, [2]
B Feature (12 Laps): 1. 4M-Michael Miller, [4]; 2. 28-James Cooper, [1]; 3. 21-Butch David, [2]; 4. 83-Chris Solomon, [6]; 5. 1-Randy Allen, [3]; 6. 116-Nick Snyder, [7]; 7. 00-Tristan Lee, [9]; 8. 88X-Brandon Blenden, [13]; 9. F13-Cody Barksdale, [8]; 10. 52-Cody Karl, [5]; 11. 24-Brandie Jass, [10]; 12. 02-Tony Russell, [12]; 13. 30-Johnnie Wasson, [11]
A Feature (25 Laps): 1. 17-Channin Tankersley, [3]; 2. 21T-Ray Allen Kulhanek, [6]; 3. 57-Jacob Lucas, [5]; 4. 36-John Pate, [2]; 5. 76-Zane Lawrence, [8]; 6. 4M-Michael Miller, [15]; 7. 84-Brandon Hanks, [12]; 8. 83-Chris Solomon, [18]; 9. 7-Paul Solomon, [7]; 10. 51-Caleb Martin, [14]; 11. 6-Dustin Gates, [9]; 12. 116-Nick Snyder, [20]; 13. 1-Randy Allen, [19]; 14. 9-Lane Whittington, [10]; 15. 88-Scottie McDonald, [4]; 16. 11X-John Carney II, [11]; 17. 28-James Cooper, [16]; 18. 21-Butch David, [17]; 19. 12-Scott Smith, [13]; 20. 29-Kyle Amerson, [1]