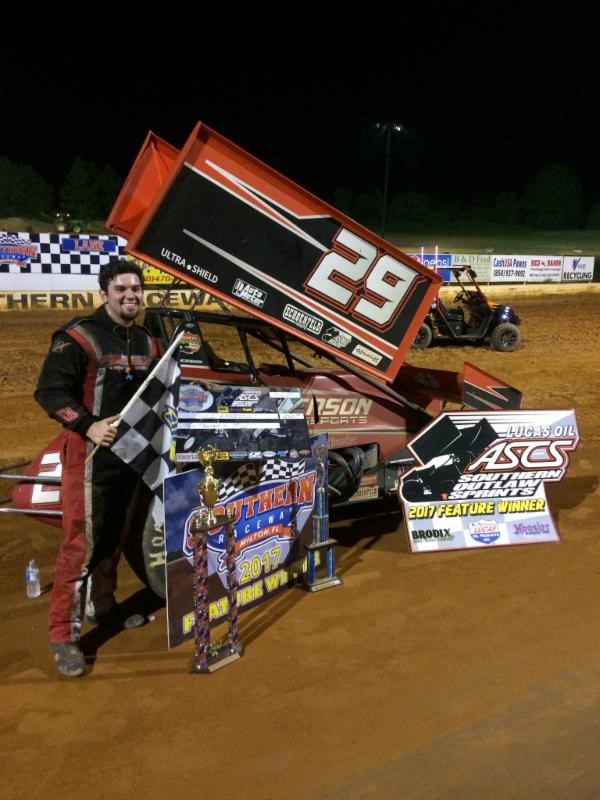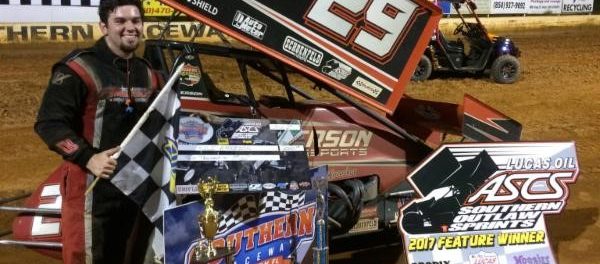 From Bryan Hulbert
MILTON, Fla. (July 2, 2017) – Taking on the clay of the Southern Raceway in Milton, Fla. on Sunday night, the lead was hotly contested prior to Kyle Amerson pulling a slide job from third to first at the race's mid-point to earn his second career A-Main win with the Lucas Oil ASCS Southern Outlaw Sprints.
Getting the slide on Michael Miller and Shane Morgan, the No. 29 would get up and run away for the night's $2,000 prize. Shane Morgan would get the better of Miller for second with the current point's leader setting for third. Lane Whittington was fourth with Nick Snyder fifth.
Brandon Blenden, Terry Witherspoon, Timmy Thrash, Cody Karl, and Tristan Lee made up the top-ten.
Up next for the Lucas Oil ASCS Southern Outlaw Sprints is the "Tennessee Shootout" at Tennessee National Raceway on Friday, July 21 and Duck River Raceway Park on Saturday, July 22.
For continued updates on the American Sprint Car Series, from the National Tour to any of the seven regional tours that make up the over 150 races that make up the ASCS Nation in 2017, log onto http://www.ascsracing.com.
ASCS Southern Outlaw Sprints
Southern Raceway – Milton, Fla.
Sunday, July 2, 2017
Car Count: 13
Heat 1 (8 Laps): 1. 52-Cody Karl, [1]; 2. 01-Shane Morgan, [6]; 3. 9-Lane Whittington, [2]; 4. 4M-Michael Miller, [4]; 5. F16-Casey Hinds, [5]; 6. 43M-J.D. McClary, [3]; 7. 17-Ray Stevison, [7]
Heat 2 (8 Laps): 1. 116-Nick Snyder, [1]; 2. 09-Timmy Thrash, [4]; 3. 29-Kyle Amerson, [5]; 4. 43-Terry Witherspoon, [3]; 5. 00-Tristan Lee, [2]; 6. 88-Brandon Blenden, [6]
A Feature (25 Laps): 1. 29-Kyle Amerson, [4]; 2. 01-Shane Morgan, [5]; 3. 4M-Michael Miller, [2]; 4. 9-Lane Whittington, [3]; 5. 116-Nick Snyder, [6]; 6. 88-Brandon Blenden, [11]; 7. 43-Terry Witherspoon, [1]; 8. 09-Timmy Thrash, [7]; 9. 52-Cody Karl, [8]; 10. 00-Tristan Lee, [10]; 11. F16-Casey Hinds, [9]; 12. 17-Ray Stevison, [13]; 13. 43M-J.D. McClary, [12]