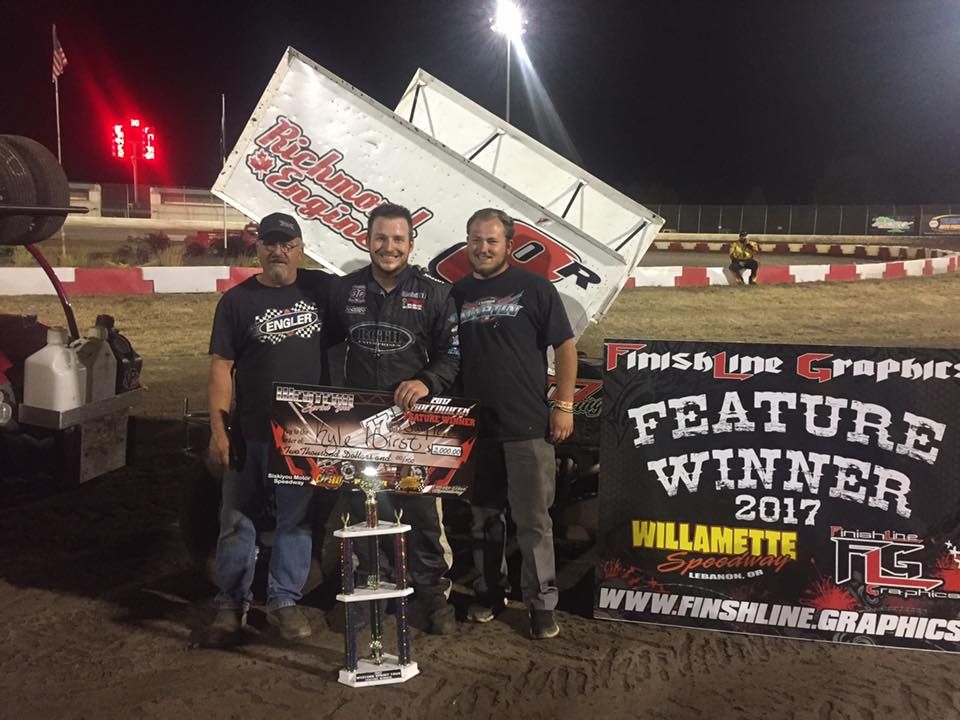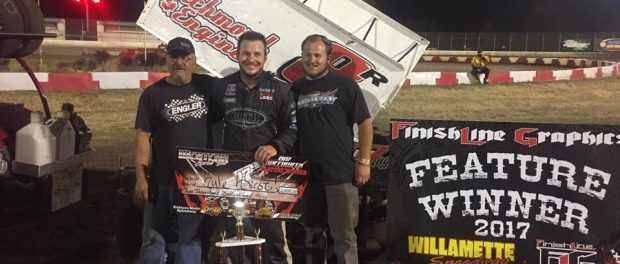 From Ben Deatherage
LEBANON, Or. (July 12, 2017) — Willamette Speedway would host the third race of the 2017 Speedweek Northwest on Wednesday, July 12th. It would be the twentieth time the historic 1/3-mile clay oval has hosted a Speedweek event. A total of twenty-one cars would make the trip representing the American states of Oregon, Washington, and California as well as the Canadian province of British Columbia, the New Zealand region of Canterbury, and the Australian states of Victoria and Western Australia.
In the feature, Kyle Hirst would get out to the lead on the opening lap. Hirst, racing for British Columbian car owners Doug and Kathy Rutz, would set a rapid pace for the rest of the field and checked out. A lap eight red flag would give a chance for some of Hirst's pursuers to formulate a game plan to try and overtake him.
Late in the main, the Paradise, California driver would be pressured by Roger Crockett. Crockett, in the Roger Henderson entry, would briefly take over the lead with a few laps to go only for Hirst to take it back immediately. Kyle would hold on the rest of the way to win his second victory of the week, second Speedweek win at Willamette, and his sixth career Speedweek triumph.
Medford's Roger Crockett was a strong second with Steven Tiner, of Visalia, California, getting third. Fourth went to Justyn Cox, from Clarksburg, California, and Grants Pass' Jared Ridge completed the top five, in fifth.
Tyler Seavey, of Sutter, California, would impress everyone by setting fast time of the night for his car owner Rudy Warrington. Heat race winners were Justyn Cox, Hanford, California Mitchell Faccinto while running for car owner Stan Greenberg, and Kyle Hirst. Hirst would start on the inside pole position after winning the trophy dash.
Speedweek Northwest heads to Sunset Speedway Park on Thursday, July 13th, for the fourth race of the series. Be sure and visit sprints.nwextremeseries.com for the latest stories regarding the tour. Also, check out Speed Shift TV where you can watch every single lap of the action.
Race Results:
Speedweek Northwest Race #3
Wednesday, July 12th, 2017
Willamette Speedway
Lebanon, Oregon
A Feature: 1. 8R-Kyle Hirst, ; 2. 7N-Roger Crockett, ; 3. 94-Steven Tiner, ; 4. 31C-Justyn Cox, ; 5. 12-Jared Ridge, ; 6. 8RW-Austen Wheatley, ; 7. 17-Cameron (Cam) Smith, ; 8. 21W-Jake Wheeler, ; 9. Z7N-Zack Lynskey, ; 10. 6A-Kyle Miller, ; 11. 18-Tyler Seavey, ; 12. 33-Lucas Ashe, ; 13. 7-Tyler Thompson, ; 14. 74-Michael Cunningham, ; 15. 12J-John Clark, ; 16. 5B-Brian Boswell, ; 17. 37-Mitchell Faccinto, ; 18. 16AUS-Daniel Keen, ; 19. 5M-Collin Markle, ; 20. 5V-Michael Keen, ; (DNS) 69NZ-Jamie Duff,
Dash: 1. 8R-Kyle Hirst, ; 2. 94-Steven Tiner, ; 3. 17-Cameron (Cam) Smith, ; 4. 7N-Roger Crockett, ; 5. 37-Mitchell Faccinto, ; 6. 18-Tyler Seavey,
Heat 1: 1. 31C-Justyn Cox, ; 2. 8RW-Austen Wheatley, ; 3. 94-Steven Tiner, ; 4. 21W-Jake Wheeler, ; 5. 5V-Michael Keen, ; 6. 18-Tyler Seavey, ; 7. 69NZ-Jamie Duff,
Heat 2: 1. 37-Mitchell Faccinto, ; 2. 7-Tyler Thompson, ; 3. 17-Cameron (Cam) Smith, ; 4. 5M-Collin Markle, ; 5. 12-Jared Ridge, ; 6. Z7N-Zack Lynskey, ; 7. 74-Michael Cunningham,
Heat 3: 1. 8R-Kyle Hirst, ; 2. 33-Lucas Ashe, ; 3. 7N-Roger Crockett, ; 4. 16AUS-Daniel Keen, ; 5. 6A-Kyle Miller, ; 6. 12J-John Clark, ; 7. 5B-Brian Boswell,
Qualifying: 1. 18-Tyler Seavey, ; 2. 17-Cameron (Cam) Smith, ; 3. 8R-Kyle Hirst, ; 4. 94-Steven Tiner, ; 5. 12-Jared Ridge, ; 6. 6A-Kyle Miller, ; 7. 5V-Michael Keen, ; 8. 74-Michael Cunningham, ; 9. 7N-Roger Crockett, ; 10. 21W-Jake Wheeler, ; 11. 5M-Collin Markle, ; 12. 16AUS-Daniel Keen, ; 13. 8RW-Austen Wheatley, ; 14. 37-Mitchell Faccinto, ; 15. 33-Lucas Ashe, ; 16. 31C-Justyn Cox, ; 17. 7-Tyler Thompson, ; 18. 5B-Brian Boswell, ; 19. 69NZ-Jamie Duff, ; 20. Z7N-Zack Lynskey, ; 21. 12J-John Clark
Speedweek Northwest Point Standings (Top Ten)
1. 8R-Kyle Hirst 277; 2. 94-Steven Tiner 258; 3. 31C-Justyn Cox 241; 4. 37-Mitchell Faccinto 237; 5. 18-Tyler Seavey 224; 6. Z7N-Zack Lynskey 213; 7. 33-Lucas Ashe 209; T 21W-Jake Wheeler 209; 9. 5V-Michael Keen 196; 10. 74-Michael Cunningham 192