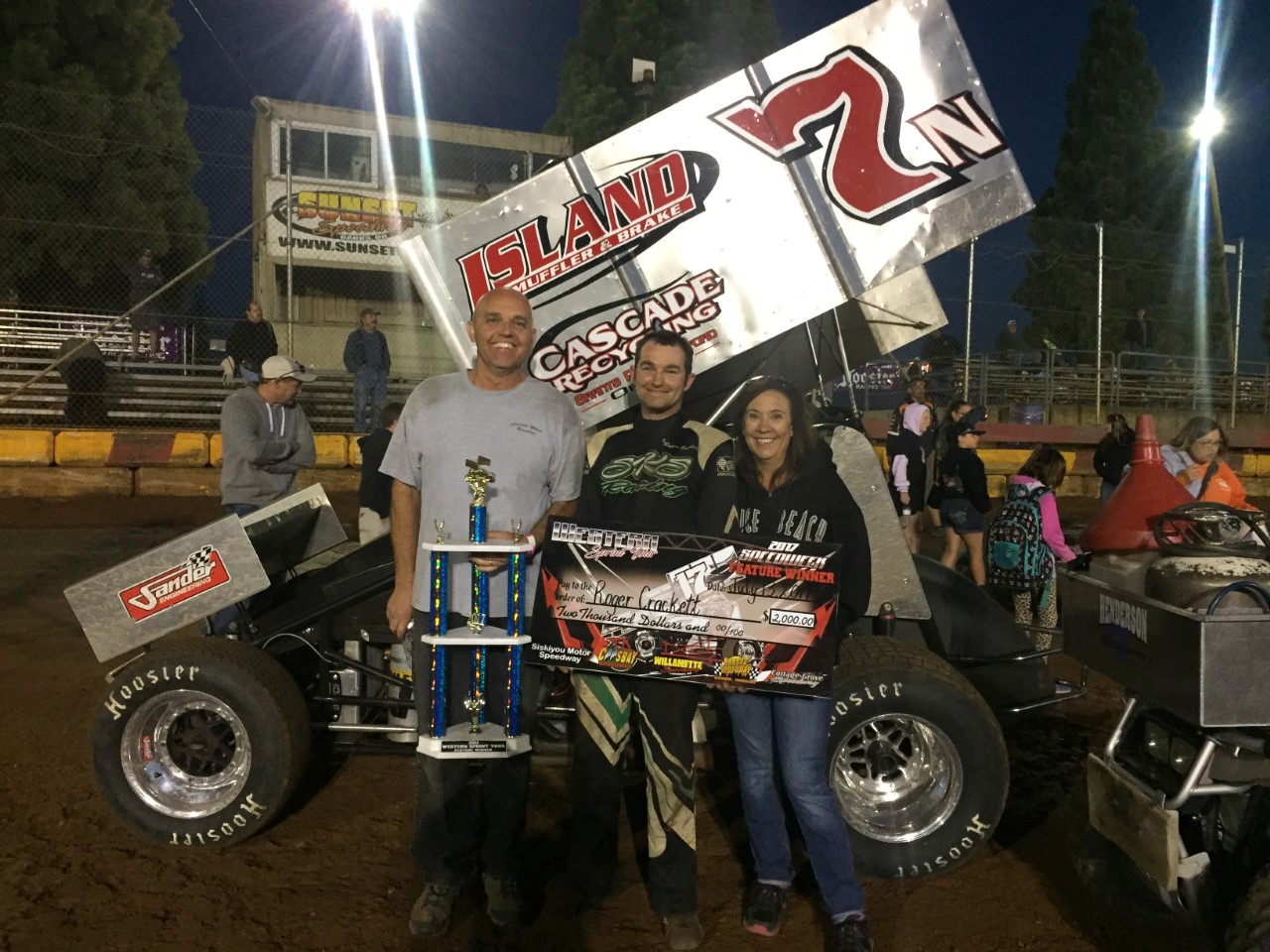 From Ben Deatherage
BANKS, Or. (July 13, 2017) — Thursday, July 13th, would have the 360 Sprint Cars roll into Sunset Speedway Park. It marked the fourth occasion that the "Banks Bullring" has been apart of Speedweek Northwest. A total of fourteen cars would sign up for the night with drivers from the American states of Oregon, Washington, and California, the Canterbury region of New Zealand, and the Australian state of Western Australia.
Tyler Seavey would seize the initiative on the initial start to get to the point and lead lap one. Racing for car owner Rudy Warrington the Sutter, California youngster, Seavey, would remain in the front of the field until being passed on lap six. The driver to perform the pass was Roger Crockett of Medford.
Crockett, in the Roger Henderson owned machine, would comfortably dominate the rest of the feature with the only things slowing him down a pair of cautions. When the checkered flag dropped Crockett would win his first race of this year's Speedweek, his twenty-second of his career, and the third time he has done so at Sunset.
Jake Wheeler, from Central Point, rallied from his eleventh starting position to get second while Tyler Seavey ended the night in third. Mitchell Faccinto, from Hanford, California and in the Stan Greenberg mount, was fourth followed by the Jim and Annette Van Lare owned entry, in fifth, driven by Bunbury, Western Australia's Michael Keen. Something else to note is Keen became the first ever Australian to record a top five in the history of Speedweek Northwest.
Roger Crockett was fast time of the night and broke his previous track record and lowered it to 12.855 seconds. In fact, thirteen of the fourteen cars to qualify were below the previous track record of 14.240. Heat races were won by Lake Stevens, Washington native Austen Wheatley, in the Doug and Kathy Rutz entry, and Michael Keen. Tyler Seavey was victorious in the trophy dash to earn him the inside pole starting position.
Speedweek Northwest heads to Cottage Grove Speedway on Friday, July 14th, for the fifth race of the series. It will be the first of two straight nights at the historic 1/4-mile clay oval. Be sure and visit sprints.nwextremeseries.com for the latest stories regarding the tour. Also, check out Speed Shift TV where you can watch every single lap of the action.
Race Results:
Speedweek Northwest Race #4
Thursday, July 13th, 2017
Sunset Speedway Park
Banks, Oregon
A Feature: 1. 7N-Roger Crockett, ; 2. 21W-Jake Wheeler, ; 3. 18-Tyler Seavey, ; 4. 37-Mitchell Faccinto, ; 5. 5V-Michael Keen, ; 6. 31C-Justyn Cox, ; 7. 69NZ-Jamie Duff, ; 8. Z7N-Zack Lynskey, ; 9. 4D-Cooper Desbiens, ; 10. 12J-John Clark, ; 11. 15R-Jake Gilman, ; 12. 16AUS-Daniel Keen, ; 13. 11X-Chris Batalgia, ; 14. 8R-Austen Wheatley,
Dash: 1. 18-Tyler Seavey, ; 2. Z7N-Zack Lynskey, ; 3. 7N-Roger Crockett, ; 4. 16AUS-Daniel Keen, ; 5. 8R-Austen Wheatley, ; 6. 5V-Michael Keen,
Heat 1: 1. 8R-Austen Wheatley, ; 2. 16AUS-Daniel Keen, ; 3. 7N-Roger Crockett, ; 4. 37-Mitchell Faccinto, ; 5. 31C-Justyn Cox, ; 6. 21W-Jake Wheeler, ; 7. 15R-Jake Gilman,
Heat 2: 1. 5V-Michael Keen, ; 2. 12J-John Clark, ; 3. Z7N-Zack Lynskey, ; 4. 18-Tyler Seavey, ; 5. 4D-Cooper Desbiens, ; 6. 69NZ-Jamie Duff, ; 7. 11X-Chris Batalgia,
Qualifying: 1. 7N-Roger Crockett, ; 2. 18-Tyler Seavey, ; 3. 21W-Jake Wheeler, ; 4. 4D-Cooper Desbiens, ; 5. 31C-Justyn Cox, ; 6. 5V-Michael Keen, ; 7. 37-Mitchell Faccinto, ; 8. Z7N-Zack Lynskey, ; 9. 8R-Austen Wheatley, ; 10. 69NZ-Jamie Duff, ; 11. 16AUS-Daniel Keen, ; 12. 12J-John Clark, ; 13. 15R-Jake Gilman, ; 14. 11X-Chris Batalgia
Speedweek Northwest Point Standings (Top Ten)
1. 37-Mitchell Faccinto 318; 2. 31C-Justyn Cox 317; 3. 18-Tyler Seavey 313; 4. 21W-Jake Wheeler 299; 5. Z7N-Zack Lynskey 284; 6. 5V-Michael Keen 278; 7. 8R-Kyle Hirst 277; 8. 94-Steven Tiner 258; 9. 16AUS-Daniel Keen 253; 10. 69NZ-Jamie Duff 252