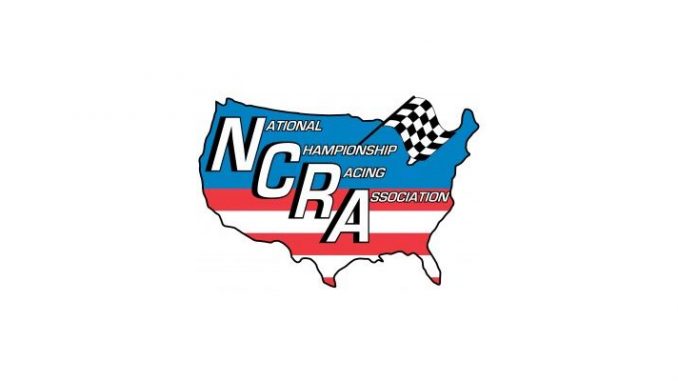 By David Smith Jr.
Hutchinson, Kansas – July 22, 2017 –

, climaxing with the event championship victory as the National Championship Racing Association of Park City, Kansas presented by Precise Racing Products sprint car division tackled the big half-mile fairgrounds oval of the Kansas State Fairgrounds for the 61st running of the O'Reilly Auto Parts Hutchinson Grand Nationals presented by Midwest Super Store.
Jennings and former Hutch winner Jon Freeman started on the front row with Jennings setting a torrid pace out front. Near the races midway point, fourth starting Jeremy Campbell started making his move and pressured Jennings in lapped traffic and made several attempts for the lead. But Jennings, aboard the David Grace Motorsports, Patterson – Elite Performance Racing Engines powered Maxim chassis would hold on to claim his third career Hutchinson Grand National championship and a $4000 paycheck.
Jennings also swept Friday night's twin heat races and gathered enough finishing and passing points for that night, thus sweeping the weekend.
"This may just be the biggest victory of my career," said Jennings. "This has been a tough year for me and my family as my grandpa (Ernest) had a stroke back in February and hasn't been at the track. He is my mentor, best friend and super hero who had always been with me at the track. We realized this was the 61st running of Hutch and "Pops" always run #61 and I was determined to win this for him."
Campbell came home a strong second and has taken over the point lead with while Freeman settling for third. Jeff Stasa came home fourth while defending series champion Don Droud, Jr. came home fifth. After missing his flight and Friday night's Hutchinson Grand Nationals opener, Craig Dollansky started thirteenth aboard the Danny King owned sprinter and worked his way up seven positions to finish sixth.
Jennings, Droud, Campbell and the rest of the series regulars will be back in racing this coming Saturday night (July 22) as they head back to 81 Speedway in Park City and will be joined by the American Bank of Oklahoma American Sprint Car Series presented by Smiley's Racing Products Red River Region in the "NCRA vs ASCS challenge" that will pay $2000 to win.
NCRA Sprints
Kansas State Fairgrounds/Hutchinson, Kansas
July 15, 2017
13 Cars
A Feature: 1) 1J-Danny Jennings, [1]; 2) 10C-Jeremy Campbell, [4]; 3) 81-Jon Freeman, [2]; 4) 91-Jeff Stasa, [3]; 5) 1X-Don Droud Jr, [8]; 6) 88-Craig Dollansky, [13]; 7) 7-Michelle Decker, [10]; 8) 20G-Jake Greider, [11]; 9) 26M-Fred Mattox, [7]; 10) 98-J.D. Johnson, [6]; 11) 85-Forrest Sutherland, [9]; 12) 72-Ray Seeman, [5]; (DNS) 50-Randy Woodside
Friday night's double-heat race results
1st Set Heat Races
1st Heat: 1) 1J-Danny Jennings, [4]; 2) 10C-Jeremy Campbell, [2]; 3) 98-J.D. Johnson, [1]; 4) 85-Forrest Sutherland, [6]; 5) 7-Michelle Decker, [3]; 6) 1X-Don Droud Jr, [5]
2nd Heat: 1) 81-Jon Freeman, [4]; 2) 72-Ray Seeman, [1]; 3) 91-Jeff Stasa, [3]; 4) 26M-Fred Mattox, [5]; 5) 20G-Jake Greider, [2]; 6) 50Randy Woodside, [6]
2nd Set Heat Races
1st Heat: 1) Jeff Stasa, 2) Danny Jennings, 3) Jon Freeman, 4) Ray Seeman, DNS) Jake Greider, Randy Woodside
2nd Heat: 1) Danny Jennings, 2) Jeremy Campbell, 3) J.D. Johnson, 4) Fred Mattox, 5) Michelle Decker, 6) Forrest Southerland