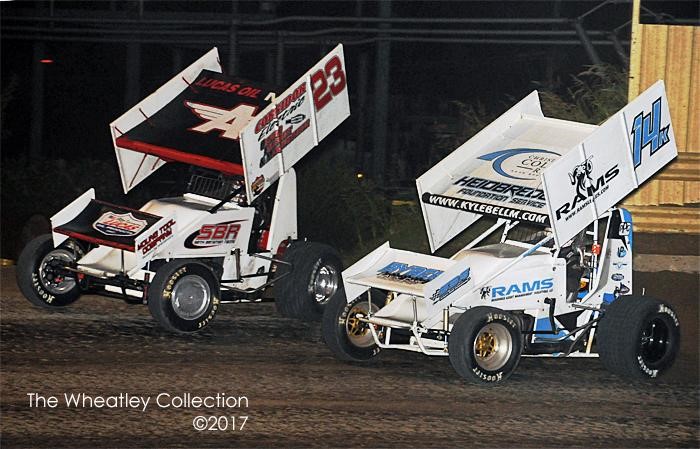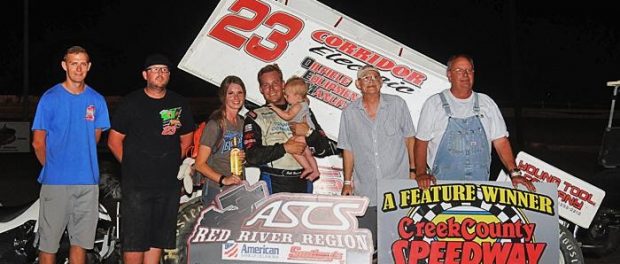 From Bryan Hulbert
SAPULPA, Okla. (July 21, 2017) – Putting on a show for the fans at Creek County Speedway, Washington's Seth Bergman held off the last lap charge of Missouri's Kyle Bellm to win with the American Bank of Oklahoma ASCS Red River Region presented by Smiley's Racing Products.
Taking the green from the pole position, Bergman took the lead with traffic quickly factoring into the equation as Kyle Bellm stalked the Oil Field Equipment and Manufacturing No. 23. With both drivers taking slower traffic passes three deep, Bellm closed to within a couple car lengths before red lights came on for Chance Morton who was unharmed.
Green for on lap before Blake Hahn spun while running fourth, the final caution flew on Lap 16 for Fred Mattox who parked his machine against the wall.
Putting a half straightaway on Bellm on the restart, both lead cars searched the ever thinning cushion of the Creek County Speedway with the RAMS No. 14k peddling to Seth's back bumper with only a pair of laps to run.
To the final revolution, the race of the lead was on as Bergman slapped the wall exiting the second turn. Recovering with the cushion clear, Seth hammered the throttle into the final turn as Kyle Bellm shot the bottom side. Even off the fourth turn, the pair drag raced to the checkered flag with Seth Bergman edging out Kyle Bellm on the line by a mere car length.
Battling back from a near crash in the early laps, Tennessee's Brian Bell crossed third in his debut at the Creek County Speedway with Alex Sewell fourth. Spinning while running second on Lap 2, John Carney II came back from 10th to finish fifth.
Charging from 15th, Sean McClelland finished sixth with Mike Goodman seventh. Andrew Deal crossed eighth from 13th with Blake Hahn recovering to finish ninth. Casey Wills came up the fill out the top-ten from 17th.
The American Bank of Oklahoma ASCS Red River Region presented by Smiley's Racing Products competes next at 81 Speedway in Park City, Kan. on Saturday, July 22 with NCRA. Races start at 8:00 P.M. (CDT).
For continued updates on the American Sprint Car Series, from the National Tour to any of the seven regional tours that make up the over 150 races across the ASCS Nation in 2017, log onto http://www.ascsracing.com.
Race Results:
ASCS Red River Region
Creek County Speedway – Sapulpa, Okla.
Friday, July 21, 2017
Car Count: 21
Heat 1 (8 Laps): 1. 52-Blake Hahn, [1]; 2. 8-Alex Sewell, [4]; 3. 23B-Brian Bell, [6]; 4. 20G-Jake Greider, [2]; 5. 21R-Andrew Deal, [5]; 6. 85-Forrest Sutherland, [3]; 7. 54-Will Scribner, [7]
Heat 2 (8 Laps): 1. 224-John Carney II, [2]; 2. 26M-Fred Mattox, [4]; 3. 44-Jared Sewell, [1]; 4. 23-Seth Bergman, [6]; 5. 8M-Kade Morton, [3]; 6. 22-Sean McClelland, [7]; 7. 42-Andy McElhannon, [5]
Heat 3 (8 Laps): 1. 11G-Mike Goodman, [2]; 2. 14K-Kyle Bellm, [5]; 3. 9$-Kyle Clark, [1]; 4. 7M-Chance Morton, [3]; 5. 23A-Travis Ashwood, [4]; 6. 31-Casey Wills, [6]; (DNS) 53-Brett Wilson,
Pizza Express of Oklahoma A Feature (25 Laps): 1. 23-Seth Bergman, [1]; 2. 14K-Kyle Bellm, [6]; 3. 23B-Brian Bell, [4]; 4. 8-Alex Sewell, [3]; 5. 224-John Carney II, [2]; 6. 22-Sean McClelland, [15]; 7. 11G-Mike Goodman, [7]; 8. 21R-Andrew Deal, [13]; 9. 52-Blake Hahn, [8]; 10. 31-Casey Wills, [17]; 11. 85-Forrest Sutherland, [18]; 12. 20G-Jake Greider, [12]; 13. 9$-Kyle Clark, [10]; 14. 44-Jared Sewell, [9]; 15. 42-Andy McElhannon, [20]; 16. 8M-Kade Morton, [16]; 17. 53-Brett Wilson, [21]; 18. 26M-Fred Mattox, [5]; 19. 7M-Chance Morton, [11]; 20. 23A-Travis Ashwood, [14]; 21. 54-Will Scribner, [19]