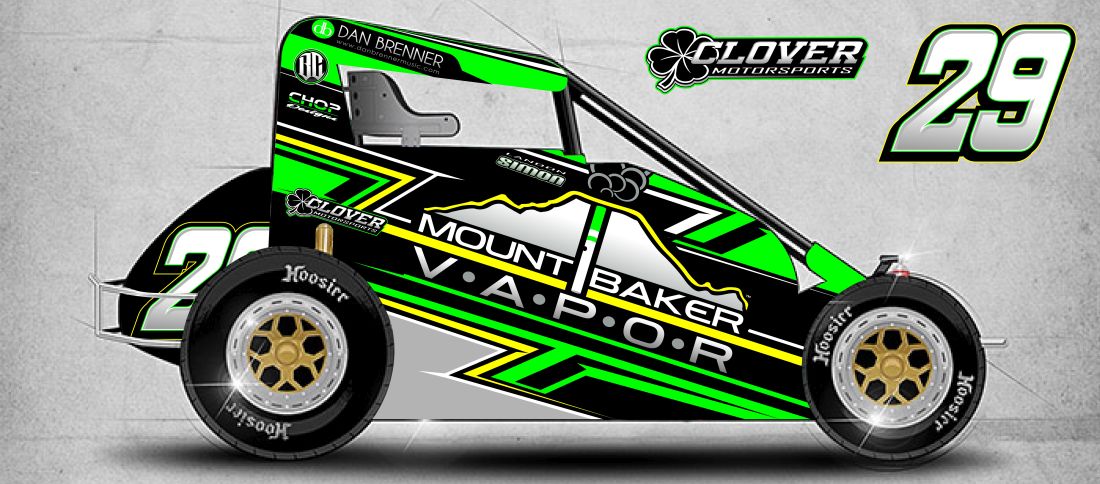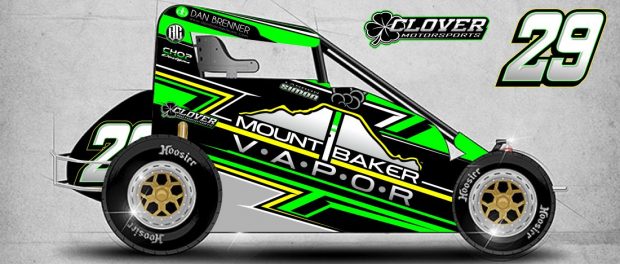 From Landon Simon Racing
BROWNSBURG, Ind. (July 25, 2017) — Clover Motorsports has recruited sprint car driver Landon Simon to compete in the Pennsylvania portion of USAC Midget Week August 13-17. He will drive the Dan Brenner, Mt. Baker Vapor backed Fontana powered Elite Chassis in his first USAC midget week appearance.
Racing for Simon and Clover Motorsports will start on August 13 at Susquehanna Speedway, followed by races at Path Valley and Lanco's Clyde Martin Memorial Speedway, then end on August 17 at Linda's Speedway in Jonestown, PA.
"I'm very excited to get behind the wheel of this car and I'm extremely honored to have been asked to come race for such a great team; such a great group of guys. This is a big opportunity and should really be a great week of racing," said Simon. "To say the Pennsylvania fans are some of the best in the nation is an understatement. Racing is a way of life and though race fans in general are some of the most dedicated, supportive and loyal followers of a sport, PA fans make drivers want to race at those race tracks."
Simon's primary sponsor Mt Baker Vapor will be represented on the race car and in the area during Midget Week.
"To have Mt Baker Vapor featured on a race car driven by Landon Simon, who has been a consistent advocate for our brand and our vision, is truly exciting stuff," said James Thompson, owner and CEO of Mt Baker Vapor. "For us at Mt Baker Vapor, we believe that a lifelong customer starts with relationship building. And in order for a relationship to manifest, simply speaking, people need to know who we are. Our main goal during this year's Pennsylvania Midget Week is to engage, build exposure and if time permits, watch some awesome racing! Words can't explain how excited Mt Baker Vapor is to have a presence during one of the biggest racing weeks of the year,"
Clover Motorsports was created with the partnering of Meshey Motorsports and Ryan Wilson Racing. Since its inception they have fielded cars in the winged 410 and most recently the ARDC/USAC midget ranks. They have had success on both levels with Michael Meshey turning wrenches and Ryan Wilson as the pilot. They are backed by the dedicated team of Matt Paulsen with additional help from Kenny Heighes and Cole Meshey.
"We are very excited to have Landon come on board for the Pennsylvania portion of USAC Midget Week. Ryan and Myself discussed having a driver come in and run the car for the week. We came up with a short list of drivers that had both midget and big car experience as well as a stellar track record with the fans. We decided to start contacting drivers. During my conversation with Landon we discussed loyalty, sponsorship awareness and fan appreciation. The excitement between Landon and myself in that conversation was contagious. After the discussions between Ryan and myself, the choice was obvious it had to be Landon."
"We feel as though Landon gives us a great chance to finish the week strong. He has the ability and desire to pilot our Dan Brenner, Mt. Baker Vapor backed Fontana powered Elite Chassis to the checkers night after night. We at Clover Motorsports, our team, sponsors and most importantly our fans are excited for the opportunity to work together with Landon."
"None of this would be possible without the constant support from the Meshey and Wilson families as well as all of our beloved fans, friends and loved ones," said Meshey. "We are hoping for a Great Week!"