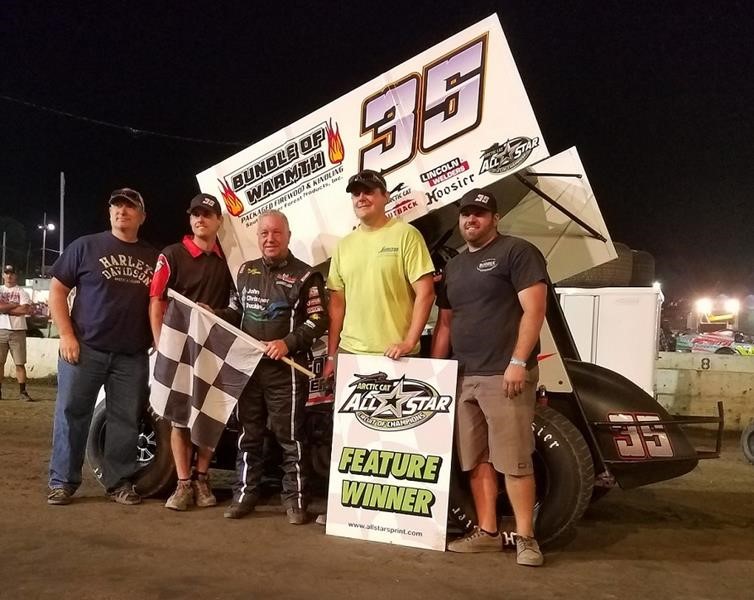 From Inside Line Promotions
WEST LEBANON, N.Y. (July 31, 2017) – Sammy Swindell produced a stout weekend with the Arctic Cat All Star Circuit of Champions in New York, where he captured his 26th career victory with the series to highlight a tripleheader in which he finished on the podium each night.
"It was really good," said Swindell, who was making his driving debut for Jared Zimbardi. "To come up and drive a car for some people who before I didn't even know, to just jump in their stuff and for everything to go as well as it did was pretty remarkable. They had some good equipment and were pretty close to being spot on with their cars."
The weekend began on Friday when Swindell made his debut at Outlaw Speedway in Dundee. He qualified seventh quickest overall and third quickest in his group before winning a heat race. That earned a spot in the dash, in which Swindell advanced from fourth to second place to start the main event on the outside of the front row.
"It was pretty good right away," he said. "I was able to take off and lead some laps. We got to traffic and there was a dip in turn three. I got traffic at the wrong place. It let another driver get underneath me. I chased him around there for a while. With three laps to go they had a yellow. On the restart I was able to drive around him and take the lead, but a car spun so they went back. On the second one the leader took off earlier and I wasn't in the right spot. I spun the tires a little bit and Chad Kemenah got around me so we settled for third."
The third-place finish was Swindell's fourth podium of the season and provided momentum entering Saturday's show at Orange County Fair Speedway in Middletown.
Swindell set quick time during qualifying before he finished fourth in a heat race to make the dash.
"We made a couple of changes to the car and we made some fueling changes," he said. "It picked it up quite a bit. We were able to get quick time by a bit. That place can be pretty hard to pass so being quick time meant we didn't have to advance any in the heat race. Then I was fortunate to draw the pole for the dash. I was able to drive off from that."
Swindell won the dash from the pole position to garner the pole for the 25-lap A Main.
"Everything was going real well so we didn't have to do many changes for the main," he said. "We paced ourselves through the whole race. I got a little concerned when guys would blow tires, but it all worked out. After the last caution I stepped it up because I had saved a lot."
Swindell led the distance to pick up his second triumph of the season.
The weekend wrapped up on Sunday at Lebanon Valley Speedway, where Swindell set quick time during qualifying for the second straight night. He again placed fourth in a heat race to make the dash. This time he pulled the highest number – eight – during the random redraw to start the dash eighth.
"We wound up pulling the eight, which was the worst one to get," he said. "That's definitely one of the hardest places to pass. You have to get everything done on the start and then it gets tough to get by guys. We were able to move by a guy for seventh and then get by Tony (Stewart) a couple of laps in for sixth."
Swindell then advanced from sixth to third place in the main event.
"I was able to get a good start the first time and right up to fourth, but they had a caution," he said. "On the restart I was still able to get by a couple of cars, but I got behind Kemenah. It took me a while to get by him. I started running second down and we got to some traffic. I was able to get by him and as soon as I did they had a yellow. I went back to third and then they had a fuel stop. His guys must have told him where I was running because he moved down to the middle of the track. I had to try to work underneath him and I couldn't quite get it."
Swindell will team up with A.G. Rains this Thursday through Saturday at Knoxville Raceway in Knoxville, Iowa, for the 27th annual 360 Knoxville Nationals presented by Great Southern Bank. The duo captured the event last year, which made Swindell only the second driver to win both the 360 and 410 Knoxville Nationals.