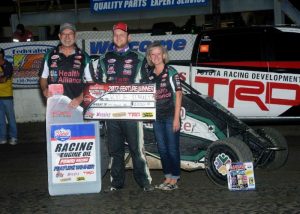 From POWRi
PEVELY, Mo. (August 4, 2017) – Kyle Schuett of Philo, Illinois led all 30 laps of the POWRi Lucas Oil National and West Midget League feature event to claim the Prelude to the Ironman at the Federated Auto Parts Raceway at I-55. Schuett's Prelude to the Ironman is his first-career POWRi Lucas Oil National Midget League victory. Schuett was the 2015 POWRi Lucas Oil National Midget League Rookie of the Year and is a graduate of the POWRi Speedway Motors 600cc Outlaw Micro League.
Starting inside the second row, Schuett charged past the front row of pole sitter Tyler Thomas and Jake Neuman into turn one. Holding the lead off two, Schuett set a rapid pace, running the bottom while Thomas and Tucker Klaasmeyer gave chase. Enduring four yellows, the final caution of the night came with 24 laps competed, setting up a mad dash to the finish.
Returning to racing, Schuett was followed by three time and defending POWRi Lucas Oil National Midget League champion Zach Daum and Thomas. Taking the green, Schuett again took to the bottom side with Daum in tow as Tyler Thomas took to the top, charging toward the front. With three laps to go, Thomas stole the second position from Daum and looked to be making an effort for the lead. Coming off turn two, Thomas bobbled on the cushion, while Schuett stayed strong, entering the final turn for the final time. Zach Daum took third, while Logan Seavey finished fourth. Jake Neuman rounded out the top five.
"I wasn't going to let Indy Indoors be my only midget win," said Kyle Schuett. "We were destined and determined to get this thing back together and up front. We've had a tough season. I can't thank Health Alliance, DRC, Stanton, FK Midwest, Advanced Racing Suspensions enough. It's a dream come true. I can't thank all these guys behind me enough; my Dad, my Mom, Alan, Josh, Chad, Jim. This is pretty awesome."
"I wish I would have went up there sooner," stated Tyler Thomas. "I tried it at the very beginning, but the bottom was so fast and I really got tired of playing follow the leader there at the end. Tucker made it work and popped a tire. He must have been up there the whole time. When I finally committed to the top, this thing was really good; it was fast. Hat's off to Kyle, he drove a really good race. He put himself in the right spot at the right time."
"It isn't great, but we had to change a motor after the heat race, so we never got a chance to look at the race track there and it definitely bit us," commented Zach Daum. "The bottom is more my style than pounding the fence, but we should have been a little better than we were. I can't thank everybody enough that helped us change the motor after the heat race."
Midgets
Speedway Motors Heat Race Winners: Heat 1: 9K – KYLE SCHUETT, Heat 2: 27 – TUCKER KLAASMEYER, Heat 3: 3N – JAKE NEUMAN, Heat 4: 91T – TYLER THOMAS
Toyota Semi Feature Winner: 9 – MATT MOORE
Mesilla Valley Transportation Feature Winner: 9K – KYLE SCHUETT
POWRi Lucas Oil National Midget League Feature Results (30 laps): 1. 9k – Kyle Schuett 2. 91t – Tyler Thomas 3. 5d – Zach Daum 4. 4a – Logan Seavey 5. 3n – Jake Neuman 6. 37 – Andrew Felker 7. 27z – Zane Hendricks 8. 8j – Jonathan Beason 9. 8 – Alex Sewell 10. 37w – Wesley Smith 11. 28 – Kory Schudy 12. 32 – Casey Shuman 13. 00 – Grady Chandler 14. 6a – Aidan Roosevans 15. 27 – Tucker Klaasmeyer 16. 82m – Steven Shebester 17. 22 – Andy Malpocker 18. 10x – Colten Cottle 19. 55 – Nick Knepper 20. 50 – Daniel Adler 21. 9jr – Derek Hagar 22. 9 – Matt Moore 23. 3b – Shelby Bosie