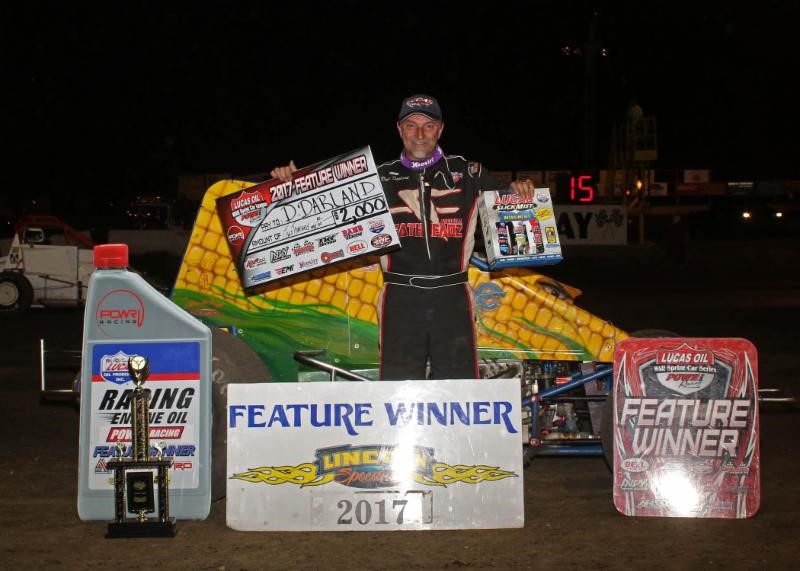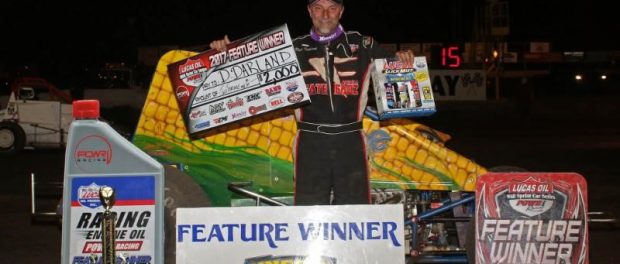 From Brooke Rowden
LINCOLN, Ill. (August 18, 2017) – Dave Darland made his POWRi Lucas Oil WAR East Sprint debut Friday night at the Lincoln Speedway in Lincoln, Illinois in dominating fashion by picking up his first league win of his career from the sixth starting position. Zach Daum, Bret Tripplett, Korey Weyant, and Terry Babb rounded out the top five.
Katlynn Leer and Brandon Mattox led the field to green flag racing, and Mattox would lead lap one. The red flag would fly for AJ Bruns who was upside down in turns three and four. He was unharmed, but his night ended there. After a brief visit to the work area, Landon Simon tagged the tail of the field.
After the restart, Daum moved into the lead working the bottom groove with Weyant close behind on the top groove. The yellow flag would come out for Mattox who was stopped in turn three, and he would not be able to restart.
Just after the field took the green flag with fifteen laps remaining, Buddy Lowther would end up upside down in turns three and four. He was ok, but his night would end. Tommy Rockwell headed to the work area with a flat left front tire. His crew and a few helpers from multiple race teams helped get his tire changed and he would tag the tail of the field.
After the restart, Daum assumed his lead continuing to roll the bottom. Dave Darland, who started sixth and now ran third, waited for the opportunity to pass Weyant who was also running the high side in second. Darland threw a slide job on Weyant in turns three and four to take over the second position. He then set his sights on Daum who now had a comfortable lead. Darland reeled in the 5D machine and would make the pass for the lead with five to go. Darland went on to pick up his first POWRi Lucas Oil WAR East Sprint Car win of his career.
The POWRi Lucas Oil WAR East Sprints are back in action for the highly anticipated two day weekend at Fairbury American Legion Speedway (FALS) in Fairbury, Illinois October 6-7.
The POWRi Lucas Oil WAR Sprints head to US 36 Raceway in Cameron, Missouri next Friday, August 25 followed by Saturday, August 26 at Lake Ozark Speedway in Eldon, Missouri.
POWRi Lucas Oil WAR East Sprint League
8/18/17
Lincoln Speedway – 27 cars
Hinchman Racewear Heat 1 – 8 laps
1. 24-Landon Simon, Tipp City, OH (2); 2. 8D-Terry Babb, Decatur, IL (3); 3. 27-Tucker Klaasmeyer, Paola, KS (5); 4. 5D-Zach Daum, Pocahontas, IL (8); 5. 52-Isaac Chapple, Willow Branch, IN (6); 6. 52F-Logan Faucon, Elkhart, IL (1); 7. 44-AJ Bruns, Lincoln, IL (9); 8. 95-Tommy Rockwell, Towanda, IL (4); 9. 31L-Buddy Lowther, Cincinnati, OH (7)
Wilwood Disc Brakes Heat 2 – 8 laps
1. 6-Mario Clouser, Auburn, IL (3); 2. 85-Dave Darland, Lincoln, IN (8); 3. 77K-Katlynn Leer, Moulton, IA (6); 4. 20-Steve Thomas, Rantoul, IL (1); 5. 11-James Lyerla, Hillsboro, IL (4); 6. 6B-Andy Baugh, Mason City, IL (7); 7. 7X-Max Pozsgai, Lincoln, IL (2); 8. 7-Bobby Logan, Rantoul, IL (5); 9. 1-Mitch Wissmiller, Saybrook, IL (9)-DNF
Bell Helmets Heat 3 – 8 laps
1. 28-Brandon Mattox, Terre Haute, IN (2); 2. 99-Korey Weyant, Springfield, IL (5); 3. 22-Bret Tripplett, Lincoln, IL (4); 4. 56-Mitchell Davis, Auburn, IL (8); 5. 70-Pete Palazzolo, Ballwin, MO (1); 6. 55-Chuck Walker, Herrin, IL (3); 7. 9T-Dylan Tuxhorn, Pawnee, IL (9)-DNF; 8. 72-Al Thomas, Ludlow, IL (6)-DNF; 9. 11B-Mark Brucker, Elliott, IL (7)-DNS
B-Main – 12 laps
1. 1-Mitch Wissmiller (9); 2. 70-Pete Palazzolo (2); 3. 95-Tommy Rockwell (8); 4. 31L-Buddy Lowther (10); 5. 7X-Max Pozsgai (5); 6. 55-Chuck Walker (3); 7. 11B-Mark Brucker (11); 8. 7-Bobby Logan (7); 9. 52F-Logan Faucon (4)-DNF; 10. 9T-Dylan Tuxhorn (1)-DNS; 11. 72-Al Thomas (6)-DNS
POWRi Lucas Oil WAR East Sprints A-Main – 25 laps
1. 85-Dave Darland (6); 2. 5D-Zach Daum (7); 3. 22-Bret Tripplett (11); 4. 99-Korey Weyant (4); 5. 8D-Terry Babb (9); 6. 6B-Andy Baugh (15); 7. 6-Mario Clouser (5); 8. 77K-Katlynn Leer (1); 9. 56-Mitchell Davis (8); 10. 11-James Lyerla (14); 11. 20-Steve Thomas (13); 12. 95-Tommy Rockwell (19); 13. 52-Isaac Chapple (12); 14. 27-Tucker Klaasmeyer (10)-DNF; 15. 24-Landon Simon (3)-DNF; 16. 70-Pete Palazzolo (18)-DNF; 17. 31L-Buddy Lowther (20)-DNF; 18. 28-Brandon Mattox (2)-DNF; 19. 1-Mitch Wissmiller (17)-DNF; 20. 44-AJ Bruns (16)-DNF