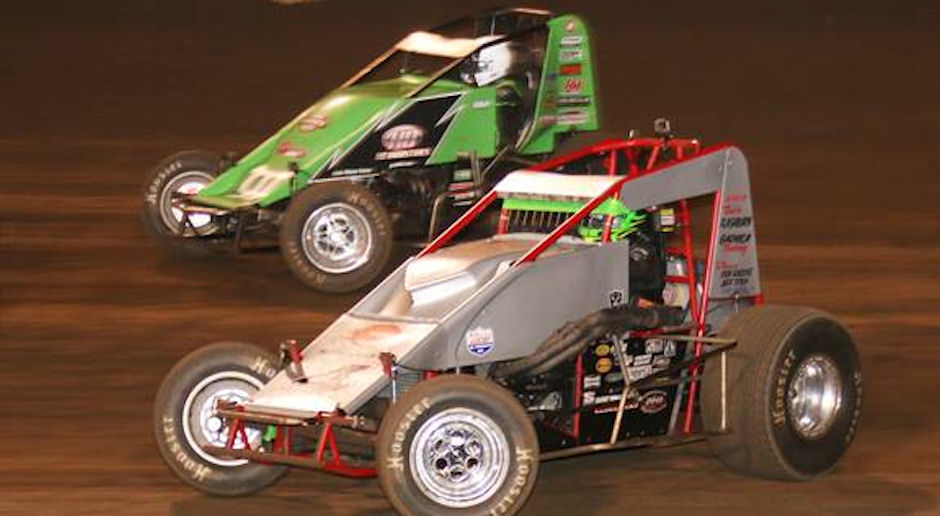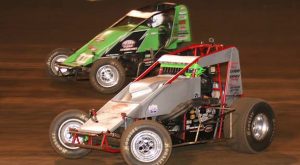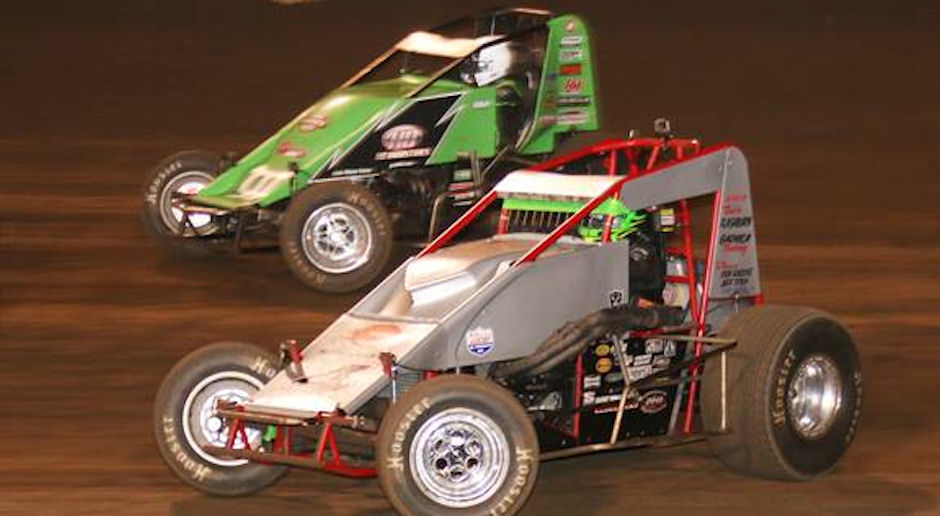 By Scott Daloisio
(Perris, CA, August 22, 2017) Perris Auto Speedway is gearing up to host the "Big Fight" this Saturday night, August 26th, when it presents the Amsoil USAC/CRA Sprints Cars in the annual "California Racer's Hall of Fame Classic." The main event on Saturday's card will match defending champion Damion Gardner vs USAC/CRA ranked #2 contender Brody Roa in a 30-lap battle for the undisputed lead in the Championship point standings. Spectator gate will open at 5:00 P.M. and the opening bell will ring at 7:00.
Gardner, the five-time series champion who makes his home in Concord, has been in the lead since the opening round of the season on March 4th at The PAS. Roa, a rising 26-year-old who lives in Garden Grove, has been in second most of the year, but he is closer to the point leader than he has been all season long. After winning the last race of the series at Santa Maria on August 5th, the lanky driver has closed the gap to a mere four-points behind his main foe.
"I am not sure if there is any animosity between the two drivers, but the fans are sure fired up about this one," Perris Auto Speedway promoter Don Kazarian said with a big grin. "Damion has been ruling the roost out here ever since he came back from racing in Indiana five-years ago. He has won four championships in a row and has a good chance at making it five straight this year. However, Brody and his team are poised and ready to fight for the title more than ever before. Fans have really sat up and taken notice of Brody this year with his never give up style and he likes to run the top. Damion tops the series with the three wins and Brody has been the most consistent driver only finishing out of the top five one-time (a seventh on June 24th at The PAS). This is a classic matchup of two title contenders."
Damion Gardner of Concord, on the inside, and Brody Roa of Garden Grove, on the outside, will fight it out for the USAC/CRA point lead Saturday at Perris Auto Speedway.
While the lead duo is fighting for the top spot, they had better not blink as Anaheim's Jake Swanson and 5-time series champ Mike Spencer of Temecula are currently ranked third and fourth coming into Saturday's race at the famous Riverside County half-mile clay oval. They are 66 and 67 points behind Gardner respectively and with California Sprint Week (six races in eight days beginning on Labor Day weekend) coming up, they could be major players for the title when the series comes back to The PAS for the 200th time on September 23rd.
Despite the hubbub about the title contenders, the driver to beat Saturday night could well be Laveen, Arizona's R.J. Johnson. The multi-time USAC Southwest Series champ has won the last two main events at The PAS and has led all 30-laps both times. Last week the 30-year-old won a USAC Southwest Series main event in Wichita, Kansas.
In addition to the normal heat races, B and A mains prevalent at all USAC/CRA shows, a $2,000.00 "Junior Kurtz Trophy Dash" has been added for Saturday night. Pacing the USAC/CRA main event field will be the "Last Real American Dirt Car" driven by National Sprint Car Hall of Famer Chuck Gurney. The "Plastic Express Special" was recently finished by Jeff Heywood and is a tribute to longtime car owner Kurtz.
When the gates open at 5:00 P.M. several legends from the past will be inside the The PAS' sports bar to meet fans, sign autographs and pose for photos. Among those expected are Gurney, Heywood, Jimmy Oskie, Eddie Wirth, Brad Noffsinger, Don Thomas, Stan Atherton, John Redican and more.
As well as the USAC/CRA Sprint Cars, The PAS Senior & Young Gun Sprints and the California Lightning Sprint Cars will also be in action on Saturday. Hannah Mayhew, a college student from Acton, has a slender six-point lead over 15-year-old Covina High student Joel Rayborne in the Young Guns. The Senior Sprints (drivers 40 and older) are locked into a three-way battle for the title featuring Richard McCormick of Agua Dolce, Ed Schwarz of Santa Fe Springs and Rick Hendrix of Palmdale.
The California Lightning Sprints will be making their final 2017 appearance at The PAS. 2010 CLS Champ Jarrett Kramer of Spring Valley has led the CLS points chase since the first race at El Centro in March. Teenager Aiden Lange of Lakewood is second with four-time series champ Bobby Michnowicz of Lomita third. Michnowicz won the other 2017 CLS race at The PAS on Memorial Day weekend.
Also on Saturday, as fans walk through the front gate they will be greeted by the gorgeous vintage sprint cars and midgets from the Western Racing Association.
Adult tickets for Saturday's race are $25.00. Seniors 65 and older get in for $20.00. Active military members with proper id, teens 13-18 with their school id and gets age 6-12 get in for $5.00. Children 5 and under are free. Parking on the fairgrounds is $8.00.
Advanced tickets for Saturday's event are available 24-hours a day by calling 1-800-595-4849 or online at http://pas.tix.com/Event.aspx?EventCode=922979. For those who do not wish to purchase advance tickets, there will be plenty of tickets available for everyone at the ticket window on Saturday.
Amsoil USAC/CRA Point Standings
1. Damion Gardner – Concord, CA – 658
2. Brody Roa – Garden Grove, CA – 654
3. Jake Swanson – Anaheim, CA – 592
4. Mike Spencer – Temecula, CA – 591
5. Austin Williams – Yorba Linda, CA – 529
6. Cody Williams – Yorba Linda, CA – 462
7. Logan Williams – Yorba Linda, CA – 423
8. Max Adams – Loomis, CA – 392
9. Chris Gansen – Verdemont Heights, CA – 368
10. Richard Vander Weerd – Visalia, CA – 345
PAS Young Gun Sprint Car Point Standings
1. Hannah Mayhew – Acton, CA – 291
2. Joel Rayborne – West Covina, CA – 285
3. Blade Hildebrand – Yucca Valley – CA – 172
4. Daniel Anderson Venice, CA – 114
5. Malyssa Perkins – Oak Hills, CA – 102
California Lightning Sprint Cars
1. Jarrett Kramer – Spring Valley, CA – 1404
2. Aiden Lange – Lakewood, CA – 13416
3. Bobby Michnowicz – Lomita, CA –1255
4. Cody Nigh – Camarillo, CA – 1239
5. Chris Dickey – Murrieta, CA – 1116
Perris Auto Speedway wants to thank its corporate partners for the 2017 season. All Coast Construction, Amsoil, Ayers Hotel and Spa, Brass and Bass Firearms & Fishing Supplies, Budweiser, Bud's Tire Pro, Center Point Church, Champion Towing, City of Perris, Country Values Magazine, Daytona Boat & RV Storage, Ed Moore Bullet Proof Driveshaft, Edelbrock, Flowdynamics, Full Throttle Scissor Lift Rental, Green Sheet, HD Industries, Hoosier Tires, Indiana Truck Salvage, K&N Engineering, Living Water's Hospice, Luke's Transmission, Moreno Valley Magazine of Values, Paul Oil Company, Pepsi-Cola, Pick-A-Part Auto Salvage, Pole Position, Precision Engine of Murrieta, PrintItNow.com, Scott Sales, Shaver Specialties, Square H, Sunstate Equipment, Swedish Speed, Original Tommy's Burgers, Trench Shoring, Valley News, Vista Paint and Weedmaps.
To keep up with all the latest Perris Auto Speedway news, photos, gossip and receive special offers, please use the following links:
Facebook: https://www.facebook.com/pages/Perris-Auto-Speedway/113876798686480?ref=hl
Twitter: Perris Auto Speedway on Twitter.
Instagram: https://www.instagram.com/perrisautospeedway/
Website: http://perrisautospeedway.com/
Video and DVD productions of open wheel racing events at Perris Auto Speedway are available from Loudpedal Productions. For more information on these productions you can contact them by calling (805) 844-3854, E-mailing mailto:trtruex@gmail.com or you can visit the website LoudPedal Productions
Perris Auto Speedway is located on the Lake Perris Fairgrounds (home of October's Southern California Fair), approximately one-hour east of Los Angeles and one-hour North of San Diego. To get to the track, take the 215 freeway, exit on the Ramona Expressway and go three miles east to the fairgrounds.
racesatthepas@aol.com is the only authorized Internet address to issue official media news released from The Perris Auto Speedway or Oval Entertainment.