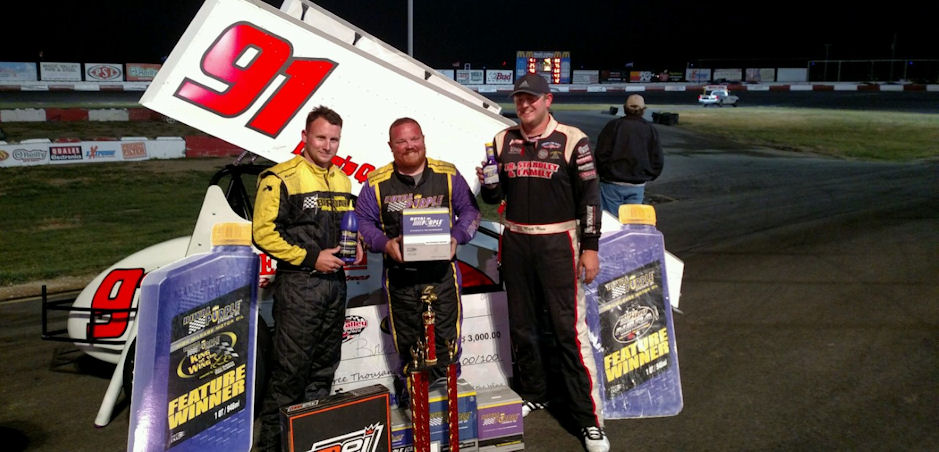 By Ben Deatherage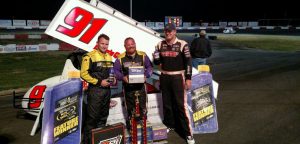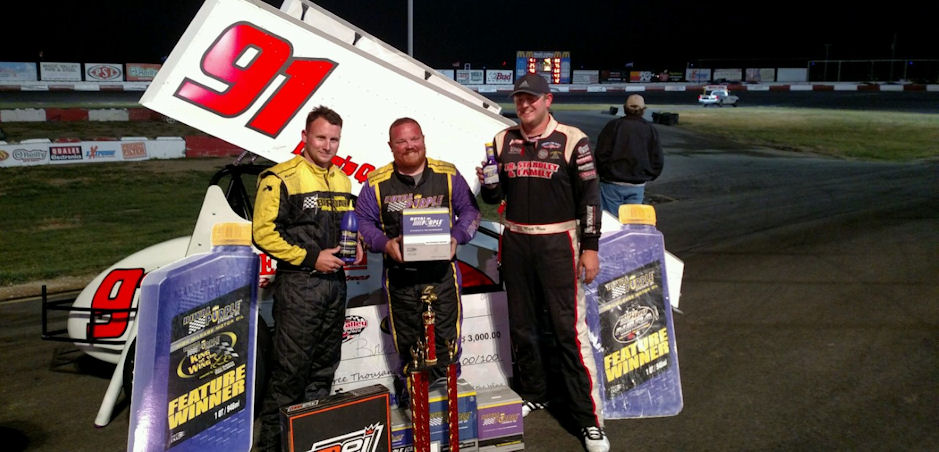 Twin Falls, Idaho-Magic Valley Speedway would open up the triple header race weekend for both the Royal Purple NSRA Winged Sprintcars
as well as the Royal Purple King Of The Wing groups. The Thursday, September 14th, event would beat out the rain that was at times a nuisance and completed the whole entire program. Twenty-nine teams would make the journey from the American states of Idaho,
Washington, Oregon, California, and Utah as well as the Canadian province of British Columbia.
Earning the pole starting position local favorite Bryan Warf would take over the lead once the green flag dropped. The Meridian chauffeur
would keep the Pat Russell owned entry in front of the rest of the field for the entire distance. It would be the second victory of the current campaign against the Royal Purple NSRA Winged Sprintcars and is his first career King Of The Wing triumph.
Johnny Giesler, also from Meridian, was second while grabbing third would be Matt Hein, out of Roseburg, Oregon. The balance of the top
five consisted of fourth finishing Eric Humprhies, from Chowchilla, California, and Langley, British Columbia's Aaron Willison, making an appearance in the Rod and Gord Rendle machine, in fifth.
Jason Conn, making the extremely long tow from Prince George, British Columbia, was quickest in time trials. Heat race winners were Quesnel,
British Columbia veteran Ron Larson, Meridian native Colton Nelson, Salt Lake City, Utah's Kyle Bergener, and Bryan Warf. Kyle Alberding, from Winston, Oregon and racing for car owner Art Holte, won the consolation feature.
Meridian Speedway will be the site of the final two races of the 2017 season for the Royal Purple NSRA Winged Sprintcars. They will compete
at the Idaho 1/4-mile facility on Friday, September 15th, and Saturday, the 16th. Friday and Saturday at Meridian are $18.00 each night for Adults, Seniors/Military $15.50, Kids (7-11) $6.50, and a Family Pass (including 2 Adults and up to 4 kids) for $46.00.
Gates open at 4:00 PM each night and Racing begins at 6:30.
Be sure and stay up to date with the Royal Purple NSRA Sprint Series by visiting the series website at www.nsraracing.com. Also, check
out the official Facebook page and click "Like" to follow the tour via your favorite electronic devices.
Royal Purple is the proud title sponsor of the NSRA Pavement Sprint Car Series. Royal Purple manufactures high-performance lubricants
for most automotive, industrial, marine, motorcycle and racing applications. It is considered the best synthetic motor oil by many end users. For more information or to find a store that carries these wonderful products log on to www.royalpurpleconsumer.com.
Race Results:
Royal Purple NSRA Race #7
Thursday, September 14th, 2017
Magic Valley Speedway
Twin Falls, Idaho
A Feature: 1. 91-Bryan Warf, ; 2. 25-Johnny Giesler, ; 3. 98H-Matt Hein, ; 4. 15-Eric Humphries, ; 5. 14-Aaron Willison, ; 6. 88-Jason
Conn, ; 7. 76-Andy Alberding, ; 8. 68-Michael (Mike) Anderson, ; 9. 43-Kyle Bergener, ; 10. 12B-Jeff Bergener, ; 11. 12-Ron Larson, ; 12. 28-Colton Nelson, ; 13. 8-Tristen Spiers, ; 14. 3-Tom Baker, ; 15. 4-Aiden Spiers, ; 16. 24-Jim Waters, ; 17. 32-Ryan
Orchard, ; 18. 68L-Stacey Jensen, ; 19. 9-Duane Zeinstra, ; 20. 77-Matt Elliott, ; 21. 26-Anthony Quintana, ; 22. 36-Ryan
Burdett, ; 23. 2-Austin Carter, ; 24. 7-A.J. Russell,
B Feature: 1. 33-Kyle Alberding, ; 2. 3-Tom Baker, ; 3. 26-Anthony Quintana, ; 4. 77-Matt Elliott, ; 5. 27-Jaren Mott, ; 6. 9-Duane Zeinstra,
; 7. 12M-Aaron McPeak, ; (DNS) 71-Cory Lockwood, ; (DNS) 26-Justin Segura, ; (DNS) 9-Ken Hamilton,
Heat 1: 1. 12-Ron Larson, ; 2. 4-Aiden Spiers, ; 3. 36-Ryan Burdett, ; 4. 14-Aaron Willison, ; 5. 32-Ryan Orchard, ; 6. 12B-Jeff Bergener,
; 7. 77-Matt Elliott, ; 8. 33-Kyle Alberding,
Heat 2: 1. 28-Colton Nelson, ; 2. 68-Michael (Mike) Anderson, ; 3. 98H-Matt Hein, ; 4. 76-Andy Alberding, ; 5. 2-Austin Carter, ; 6. 68L-Stacey
Jensen, ; 7. 9-Ken Hamilton,
Heat 3: 1. 43-Kyle Bergener, ; 2. 25-Johnny Giesler, ; 3. 24-Jim Waters, ; 4. 15-Eric Humphries, ; 5. 27-Jaren Mott, ; 6. 26-Anthony
Quintana, ; 7. 71-Cory Lockwood,
Heat 4: 1. 91-Bryan Warf, ; 2. 3-Tom Baker, ; 3. 8-Tristen Spiers, ; 4. 88-Jason Conn, ; 5. 9-Duane Zeinstra, ; 6. 7-A.J. Russell, ;
7. 12M-Aaron McPeak, ; 8. 26-Justin Segura,
Qualifying: 1. 88-Jason Conn, ; 2. 15-Eric Humphries, ; 3. 98H-Matt Hein, ; 4. 14-Aaron Willison, ; 5. 91-Bryan Warf, ; 6. 25-Johnny
Giesler, ; 7. 76-Andy Alberding, ; 8. 36-Ryan Burdett, ; 9. 8-Tristen Spiers, ; 10. 71-Cory Lockwood, ; 11. 68-Michael (Mike) Anderson, ; 12. 32-Ryan Orchard, ; 13. 7-A.J. Russell, ; 14. 43-Kyle Bergener, ; 15. 2-Austin Carter, ; 16. 12-Ron Larson, ; 17. 26-Justin
Segura, ; 18. 24-Jim Waters, ; 19. 28-Colton Nelson, ; 20. 4-Aiden Spiers, ; 21. 12B-Jeff Bergener, ; 22. 68L-Stacey Jensen, ; 23. 27-Jaren Mott, ; 24. 9-Duane Zeinstra, ; 25. 77-Matt Elliott, ; 26. 9-Ken Hamilton, ; 27. 26-Anthony Quintana, ; 28. 12M-Aaron
McPeak, ; 29. 33-Kyle Alberding