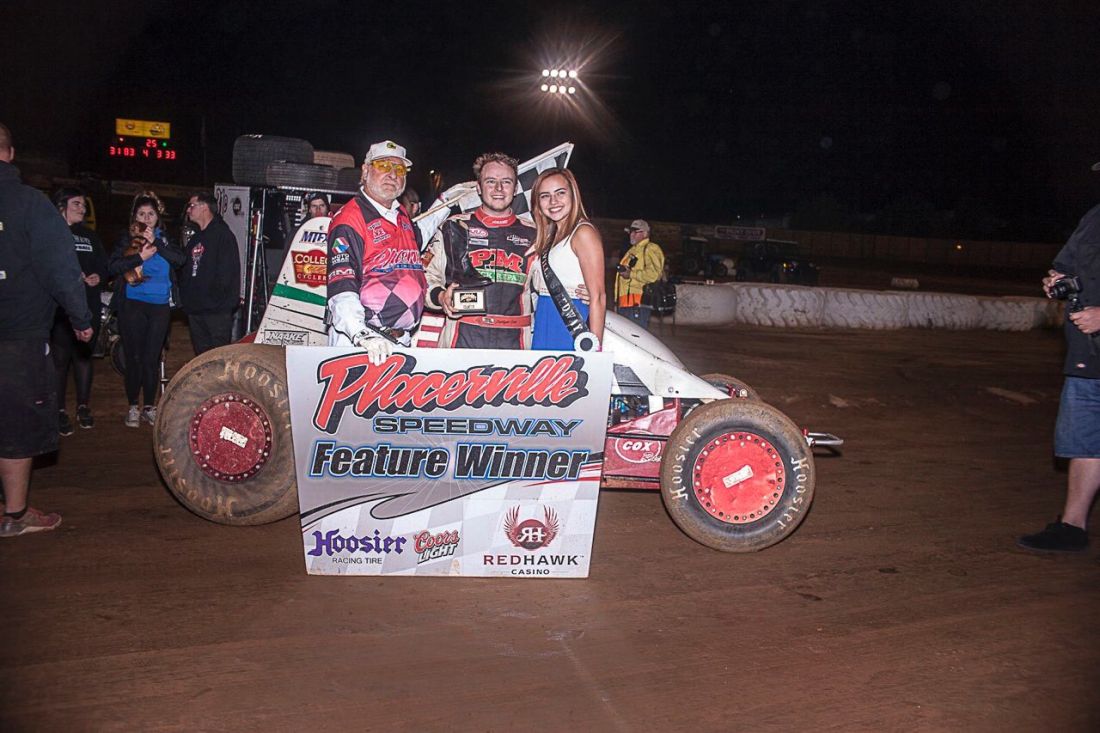 From Petersen Media
Taking advantage of a rare non-wing sprint car event in Northern California on Thursday night, Justyn Cox opened the Nor-Cal Posse Shootout up in style as he got by Austin Liggett to claim his first career traditional sprint victory.
"It was only our third non-winged race, and I was really happy with how it went," Cox said. "To go toe-to-toe with a driver like Austin Liggett and get the win is huge and I can't thank my guys enough for their hard work."
Timing the Berco Redwood/Berry Lumber/Trex backed No. 31c machine in seventh quickest in qualifying time trials, the Clarksburg, CA driver would race to the win in his heat race and make his way into the Dash.
Winning the Dash, Cox would lead the field to green alongside Liggett. When the race came to life, Cox would get off to a slower start as he slipped back as far fourth until he began battling hard with Michael Kofoid and Geoff Ensign.
Able to work his way up into the second spot late in the feature event, Cox would use a restart to jump out to the race lead on the 20th circuit. Being very cautious over the final five laps, Cox was able to fend off Liggett and park his machine in victory lane.
"I had a blast on Thursday night," Cox added. "We have been good at Placerville for most of the year, and to win the non wing deal is pretty neat. The winged portion of the weekend didn't go as desired, but we will try again this weekend."
Getting back to winged racing on Friday night, Cox would have a bit of a tough night as he would time in 18th quickest of the 41 cars checked into the pit area. Having a tough heat that saw him end up finishing 10th, Cox would move into the B Main where he would take the green flag from the 10th starting spot.
Having issues on the start of the semi, Cox would drop back deep in the field before opting to pull off the racing surface on the sixth lap and essentially end his weekend.
The Cox Racing team would like to thank Berco Redwood, Berry Lumber, Trex, PM Truck Repair, Justice Brothers, K&N, LRB, Konnected, A.R.T., Sacramento Theatrical Lighting, EyeLusions, All American Powder Coating, Coos Bay Speedway, Swim