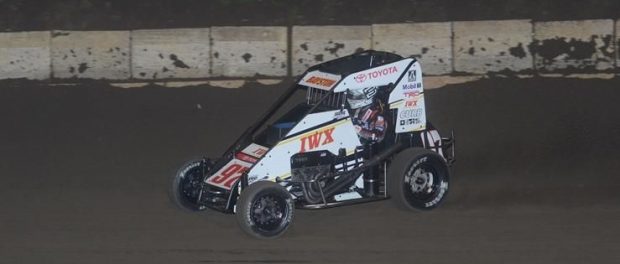 From POWRi
JACKSONVILLE, Ill. (October 13, 2017) — For the fifth time in 2017 and the 16th of his career, Spencer Bayston bagged another victory with the POWRi Lucas Oil National Midget League. Bayston's victory came in the first night of a doubleheader weekend at Jacksonville Speedway.
Starting outside the front row, Bayston took command at the drop of the green flag off turn two. On lap four, the red was displayed as Austin O'Dell caught the rut in turn one and took a wild ride. O'Dell walked away under his own power. For the next five laps, Bayston was relatively unchallenged as Tyler Courtney worked his way to the front. By lap 10, Courtney had secured the second position and set his sights on Bayston. In the final 19 laps, slowly working closer to Bayston, it looked like Courtney may have an opportunity to challenge for the lead in the final circuits.
In the final three laps though, Courtney looked to have missed his mark entering turn one, narrowly avoiding spinning out each time, allowing Bayston to pull away unscathed. Logan Seavey, the current POWRi Lucas Oil National Midget League point standings leader finished third. Tucker Klaasmeyer and Tyler Thomas rounded out the top five.
"I think that was Sunshine showing me a nose there on the bottom, so I figured I should at least try it down there," commented Spencer Bayston. "In the last few laps, I figured I should probably stay down there and we brought home the win. I've got to thank my guys; they work really hard on this thing and keep making it better and better. It's a pretty good night."
"We changed a lot of stuff here from the last time we ran and I think we're definitely on the right track," stated Tyler Courtney. "Tim works really hard on these things. We are getting a little bit closer and I know we can get one. Something stumbled getting into one on the last lap, but no excuse there because he still led all thirty and congrats to him."
"We were really good tonight," said Logan Seavey. "The track was pretty hooked up in the beginning and then got really racy. By the time we got the third caution we were already up to fourth place. I can't say enough about the car. We just needed some cautions so we could race with these guys."
Midgets
Speedway Motors Heat Race Winners: Heat 1: 97 – SPENCER BAYSTON, Heat 2: 1K – BRAYTON LYNCH, Heat 3: 39 – ZEB WISE
Toyota Semi Feature Winner: 5RJ – JASON MCDOUGAL
Mesilla Valley Transportation Feature Winner: 97 – SPENCER BAYSTON
POWRi Lucas Oil National Midget League Feature Results (30 laps): 1. 97 – Spencer Bayston 2. 7bc – Tyler Courtney 3. 4a – Logan Seavey 4. 27 – Tucker Klaasmeyer 5. 91t – Tyler Thomas 6. 3n – Jake Neuman 7. 67k – Holly Shelton 8. 7 – Austin Brown 9. 37 – Andrew Felker 10. 39 – Zeb Wise 11. 71 – Ryan Robinson 12. 28 – Ace Mccarthy 13. 71k – Tanner Carrick 14. 5rj – Jason Mcdougal 15. F5 – Broc Hunnell 16. 57 -Mark Mcmahill 17. 9k – Kyle Schuett 18. 09 – Robby Mcquinn 19. 1k – Brayton Lynch 20. 67 – Tanner Thorson 21. 56x -Mark Chisholm 22. 97x – Austin O'Dell