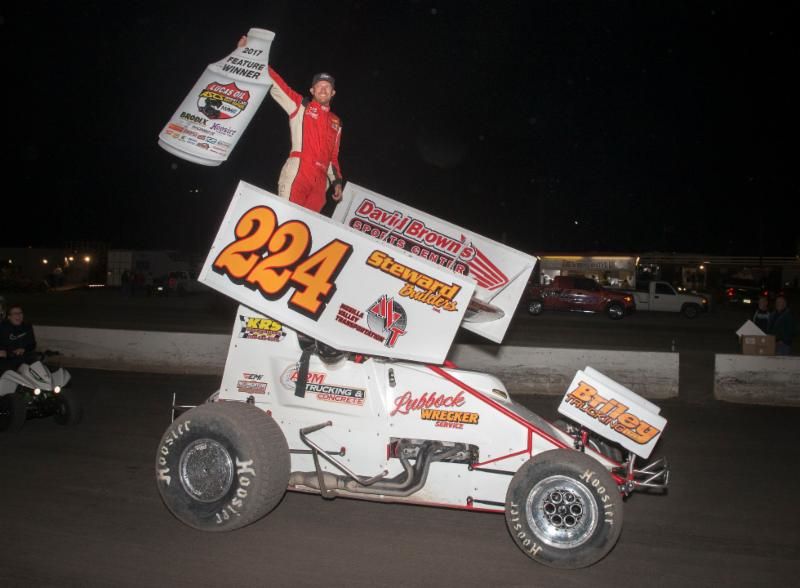 From Bryan Hulbert
MESQUITE, Texas (October 20, 2017) – Winning the Devil's Bowl Winter Nationals one year ago, El Paso's John Carney II is well on his way to defending his victory as the driver of the Lubbock Wrecker/Mesilla Valley Transportation No. 224 led start-to-finish to win Friday's preliminary A-Feature with the Lucas Oil American Sprint Car Series National Tour presented by the MAVTV Motorsports Network.
"I'm just glad we had a good redraw and the track worked out. Earlier it wasn't looking promising, but it usually comes around right about the feature here but I just have to thank my sponsors and everyone for helping me do this. It's been a tough month. We've had fast racecars, but just couldn't get the job done so getting to come here and win just feels great," commented Carney, who is the season's 16th different Lucas Oil ASCS National Tour A-Feature winner.
Starting outside the front row in Friday's 25-lap affair, Carney raced side-by-side with Martin Edwards before gaining the advantage off the fourth turn.
Caution working Lap 6 for a pair of cars that stopped in the second turn, Carney returned to speed with the No. 15h of Sam Hafertepe, Jr. on his back bumper. Starting fifth, Sam moved to second inside the first two laps, and on the restart was able to keep pace with the No. 224, but unable to gain an advantage, even as the pair moved into traffic on Lap 12.
Moving from a half straightaway to a few car lengths on the No. 224, both drivers nearly ended up climbing over lapped traffic as everyone hit the brakes for Johnny Herrera who suddenly slowed with mechanical problems entering the second turn.
Green with 10 laps to run, traffic would again come into play in the closing laps, but it was never enough for Hafertepe to build a run as John Carney II crossed 0.622 seconds ahead of Sam for his third career Lucas Oil ASCS National Tour victory.
Asked about the strategy on restarts, Carney replied, "I really didn't have a clue who was behind me so I really just concentrated on being smooth. I knew if I made a mistake, someone was going to get me. There later I did see the No. 15 get on the board, and he's been really dominate everywhere this year; especially here, so I knew I had to hit my marks."
Crossing second, Hafertepe was joined on the podium by Matt Covington, who started his night off with a bath of Methanol during his Heat Race that caused him to bail from the cockpit of the T&L Foundry No. 95. Taking the top-four into Saturday's A-Feature, Blake Hahn charged from 12th to take the final transfer spot with a three-wide pass off the second turn on Lap 20. One of the driver's in the battle with Hahn, the No. 23 of Seth Bergman crossed fifth.
From 14th, Aaron Reutzel came up to finish sixth with Wayne Johnson rolling 15th to seventh in the Oil Medics No. 2c. Tony Bruce, Jr. eighth was followed by Australia's Scott Bogucki, who started the feature 20th. Edging out Bogucki for the CP-Carrillo Hard Charger of the Night, South Dakota's Justin Henderson charged forward 12 spots to complete the top-ten.
A field of 30 drivers assembled for Night 1 of the 44th Devil's Bowl Winter Nationals and Lanny Edwards Memorial. Drawing into four Heat Races, wins went to Fred Mattox, Seth Bergman, John Carney II, and Matt Covington. The FSR High Point Driver of the Night was Bergman. The B-Main was topped by Dalton Stevens. One provisional was used with Jared Sewell eligible for a Regional Provisional.
The 44th Devil's Bowl Winter Nationals and Lanny Edwards Memorial continues on Saturday, October 21 with gates opening at 6:00 P.M. and racing getting underway at 8:00 P.M. (CDT). More information on the Devil's Bowl Speedway can be found online at http://www.devilsbowl.com.
For continued updates on the American Sprint Car Series, from the National Tour to any of the seven regional tours that make up the over 150 races across the ASCS Nation in 2017, log onto http://www.ascsracing.com. Make sure to like the American Sprint Car Series on Facebook at http://www.facebook.com/LucasOilASCS, follow us on Twitter at http://www.twitter.com/LucasOilASCS, and check out our Instagram @LucasOilASCS.
Race Results:
Lucas Oil ASCS National Tour
Devil's Bowl Speedway – Mesquite, Texas
44th Winter Nationals – Night 1
Friday, October 20, 2017
Car Count: 30
Heat Races (Top 16 in Passing Points advance to the A-Feature)
Heat 1 (8 Laps): 1. 26M-Fred Mattox, [1]; 2. 99-Skylar Gee, [2]; 3. 52-Blake Hahn, [4]; 4. 7M-Chance Morton, [3]; 5. 99X-Dalton Stevens, [6]; 6. 84-Scott Bogucki, [5]; 7. 1-Travis Rilat, [8]; 8. (DNF) 1J-Danny Jennings, [7]
Heat 2 (8 Laps): 1. 23-Seth Bergman, [3]; 2. 12H-Tony Bruce Jr, [1]; 3. 45-Martin Edwards, [5]; 4. 55-Brad Queen, [2]; 5. 87-Aaron Reutzel, [8]; 6. 12W-Dale Wester, [6]; 7. 2X-Tucker Doughty, [7]; 8. 07-Michael Bookout, [4]
Heat 3 (8 Laps): 1. 224-John Carney II, [1]; 2. 17W-Harli White, [3]; 3. 15H-Sam Hafertepe Jr, [5]; 4. 45X-Johnny Herrera, [7]; 5. 22X-Justin Henderson, [4]; 6. 77X-Alex Hill, [6]; 7. 44M-Chris Martin, [2]
Heat 4 (8 Laps): 1. 95-Matt Covington, [2]; 2. 14-Shawn Bloomquist, [1]; 3. 8-Alex Sewell, [4]; 4. 2C-Wayne Johnson, [5]; 5. 17-Channin Tankersley, [3]; 6. 44-Jared Sewell, [7]; 7. 6-Kaden Taylor, [6]
BMRS B-Main (Top 6 advance to the A-Feature)
B Feature (12 Laps): 1. 99X-Dalton Stevens, [1]; 2. 55-Brad Queen, [2]; 3. 17-Channin Tankersley, [5]; 4. 84-Scott Bogucki, [8]; 5. 1-Travis Rilat, [9]; 6. 22X-Justin Henderson, [3]; 7. 77X-Alex Hill, [7]; 8. 44M-Chris Martin, [12]; 9. (DNF) 6-Kaden Taylor, [11]; 10. (DNF) 2X-Tucker Doughty, [10]; 11. (DNF) 12W-Dale Wester, [6]; 12. (DNF) 07-Michael Bookout, [14]; 13. (DNF) 44-Jared Sewell, [4]; 14. (DNF) 1J-Danny Jennings, [13]
Protect the Harvest A-Feature:
A Feature (25 Laps): 1. 224-John Carney II, [2]; 2. 15H-Sam Hafertepe Jr, [5]; 3. 95-Matt Covington, [4]; 4. 52-Blake Hahn, [12]; 5. 23-Seth Bergman, [7]; 6. 87-Aaron Reutzel, [14]; 7. 2C-Wayne Johnson, [15]; 8. 12H-Tony Bruce Jr, [10]; 9. 84-Scott Bogucki, [20]; 10. 22X-Justin Henderson, [22]; 11. 1-Travis Rilat, [21]; 12. 45-Martin Edwards, [1]; 13. 17W-Harli White, [8]; 14. 99-Skylar Gee, [9]; 15. 99X-Dalton Stevens, [17]; 16. 8-Alex Sewell, [13]; 17. 14-Shawn Bloomquist, [11]; 18. 44-Jared Sewell, [23]; 19. (DNF) 26M-Fred Mattox, [6]; 20. (DNF) 45X-Johnny Herrera, [3]; 21. (DNF) 55-Brad Queen, [18]; 22. (DNF) 17-Channin Tankersley, [19]; 23. (DNF) 7M-Chance Morton, [16]
Lap Leader(s): John Carney II 1-25
CP-Carrillo Hard Charger: Justin Henderson +12
FSR High Point Driver: Seth Bergman
Provisional(s): Jared Sewell (Regional)