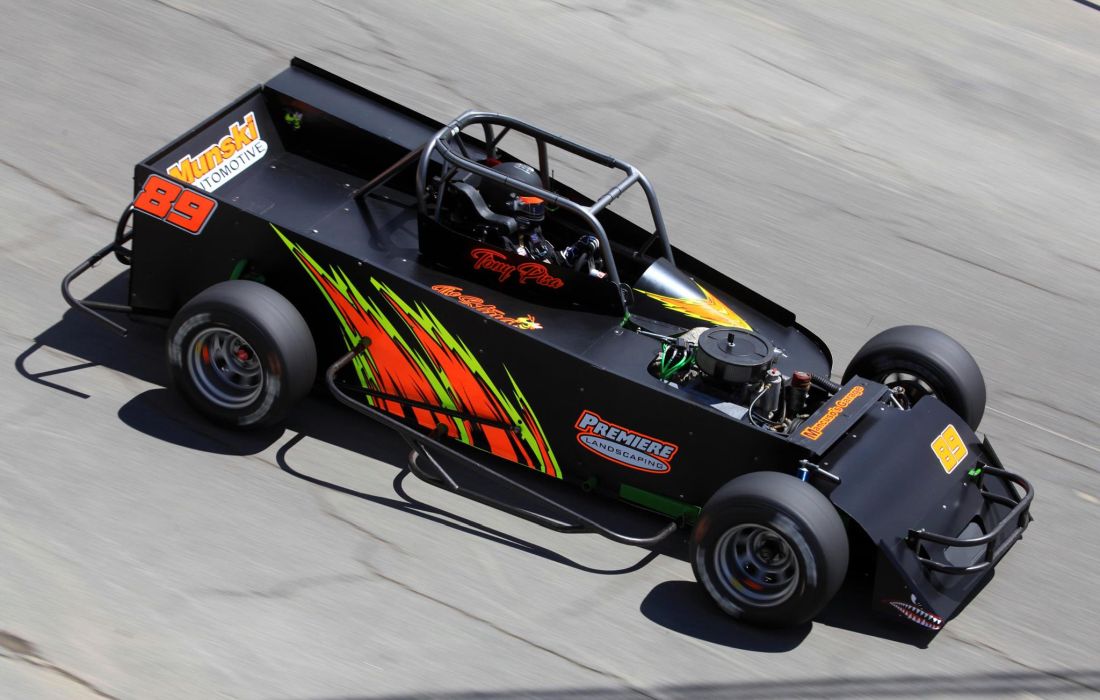 From Oswego Speedway
OSWEGO, NY (October 27, 2017) – Tony Pisa has been wrenching on racecars for more than 15 years, and in 2017 finally walked through Oswego Speedway's Steel Palace gates as a full-time driver, capturing this year's Pathfinder Bank Small Block Super Rookie of the Year title in the Greg O'Connor No. 89.
Starting with Shaun Gosselin around the early 2000's in the quarter midget, micro, and midget ranks; Pisa then provided body fabrication help to the Supermodified pairing of Dan Kapuscinski and Barry Cann, before landing with the Craig Rayvals Supermodified team in 2007.
"The first thing I ever touched that hit the Oswego Speedway was a nose I helped build with Mike Kapuscinski for Danny's car around 2004," said Pisa. "Later I helped Danny and Barry Cann build a Super body on the car that Danny took 5th with in the 2006 Classic, and then moved to help the Rayvals team in 2007 and 2008. I picked up my first win as a crew member with Craig in '08."
When the Gosselin team advanced to the Supermodifed ranks, Pisa was right there.
"We got two wins with Shaun in 2013," said Pisa. "During that time, I also started helping Greg (O'Connor) when time allowed. The first real interaction I had with them was after Greg took a trip into the foam. I ran over and took an arm full of bent body panels over to the Gosselin trailer to fix because I knew where all the tools were. There were lots of confused and concerned people in the No. 90 pits wondering who just stole all their body panels."
Over the course of the next few seasons Pisa spent the majority of his time focusing on the Gosselin No. 26 machine, but kept in touch and helped O'Connor when he could, which eventually led to a shot as a driver.
"I had purchased a 600cc Microsprint to race in 2017 and shortly after that Greg teamed up with Steve Flack, which made Greg's old car available," said Pisa. "Greg immediately offered me the seat and suggested we try and run full-time."
Pisa, who had limited experience in the Micro ranks, was essentially a true rookie.
"My main goal was to get as many laps as I could and learn the car and the track," said Pisa. "I had hoped to finish every race but due to some bad luck and some rookie mistakes, that did not happen. Overall, I look at the year as a success, despite suffering some big setbacks. The car was fast right away and I was able to pick up a top ten and a pair of 11th place finishes."
Pisa would go on to finish the season 13th in the overall driver's standings, winning Rookie of the Year honors to finish the regular season.
During Budweiser International Classic Weekend, Pisa suffered another setback, hitting the turn two steel during time trials on Friday night. However, the true racer came out in Pisa and in his team, as the crew worked hard to fix the racer for Sunday's B-Main.
"Greg and Brian (Dana) helped me get the car back together to run in the B-Main on Sunday, and we finished the Classic," said Pisa. "We won Mike Kapuscinski Rookie of the Race honors."
With 2017 in the rear-view mirror, and plenty of learning experiences in his back pocket, Pisa is already preparing for 2018.
"The car is down to a bare frame," said Pisa. "We have a lot of work to do this off-season. It looks like we will basically be building a new car around the existing cockpit, as the trip into the steel Classic Weekend was pretty rough on the frame. As of right now the plan is to have the car ready to attempt the full season, but that will depend on some additional funding."
One thing is for certain, when there is a race at Oswego Speedway, Tony Pisa will be there in one capacity or another.
Pisa will be awarded Rookie of the Year honors on Saturday, November 4 during the Speedway's annual Hall of Fame and Championship Awards Banquet at the Lake Ontario Event and Conference Center in Oswego, beginning at 6 p.m.
To book a room at the Best Western, phone a hotel representative at (315)-342-4040 or visit online at www.bestwestern.com.
Banquet tickets are available in the Speedway box office, located at 300 E. Albany St. in Oswego, from 9 a.m. to 4 p.m. on weekdays. Tickets for the night's festivities and dinner are $45.