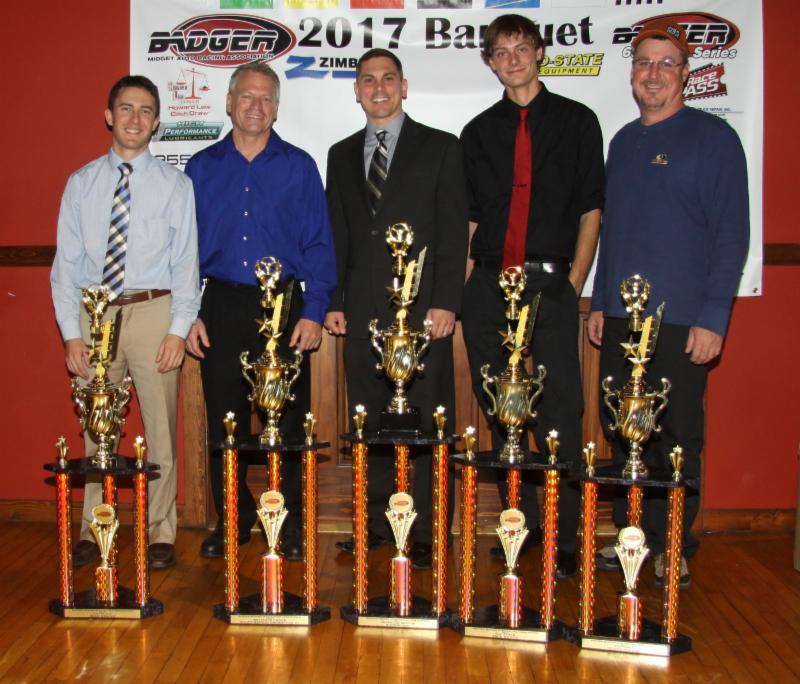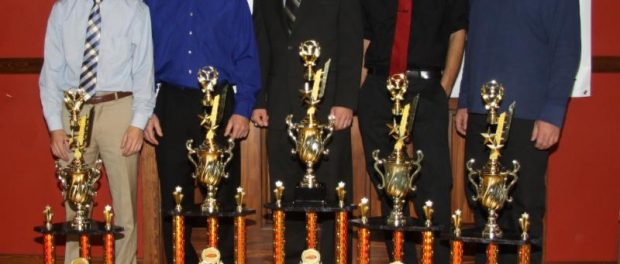 From Bryan Gapinski
MCFARLAND, Wi. (November 5, 2017) — Driver Champion Robbie Ray and car owner Mark Ray headlined the list of honorees at the annual Badger Midget Auto Racing Association awards banquet Saturday night at the Fifty One Hundred. The event brought the curtain down on the 81st anniversary season for the series sponsored by Zimbrick Chevrolet of Sun Prairie and Mid-State Equipment.
Ray's season was highlighted by two feature wins driving the Mark Ray owned DRC/Honda No. 3. Robbie's father Mark was also named Mechanic of the Year. Ray finished 160-points ahead of four-time series champion Scott Hatton, who led the series with six feature victories, at four different tracks.
During his championship acceptance speech Robbie Ray announced his retirement from active driving. He and his father will continue to field a midget team for the 2018 season.
Multiple award winners included: Zach Boden: Rookie of the Year and Hard Charger Award, Mike Stroik: Kevin Doty Award and Appreciation Award, Brian Peterson/Peterson Racing winner of the Best Appearing Car and Best Dressed Crew. Other award winners included: Harlan Kittleson (Pat Stender Award), Bryan Stanfill (Terry Vaughn Award), Scott Hatton (Frank Conner Award), Kyle Koch (Most Improved Driver), Luke Ross (Media Award), Marty Howard, and Beth Bortz (Appreciation Award).
Sponsor appreciation awards were presented to: Mid-State Equipment, Zimbrick Chevrolet of Sun Prairie, Howard Law, 1855 Saloon & Grill, Kleven & Company, High Performance Lubricants, Industrial Truck Repair, Service Specialists, My Race Pass, Engraving & Trophy Specialists, Cardinal Heating, AFS, Bee-Line Design, Quest Industrial, Chicken Lips, Ben's Auto, BCH Tax and Financial.
Chad Bogar won three features, and finished runner-up in an additional five features to win his third career Badger 600 Micro Series presented by My Race Pass Championship. Bogar finished seventeen points ahead of Jack Vanderboom who won four features, followed by 2016 Champion Tory Strauss, Zach Boden (four wins), and Dave Collins.