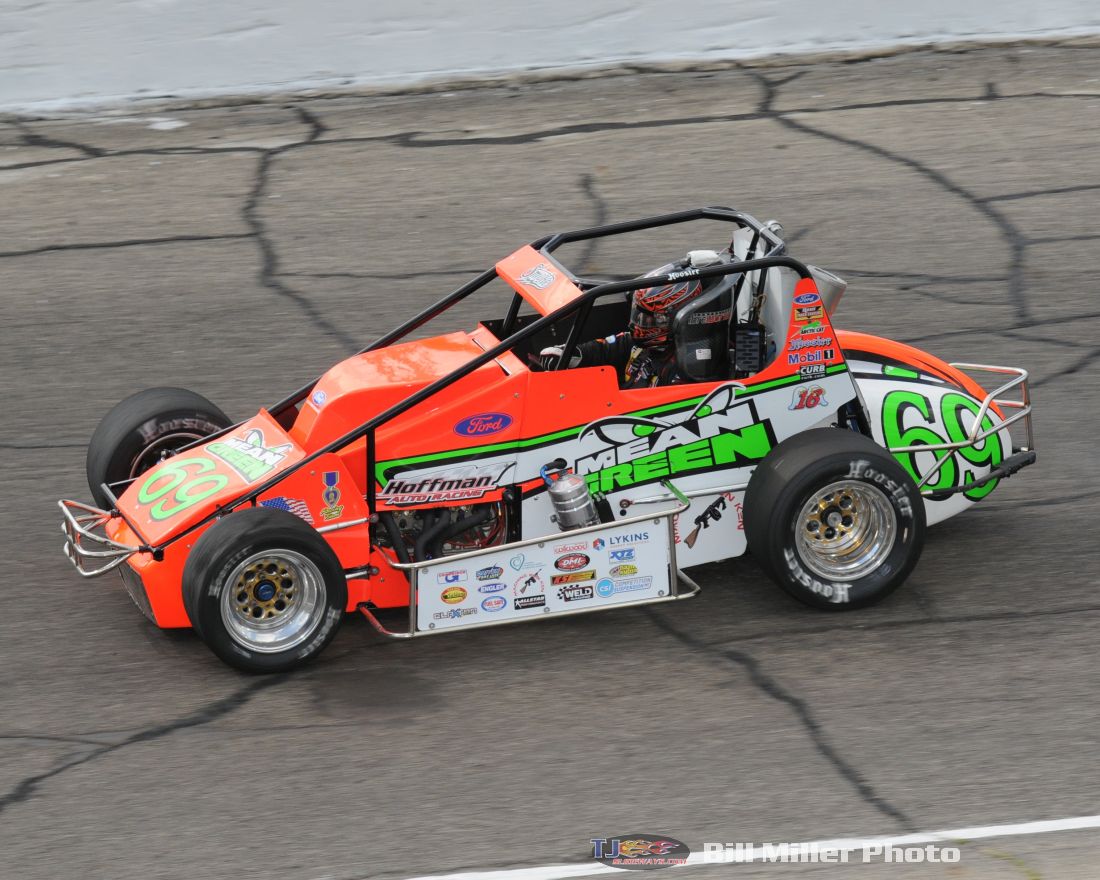 From Hoffman Auto Racing
LOVELAND, Ohio (December 1, 2017) – Hoffman Auto Racing (HAR) is taking great pride in announcing that after a three year absence , 9 time Little 500 Champion Eric Gordon will drive the Mean Green Hoffman Car in the 2018 classic. Lykins Energy Solutions, and Hoosier Tire remain as associate sponsors. Hoffman Racing is privileged to once again be designated as an official Military Order Of The Purple Heart Race Team.
Kevin Doran of Doran Racing, Lebanon Ohio , will return for 2018 . Kevin will help to prepare the car and add valuable technical assistance. Kevin has vast experience in racing , winning 6 -24 Hours Of Daytona, Sebring and Petite LeMans. He also has Silver Crown, NASCAR truck and Indy car backgrounds.
Richard Hoffman President and CEO of HAR said" After winning the 2016 Little 5 and running 3rd last year with Tony Stewart , I didn't think the Team could get more excited for the 2018 race. But when we found out Tony will be in Europe and unavailable for 2018, Eric Gordon mentioned he would like to give it another ride. Eric was invaluable in helping us prepare for the race and as a driving coach for Tony last year and the bug struck him again. We would like nothing more that to help him win #10 in 2018. The addition of Kevin Doran to our Team will be a invaluable asset again this year".
" I am extremely excited to run for the Hoffman's again, (Eric drove for HAR in the Silver Crown Series) in pursuit of Little 500 win #10 " commented Eric Gordon. Eric's illustrious career includes 3 USAC National Sprint Car Series Championship runner- ups and 1 USAC Silver Crown Championship runner-up. He also was the 2017 PRA Champion and drove in the NASCAR Busch Series as well as Indy Lights. Of course his 9 Little 500 victories is unparalleled .
"A big shout out to Mean Green for stepping up and making our participation in this year's race possible. We encourage HAR and race fans to support Mean Green , they have been a great supporter of HAR and Sprint Car racing "said Tim Waechter VP of Marketing/Public Relations / Social Media for HAR.
Highlights of the team's history include: -1929-1960 Gus campaigned Sprint Cars and Midgets, his drivers included Eddie Sachs, and Don Branson – 1964 Gus's son Richard became co-owner of the Team – 1973-1984 HAR fielded Indy Cars, including 7 Indy 500 starts – 1989 HAR won the first of 11 USAC National Sprint Car Championships with Rob Hoffman as the crew chief ('92,'93,'96,'97,'99,'02,'04,'08,'14,'16) With 101 USAC National Sprint Car wins and 11 National Championships, HAR has won more National races and championships than any other team in USAC sprint car history. HAR also has 7 Silver Crown wins and one USAC midget win for a total of 109 USAC National wins.
In 2003 HAR was recognized for excellence by the Ohio State Senate and House of Representatives. HAR has finished in the top 3 in USAC National Sprint Car owner's points 20 times since 1989. Drivers from the past 88 years reads like a who's who of racing: Jeff Gordon, Tony Stewart, Tracy Hines, JJ Yeley, Kasey Kahne, Kenny Irwin Jr, Rich Vogler, Dave Darland, Johnny Parsons Jr., Tim Richmond, Jay Drake, Brian Tyler, Robbie Stanley, Eric Gordon, Steve Butler, Jerry Coons Jr. Ryan Newman, Dave Steele, George Snider, Tom Bigelow Shorty Templemen, Don Branson, Eddie Sachs, Bill Puterbaugh, Elmer George, Pancho Carter, Roger Ward, Andy Michener, Kyle Larson and Brady Bacon. In all approximately 131 drivers have competed in the Hoffman cars. Of those there are four father/son combinations, Dick and Dickie Gaines, Jim and Tracy Hines Kerry and Dave Norris, Clark and Shorty Templemen. Two brother combinations, Larry and Steve Cannon, Pancho Carter and Johnny Parsons Jr. HAR also had a step grandfather and step grandson combination of Elmer George and Ed Carpenter.