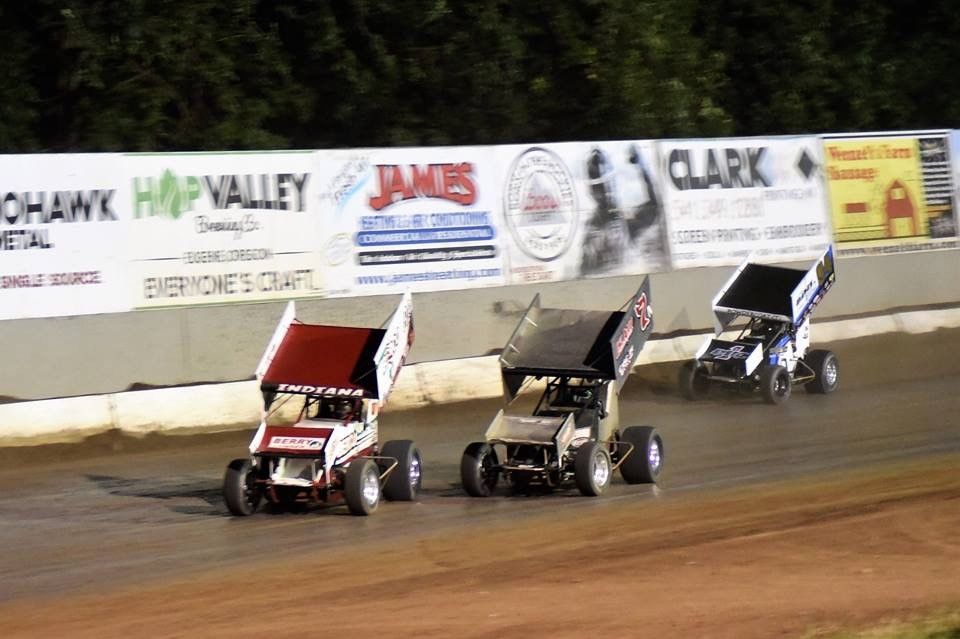 From Ben Deatherage
COTTAGE GROVE, Or. (February 18, 2018) — Sprint Car fans in the Pacific Northwest will be happy to know that Speedweek Northwest will be returning in 2018. A summer tradition since 1998 the schedule will feature six races, in as many nights, at five different facilities covering the states of Oregon and California. A points fund will be returning to pay out the top drivers who make every race. Details for that will be released soon.
Just like in 2017 Siskiyou Motor Speedway will have the honor of opening up Speedweek Northwest on Monday, July 9th. It marks the only California stop and will be followed by a Tuesday, the 10th, date at Coos Bay Speedway. Lebanon's Willamette Speedway hosts action on Wednesday, the 11th, at the historic 1/3-mile clay oval.
Thursday, the 12th, will have teams travel to the furthest northern location at Sunset Speedway Park, in Banks. Everything will wrap up with a doubleheader at Cottage Grove Speedway on Friday, the 13th, and Saturday, the 14th.
Justyn Cox would win his first career Speedweek Northwest title last year after a close battle with Mitchell Faccinto. As in the previous three Speedweeks it will be once again sanctioned by the Western Sprint Tour. For the latest news and information be sure and either visit the Western Sprint Tour Facebook page or the series website at sprints.nwextremeseries.com .
2018 Speedweek Northwest Schedule
Monday, July 9th-Siskiyou Motor Speedway-Yreka, California
Tuesday, July 10th-Coos Bay Speedway-Coos Bay, Oregon
Wednesday, July 11th-Willamette Speedway-Lebanon, Oregon
Thursday, July 12th-Sunset Speedway Park-Banks, Oregon
Friday, July 13th-Cottage Grove Speedway-Cottage Grove, Oregon
Saturday, July 14th-Cottage Grove Speedway-Cottage Grove, Oregon
Former Speedweek Northwest Champions:
2017-Justyn Cox
2016- Trey Starks
2015- Colby Copeland
2014- Kyle Hirst
2013- Roger Crockett
2012- Mitch Olson
2011- Kyle Larson
2010- Roger Crockett
2009- Jesse Hockett
2008- Roger Crockett
2007- Shane Stewart
2006- Steve Kent
2005- Brent Kaeding
2004- Brent Kaeding
2003- Roger Crockett
2002- Steve Kent
2001- Steve Kent
2000- Steve Kent
1999- Brad Furr
1998- Bud Kaeding
All-Time Speedweek Northwest Win List (1998-Present):
Roger Crockett-23
Steve Kent-13
Brent Kaeding-10
Kyle Hirst-6
Shane Stewart
Brad Furr-5
Travis Rilat
Justyn Cox-4
Kyle Hirst
Wayne Johnson
Colby Copeland- 3
Jesse Hockett
Rick Fauver-2
Danny Horner
Jason Johnson
Jason Solwold
Shawna Wilskey
Rico Abreu-1
Jonathon Allard
Colin Baker
Jayme Barnes
Seth Bergman
Jay Cole
Cory Eliason
Mitchell Faccinto
Logan Forler
Travis Jacobson
Bud Kaeding
Kasey Kahne
Kyle Larson
Danny Lasoski
Mitch Olson
Jason Sides
Cam Smith
Trey Starks
Henry Van Dam
Former Western Sprint Tour Champions:
2015- Trey Starks
2016-Trey Starks
2017-Justyn Cox