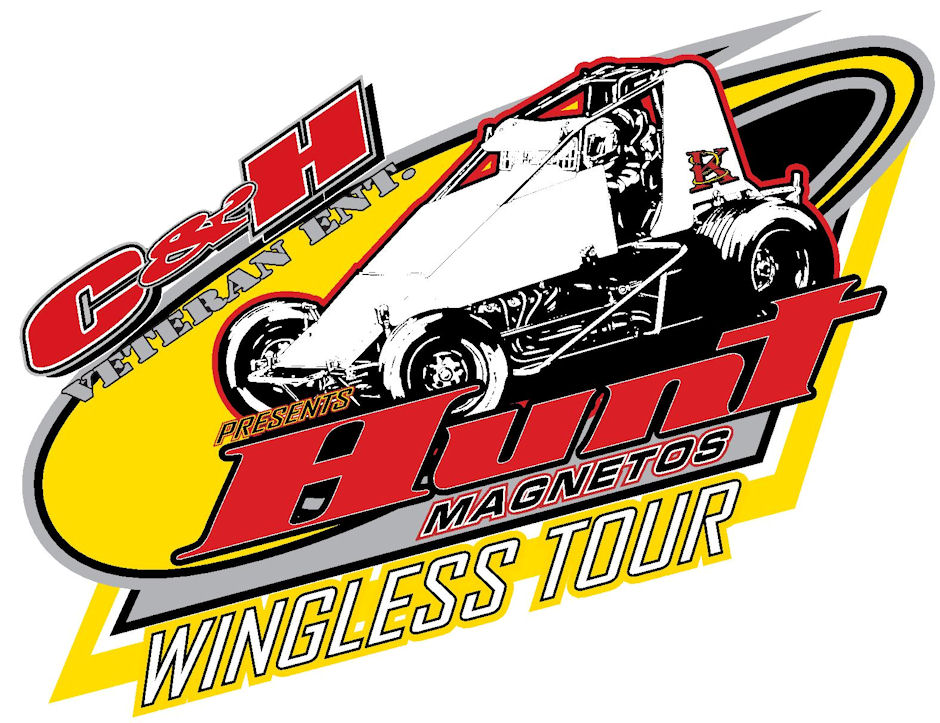 From Gary Thomas
CHICO, Ca. (February 26, 2018) — After opening the season last week the C&H Veteran Ent. presents Hunt Magnetos Wingless Tour is geared up and ready for round two, which takes place this Saturday March 3 at Chico's Silver Dollar Speedway.
The night of competition marks the first of two season appearances at the famed quarter-mile located at the Silver Dollar Fairgrounds. Another solid field of wingless warriors are expected to converge in Chico to go after the $1200 grand prize on Saturday. Also in action at the annual Silver Cup Race of Champions will be Winged 360 Sprint Cars and Dwarf Cars.
"The C&H Hunt Tour is coming off a solid event to open the season last week at the Toller Memorial and we're looking forward to the same competitive-style of racing at the Silver Cup," said tour director Rick Faeth. "We're very thankful that MRP and Silver Dollar Speedway Promoter Dennis Gage has welcomed our tour to be a part of these early season marquee events."
Last week's opener saw Citrus Heights racer Kalib Henry drive to his third straight C&H Veteran Ent. presents Hunt Magnetos Wingless Tour victory in Marysville. The former Silver Dollar Speedway Winged 410 Sprint Car Rookie of the Year will be a favorite to make it four in a row come Saturday.
Past Silver Dollar Wingless Sprint Car champion Angelique Bell is fresh off a runner up finish last week and will be gunning to park it on front stretch this Saturday in Chico. A couple years back Bell beat out veteran Terry Schank Jr. by just one-point during one of the closest point battles in track history. Shawn Jones, Sparky Howard and Troy Degaton completed the top-five at last week's Marysville kick-off.
More drivers expected on Saturday will include Scott Hall, Cody Spencer, Marcus Smith, Jimmy and Adam Christian, Bubba Decaires, Trey Walters, Ryan Siverling, Jesse Love, Craig Swim, Paul Vandenberg and others.
"The Silver Cup is always a great event to help usher in the season at Silver Dollar Speedway," said track Announcer and PR Director Troy Hennig. "We're expecting a great field of cars in all three classes this weekend. The C&H Hunt Wingless Tour provided some entertaining racing last week in the main event and we look forward to hosting round two on Saturday."
The front gate will open at 5pm this Saturday night, with racing expected to get underway around 6:30pm. All seating is general admission during the night. Adult tickets cost $22; seniors, juniors and military with ID will be $18; children 6 to 11 are $6; while kids five and under are free. A family ticket will also be offered for $55. Online ticketing is available to beat the line at the track https://events.admitoneproducts.com/tkt_sales.php?test=true&event_id=206918&sales=
A full program of Quick Time Mortgage qualifying, heat races, the Santamauro Racing Products dash and the Pit Stop USA A-main will be on tap.
The Silver Dollar Speedway is located on the Silver Dollar Fairgrounds, a half-mile west of SR 99 on Park Ave in Chico, California. For more information visit www.silverdollarspeedway.com
C&H Veteran Ent. presents the Hunt Magnetos Wingless Tour is proudly brought to you by C&H Veteran Ent., Hunt Magnetos, Pit Stop USA, Transport Products Unlimited, Quick Time Mortgage, King Racing Products, SpeedMart, Benic Enterprises, Santamauro Racing Products, Davis Motorsports of Reno, Air One Hvac Systems and TW Racefotos.
Information on the tour can be found by visiting http://www.petaluma-speedway.com/ and clicking on the Hunt Series tab. You can also like the tour on Facebook at https://www.facebook.com/joehuntwingless/?pnref=lhc