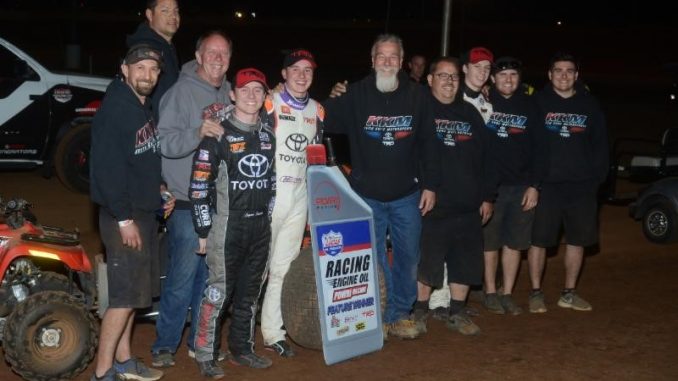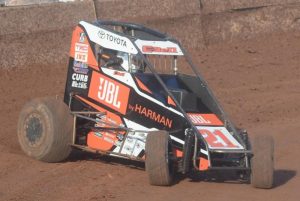 From POWRi
OKLAHOMA CITY, Ok. (March 24, 2018) — If a name was to become synonymous with the Annual Turnpike Challenge, it would be Christopher Bell. Taking eight of the ten POWRi Lucas Oil National and West Midget League Turnpike Challenges, Bell remains undefeated in the event. The two he did not win were because he was not present. At that time, he was testing for the NASCAR truck series and was unable to attend the event.
At the wave of the green flag, Bell took off from the sixth place starting position and charged towards the front with one goal in mind: sweeping the weekend for the Fifth Annual Turnpike Challenge at I-44 Riverside Speedway. Taking over the third position by lap three, Bell settled in behind race leader and Keith Kunz/Curb-Agajanian Motorsports teammate, Logan Seavey and second place Jake Neuman.
Taking the second position from Neuman on lap seven, Bell meticulously hunted down Seavey for the lead. Setting up the driver and engaging in multiple sliders, Bell eventually took over the lead on lap 16, just over the halfway mark, by using a lap car as a block. Charging through traffic for the remaining laps, Bell didn't have an easy feat as Seavey finished second by a car length. Keith Kunz/Curb-Agajanian Motorsports teammate Ryan Robinson took third for a KKM podium sweep of the finale. Zach Daum took fourth, while Tyler Thomas charged to fifth from 15th.
"First off, that was a lot of work," commented Christopher Bell. "Logan Seavey; he's going to be a great one, one of these days. I had to work hard for that one. It honestly makes my heart happy to see all of the fans out here. This is my home. Thank you Mark Bannister for allowing POWRi to come here. It's a dream come true for my home track to host an event of this magnitude. I grew up here at I-44 and up the road at Port City. These short, dirt tracks are where my heart's at and it's what I love to run on. This place is a ton of fun and I'm glad we get to have a national event here to kick off the season."
"Like I said last night, he's the best right now in midgets," stated Logan Seavey. "It was really cool just to lead some laps. I knew he was going to be coming there and was able to hold him off for a couple of laps, but as soon as I dove to the bottom in lap traffic, I figured my race was over from there on. You can't make any mistakes racing against a guy of that caliber."
"I just want to thank all the fans for coming out," said Ryan Robinson. I've been coming here the last couple of years for the Turnpike Challenge and they always put on a good show."
POWRi National / West Midget League
Turnpike Challenge
I-44 Riverside Speedway
Oklahoma City, OK
Saturday March 24, 2018
Feature: 1. 21 – Christopher Bell, 2. 67 – Logan Seavey, 3. 71 – Ryan Robinson, 4. 5D – Zach Daum, 5. 91T – Tyler Thomas, 6. 7BC – Zeb Wise, 7. 8J – Jonathon Beason, 8. 27 – Tucker Klaasmeyer, 9. 67K – Holly Shelton, 10. 52 – Blake Hahn, 11. 71K – Tanner Carrick, 12. 7F – Andrew Felker, 13. 37 – Terry Babb, 14. 4N – Jake Neuman, 15. 28 – Kory Schudy, 16. 32 – Trey Marcham, 17. 4M – Michelle Decker, 18. 44 – Wesley Smith, 19. 9 – Matt Moore, 20. 21KS – Karter Sarff, 21. 08 – Cannon McIntosh, 22. 51B – Joe B Miller, 23 7M – Chance Morton, 24. 73 – Jason McDougal.