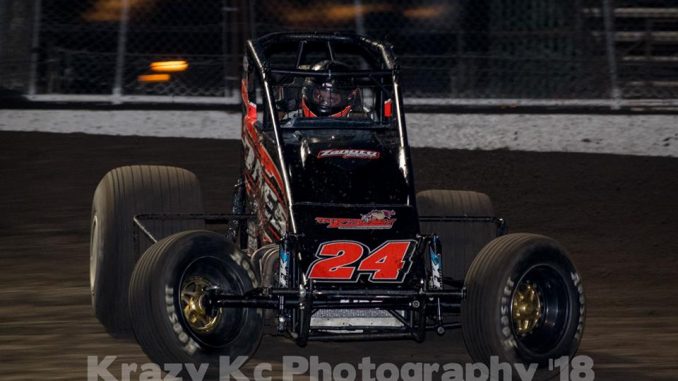 From Gary Thomas
PETALUMA, Ca. (March 26, 2018) – The C&H Veteran Ent. presents Hunt Magnetos Wingless Tour is ready to hit the track for round number three in the championship battle, which takes place this Saturday night March 31 at the Petaluma Speedway.
This weekend's event marks the first of three season appearances at the Sonoma-Marin Fairgrounds based 3/8-mile adobe clay oval. Return engagements for the tour at the speedway will occur on Saturday June 16, followed by the seventh annual Soares Classic on Saturday August 25.
C&H Veteran Ent. presents Hunt Magnetos Wingless Tour Director Rick Faeth also happens to be the promoter of Petaluma Speedway and he spoke about having the traveling series on hand Saturday. "We look forward to having the C&H Hunt Wingless Sprints at Petaluma Speedway this weekend. The first two events have been very competitive and we should see more of the same on Saturday. It'll be exciting to see who comes out on top and scores the $1200 top prize."
After picking up his first career tour win last time out Shawn Jones sits atop the standings heading into Petaluma Speedway this weekend. The versatile driver that also spends time in a Dwarf Car claimed a big victory on March 10 at Silver Dollar Speedway's Silver Cup Race of Champions.
Troy Degaton is also coming off a great run at the Silver Cup where he charged from the rear of the field to finish in third. Degaton goes into Petaluma just 12-points behind Jones and will hope for another solid outing to keep pace in the standings. Also starting off the year in successful fashion have been Angelique Bell, Scott Hall and Sparky Howard who rank third, fourth and fifth respectively. All three will hope to park it in victory lane come Saturday.
Rounding out the top-10 in points going into the third round of competition are Ryon Siverling, Kaimi Costa, Robert Floyd, Terry Schank Jr. and Marcus Smith.
The front gate this Saturday March 31 at Petaluma Speedway will open at 4pm, with hot laps at 5pm and racing scheduled to get underway at 6pm. Adult tickets will cost $16, while seniors 65+ and kids 6 to 11 will be $12, children five and under are free. The pit gate for competitors opens at noon. A full program of Quick Time Mortgage qualifying, heat races, the Santamauro Racing Products dash and the Pit Stop USA A-main will be on tap.
The Petaluma Speedway is located in the southern part of the wine country at the Sonoma-Marin Fairgrounds just off Highway 101 in Petaluma, California. More info on the track can be found at http://www.petaluma-speedway.com
C&H Veteran Ent. presents the Hunt Magnetos Wingless Tour is proudly brought to you by C&H Veteran Ent., Hunt Magnetos, Pit Stop USA, Transport Products Unlimited, Quick Time Mortgage, King Racing Products, SpeedMart, Benic Enterprises, Santamauro Racing Products, Davis Motorsports of Reno, Air One Hvac Systems and TW Racefotos.
Information on the tour can be found by visiting http://www.petaluma-speedway.com/ and clicking on the Hunt Series tab. You can also like the tour on Facebook at https://www.facebook.com/joehuntwingless/?pnref=lhc