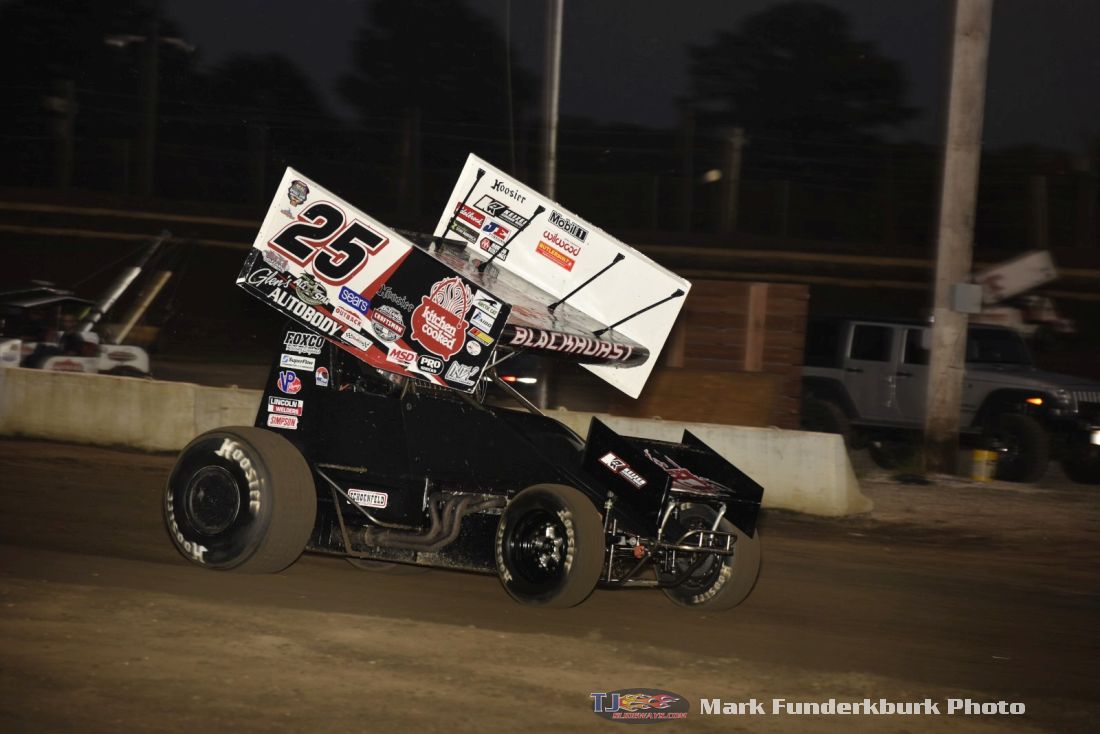 From Bill Wright
WEST BURLINGTON, Iowa (March 31, 2018) – Jake Blackhurst fended off several charges by his rivals to lead all 25 laps and claim his first ever Shottenkirk.com Sprint Invaders feature event Saturday at 34 Raceway near West Burlington, Iowa. The Hanna City, Illinois driver took the win over the 23-car field on a chilly night.
Blackhurst started on the pole and led early over three-time and defending series champion, Jon Agan and 2008 titlist, John Schulz. The leaders entered lapped traffic on the sixth circuit. Sawyer Phillips had worked himself into the top five before getting over the turn two berm on the dry-slick surface and spinning. The restart saw Blackhurst leading Agan, Schulz, Chris Martin and Cody Wehrle.
Agan made a pass for the lead after the restart, but the move was negated when Oregon transplant, Wayne Kniffen slowed. When the race went green again, Blackhurst pulled away on the cushion of the 3/8-mile oval. Schulz and Wehrle got by an ailing Agan before the leaders were back in lapped traffic on lap fourteen. Agan would retire with a smoking mount, shortly thereafter, on a restart for a stopped Justin Buchholz with nine laps to go.
Another caution, for a spun John Greenwood, bunched the field again with six to go. Wehrle rode the cushion around Schulz to second before Buchholz slowed again with 21 down. The last four laps saw some great racing behind Blackhurst.
Joe B. Miller, in his first night in Scott Bonar's #50 machine, shot from fifth to take second on the last lap, using the low side of the track. Schulz would work back by Wehrle for third, and Martin was right there, finishing fifth. Josh Schneiderman, Brayden Gaylord, hard-charger Harold Pohren (utilizing a 305 c.i. engine while his gets completed), Jarrod Schneiderman and Ryan Jamison rounded out the top ten. Daniel Bergquist, Agan and Blackhurst won heat races, while Agan also took the Dash.
"That was an awesome racetrack," said Blackhurst in Victory Lane. "I can't thank the promoter and the track enough for getting this one in. I really appreciate all these fans coming out. I haven't been here when it (the groove) gets on the wall like that in about four years. That was really fun. I just have to thank my Dad and all the guys who work on this car and support it. I saw the #4 (Agan) and #99 (Schulz) on the scoreboard and knew I had some veterans there behind me. Once I got to the top, I knew someone was going to have to give me a good slider to get by."
"We were burying it there in the middle, and the bottom started coming in," said Miller of his charge to second from row six. "Scotty (Bonar) told me it would be good on the bottom if things went away on the top of one and two. I started trying it, and we picked some cars off, picked up some lucky cautions, and got to second there. Getting into three was tricky, but if you could catch the moisture off of four, it was really good."
"After last year…we battled the motor bug from the first night…just to come out and show some speed and have a chance, was good," said Schulz. "We were able to move around. We weren't quite good enough to win, but it was a great way to start the year. We were fighting a little brake issue, so we were doing whatever it took. This is a J&J car we raced a bit last year. All in all, it was a good way to start the year off."
The Shottenkirk.com Sprint Invaders will invade the Lee County Speedway in Donnellson, Iowa Friday, May 25 and return to the 34 Raceway, Sunday, May 27. For more information on the Shottenkirk.com Sprint Invaders, visit www.SprintInvaders.com or follow us on Facebook and Twitter!
Shottenkirk.com A main (started), 25 laps: 1. 25, Jake Blackhurst, Hanna City, IL (1) 2. 50, Joe B. Miller, Millersville, MO (12) 3. 99, John Schulz, West Burlington, IA (5) 4. 40c, Cody Wehrle, Burlington, IA (10) 5. 44, Chris Martin, Ankeny, IA (4) 6. 49, Josh Schneiderman, West Burlington, IA (7) 7. 13, Brayden Gaylord, Wever, IA (16) 8. 50P, Harold Pohren, Lowell, IA (21) 9. 88, Jarrod Schneiderman, West Burlington, IA (11) 10. 51J, Ryan Jamison, Mediapolis, IA (9) 11. 81, Tanner Gebhart, Burlington, IA (14) 12. 83, Dave Getchell, Sperry, IA (18) 13. 9, Daniel Bergquist, Burlington, IA (2) 14. 55, McKenna Haase, Des Moines, IA (15) 15. 1st, John Greenwood, Woodward, IA (19) 16. 10, Ryan Leavitt, Knoxville, IA (20) 17. 69, Justin Buchholz, Davenport, IA (8) 18. 4, Jon Agan, Knoxville, IA (3) 19. 78, Ben Wagoner, Emden, IL (13) 20. 14, Bobby Mincer, Burlington, IA (17) 21. 3P, Sawyer Phillips, Pleasantville, IA (6) 22. 84K, Wayne Kniffen, Fort Madison, IA (22) DNS – 11, Colton Fisher, Mediapolis, IA. Lap Leader: Blackhurst 1-25. KSE Hard-charger: Pohren.
Randall's Performance Heat one (started), Passing Points, 8 laps: 1. Daniel Bergquist (1) 2. Sawyer Phillips (3) 3. Chris Martin (8) 4. Justin Buchholz (6) 5. Tanner Gebhart (4) 6. Dave Getchell (5) 7. John Greenwood (7) 8. Wayne Kniffen (2)
CenPeCo Lubricants Heat two (started), Passing Points, 8 laps: 1. Jon Agan (2) 2. John Schulz (4) 3. Joe B. Miller (1) 4. Ryan Jamison (6) 5. Cody Wehrle (8) 6. Brayden Gaylord (7) 7. Harold Pohren (5) 8. Ryan Leavitt (3)
Mohrfeld Electric Heat three (started), Passing Points, 8 laps: 1. Jake Blackhurst (2) 2. Josh Schneiderman (3) 3. Ben Wagoner (1) 4. Jarrod Schneiderman (5) 5. McKenna Haase (4) 6. Bobby Mincer (6) 7. Colton Fisher (7)
Budweiser King of Beers – Golden Eagle Distributors Shake-up Dash (started), 6 laps: 1. Jon Agan (2) 2. Chris Martin (1) 3. John Schulz (4) 4. Sawyer Phillips (6) 5. Jake Blackhurst (3) 6. Daniel Bergquist (5)
Contingencies
Pyrotec – John Greenwood
Saldana Racing Products – Dave Getchell
Kreitz Oval Track Products – Ben Wagoner