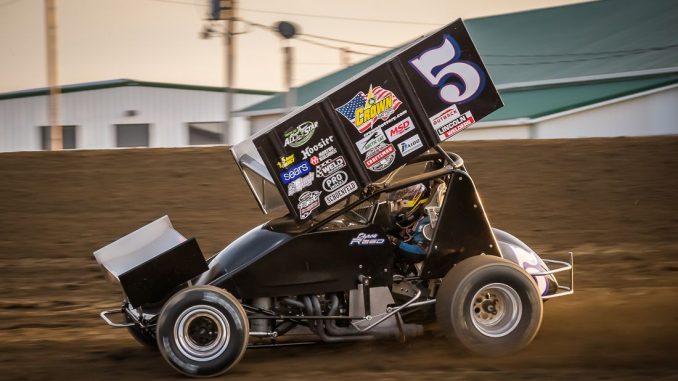 From Brian Liskai
ATTICA, Ohio (May 4, 2018) – Byron Reed missed the opening night of the All Pro Aluminum Cylinder Heads FAST 410 Championship Series presented by Ohio Logistics but that won't keep the Monclova, Ohio driver from challenging for a fifth series title. Reed held off challenges from a couple of young guns Friday to claim the season opener for the FAST series at Attica Raceway Park.
Reed missed the FAST series 2018 opener a couple of weeks ago at Fremont Speedway when the start times were bumped up due to extremely cold temperatures as he had family obligations. On Friday, Reed stalked Travis Philo early in the 30-lap 410 sprint feature before using lapped traffic to take the lead on lap 12. A restart at the half-way mark gave Philo another shot at Reed and he raced the eight time Attica track champion hard for several laps before Reed got his rhythm established once again. Philo stayed within striking distance but had his hands full the last five laps with 16th starter Cap Henry. Reed pulled away the final three circuits for the win with Henry grabbing second at the checkers.
"One of my childhood heroes was Sammy Swindell. I used to watch him and Steve (Kinser) and Wolfgang (Doug) at Eldora trading slide jobs. That was kind of one of Sammy's deals…they'd slide back and forth two or three times and about the third time he's pin it on the bottom knowing it was coming and I think that worked for me," said Reed of his Crown Battery backed #5.
Fremont, Ohio's Dustin Stroup survived a collision with John Ivy while battling for the lead of the 305 feature and drove to his third career victory at Attica Raceway Park to open the 2018 season for the JLH General Contractor FAST 305 Championship Series presented by Engine Pro. It was an emotional win for Stroup whose mother underwent surgery earlier in the week and his dad was involved in a car crash earlier in the afternoon but was uninjured.
"My mom had a tumor removed on Monday that we didn't even know about. This is a big emotional win for me. Mom and Dad aren't here…I can't remember the last time I went to a race without my Dad. This means a lot…I've had a hell of a week," Stroup said beside his Century 21 Premiere Properties, Slade Shock Technology, Level Performance, Triple X Race Cars backed #21.
As for the incident that nearly cost him the win, Stroup said he saw someone he thought was going to spin and slowed and Ivy had no where to go.
"We hit pretty good…I don't think we hurt anything. We got this new Triple X chassis over the winter and it's been awesome. Adam and Brandon helped me out tonight…I didn't have anyone else and if it wasn't for them I wouldn't be here," he added.
In the 30-lap 410 sprint feature Dan McCarron and Travis Philo brought the field to green with Philo blasting into the lead over fourth starter Reed, McCarron and season opening winner Stuart Brubaker. Philo set sail while Reed settled into second with a terrific battle ensuing for third between McCarron, Brubaker and Chris Andrews. Philo's fast pace had the leaders into lapped traffic by lap nine and Reed used it to close with Brubaker, McCarron, Andrews, Broc Martin and DJ Netto in tow.
On lap 12 Reed used traffic and set Philo up for a slider to take the lead with Brubaker and Andrews locked in a torrid battle for third. Action ground to a halt at the half-way point when McCarron and Martin, while battle for sixth, tangled with Martin ending up on his side. Martin was okay but he and McCarron were done for the night.
When the green reappeared Philo threw everything he had at Reed as the pair battled side by side over the next five laps. Behind them Brubaker and Andrews were now joined by Henry in the battle for third. While the battle for the lead settled down some what, Philo stayed within striking distance of Reed as they raced into lapped traffic with five laps remaining. That allowed third running Henry to close and with three laps to go you could cover the top three with a blanket. Reed hit his marks perfectly to take the win as Henry snuck by Philo at the checkers for second with Andrews and Netto rounding out the top five.
"Attica is a great place to race. When the guys that designed this place 30 years ago they built a beautiful track. It's a great place to come and race at and great people to race with. I want to thank Crown Battery for supporting me another year and my crew, Kurt, Dick and Kevin and my mom and dad and the fans for coming out," Reed said in the Engine Pro Victory Lane.
Steve Rando and Kyle Peters brought the field to green for the 305 sprint feature with Peters blasting into the lead while Rando was trying to hold off Stroup. Peters began to pull away slightly as Stroup, Rando, Bobby Clark and John Ivy waged a tremendous battle behind him. With 10 laps scored Peters and Stroup narrowly avoided disaster as a lapped car spun right in front of them. On the restart Stroup drove under Peters for the lead, bringing Ivy into second. At the half-way point the car on the move was Brandon Moore who had charged from 11th to third as Peters fell back to fourth.
Stroup and Ivy ran nose to tail over the next eight laps as they raced into heavy traffic with four circuits remaining. While battling for the lead Stroup and Ivy made heavy contact in turn two and both nearly spun but kept going, maintaining their position as Moore closed. Stroup was able to hold off Ivy the final four laps for the win with Moore getting around Ivy at the checkers for second. Jamie Miller and Rando rounded out the top five.
The FAST series for both the 410 and 305 sprints will move to Fremont Speedway in Fremont, Ohio Saturday, May 5 to challenge the teams from the NRA Sprint Invader 360 c.i. sprints. It will be show-up points only for the 305 FAST teams. A couple of weeks agao Gibsonburg, Ohio's Craig Mintz, a two-time FAST 410 champion, opened the series season with a victory at Fremont.
Attica Raceway Park
Friday, May 4, 2018
Adkins Group/AmeriGas
[*] starting position
–
410 Sprints – Callie's Performance Products
Qualifying
1.22-Cole Duncan, 12.591; 2.23-DJ Foos, 12.603; 3.16-Chris Andrews, 12.638; 4.22M-Dan McCarron, 12.664; 5.97-Broc Martin, 12.668; 6.5K-Adam Kekich, 12.718; 7.35-Stuart Brubaker, 12.732; 8.3J-Trey Jacobs, 12.794; 9.5T-Travis Philo, 12.802; 10.11N-DJ Netto, 12.833; 11.5R-Byron Reed, 12.850; 12.68G-Tyler Gunn, 12.850; 13.4-Cap Henry, 12.853; 14.ID=21141- , 12.853; 15.45L-Brian Lay, 12.860; 16.17-Jared Horstman, 12.907; 17.8J-Jess Stiger, 12.935; 18.09-Craig Mintz, 12.959; 19.9-Jordan Ryan, 13.008; 20.7-Shawn Valenti, 13.034; 21.9Z-Duane Zablocki, 13.064; 22.2-Ricky Peterson, 13.095; 23.27B-Boston Mead, 13.139; 24.49-Shawn Dancer, 13.197; 25.20I-Kelsey Ivy, 13.375; 26.5-Chase Briscoe, 13.400; 27.21N-Frankie Nervo, 14.665; 28.8M-TJ Michael, 99.999;
Heat 1, Group A – (8 Laps, top 5 to A)
1. 5T-Travis Philo[2] ; 2. 23-DJ Foos[4] ; 3. 8J-Jess Stiger[1] ; 4. 22M-Dan McCarron[3] ; 5. 9Z-Duane Zablocki[6] ; 6. 9-Jordan Ryan[5] ; 7. 49-Shawn Dancer[7] ; 8. 20I-Kelsey Ivy[8] ; 9. 21N-Frankie Nervo[9]
Heat 2, Group B – (8 Laps, top 5 to A)
1. 5R-Byron Reed[1] ; 2. 35-Stuart Brubaker[2] ; 3. 97-Broc Martin[4] ; 4. 17-Jared Horstman[5] ; 5. 09-Craig Mintz[6] ; 6. 27B-Boston Mead[8] ; 7. 5K-Adam Kekich[3] ; 8. 2-Ricky Peterson[7] ; 9. 8M-TJ Michael[9]
Heat 3, Group C – (8 Laps, top 5 to A)
1. 11N-DJ Netto[1] ; 2. 22-Cole Duncan[4] ; 3. 16-Chris Andrews[3] ; 4. 3J-Trey Jacobs[2] ; 5. 68G-Tyler Gunn[5] ; 6. 4-Cap Henry[6] ; 7. 5-Chase Briscoe[9] ; 8. 45L-Brian Lay[7] ; 9. 7-Shawn Valenti[8]
B-Main 1 – (10 Laps, top 5 to A)
1. 4-Cap Henry[3] ; 2. 9-Jordan Ryan[1] ; 3. 5K-Adam Kekich[5] ; 4. 5-Chase Briscoe[6] ; 5. 27B-Boston Mead[2] ; 6. 45L-Brian Lay[9] ; 7. 49-Shawn Dancer[4] ; 8. 7-Shawn Valenti[11] ; 9. 2-Ricky Peterson[8] ; 10. 21N-Frankie Nervo[12] ; 11. 8M-TJ Michael[10] ; 12. 20I-Kelsey Ivy[7]
A-Main 1 – (30 Laps)
1. 5R-Byron Reed[4] ; 2. 4-Cap Henry[16] ; 3. 5T-Travis Philo[2] ; 4. 16-Chris Andrews[5] ; 5. 11N-DJ Netto[7] ; 6. 17-Jared Horstman[12] ; 7. 9-Jordan Ryan[17] ; 8. 09-Craig Mintz[14] ; 9. 35-Stuart Brubaker[3] ; 10. 9Z-Duane Zablocki[11] ; 11. 68G-Tyler Gunn[15] ; 12. 23-DJ Foos[8] ; 13. 3J-Trey Jacobs[13] ; 14. 8J-Jess Stiger[6] ; 15. 5K-Adam Kekich[18] ; 16. 27B-Boston Mead[20] ; 17. 5-Chase Briscoe[19] ; 18. 22-Cole Duncan[9] ; 19. 22M-Dan McCarron[1] ; 20. 97-Broc Martin[10]
Hard Charger – 4-Cap Henry +14
305 Sprints – Fremont Fence
Heat 1 – (8 Laps, top 5 to A)
1. 12-Kyle Capodice[1] ; 2. 7M-Brandon Moore[4] ; 3. 4*-Tyler Street[6] ; 4. 8-Bobby Clark[5] ; 5. 11G-Luke Griffith[7] ; 6. 2F-Matt Foos[8] ; 7. Z10-Kevin Mingus[2] ; 8. 75-Jerry Dahms[3]
Heat 2 – (8 Laps, top 5 to A)
1. 97-Kyle Peters[1] ; 2. 19R-Steve Rando[2] ; 3. 77I-John Ivy[3] ; 4. 21-Dustin Stroup[6] ; 5. 66D-Chase Dunham[4] ; 6. 36-Seth Schneider[5] ; 7. 09-Justin Adams[8] ; 8. 9R-Dustin Rall[7]
Heat 3 – (8 Laps, top 5 to A)
1. 26-Jamie Miller[2] ; 2. 47-Matt Lucius[1] ; 3. 25-Jason Keckler[4] ; 4. 1W-Paul Weaver[6] ; 5. 29-Bryan Sebetto[7] ; 6. 13-Jeremy Duposki[5] ; 7. 14-Luke Daugherty[3] ; 8. 25R-Matt Russell[8]
B-Main 1 – (10 Laps, top 5 to a)
1. 2F-Matt Foos[1] ; 2. 36-Seth Schneider[2] ; 3. 14-Luke Daugherty[6] ; 4. 09-Justin Adams[5] ; 5. 9R-Dustin Rall[8] ; 6. 13-Jeremy Duposki[3] ; 7. 75-Jerry Dahms[7] ; 8. 25R-Matt Russell[9] ; 9. Z10-Kevin Mingus[4]
A-Main 1 – (30 Laps)
1. 21-Dustin Stroup[4] ; 2. 7M-Brandon Moore[11] ; 3. 77I-John Ivy[5] ; 4. 26-Jamie Miller[9] ; 5. 19R-Steve Rando[1] ; 6. 8-Bobby Clark[6] ; 7. 97-Kyle Peters[2] ; 8. 12-Kyle Capodice[12] ; 9. 1W-Paul Weaver[7] ; 10. 4*-Tyler Street[10] ; 11. 25-Jason Keckler[3] ; 12. 36-Seth Schneider[17] ; 13. 2F-Matt Foos[16] ; 14. 47-Matt Lucius[8] ; 15. 09-Justin Adams[19] ; 16. 29-Bryan Sebetto[15] ; 17. 11G-Luke Griffith[13] ; 18. 14-Luke Daugherty[18] ; 19. 9R-Dustin Rall[20] ; 20. 66D-Chase Dunham[14]
Hard Charger – 7M-Brandon Moore +9