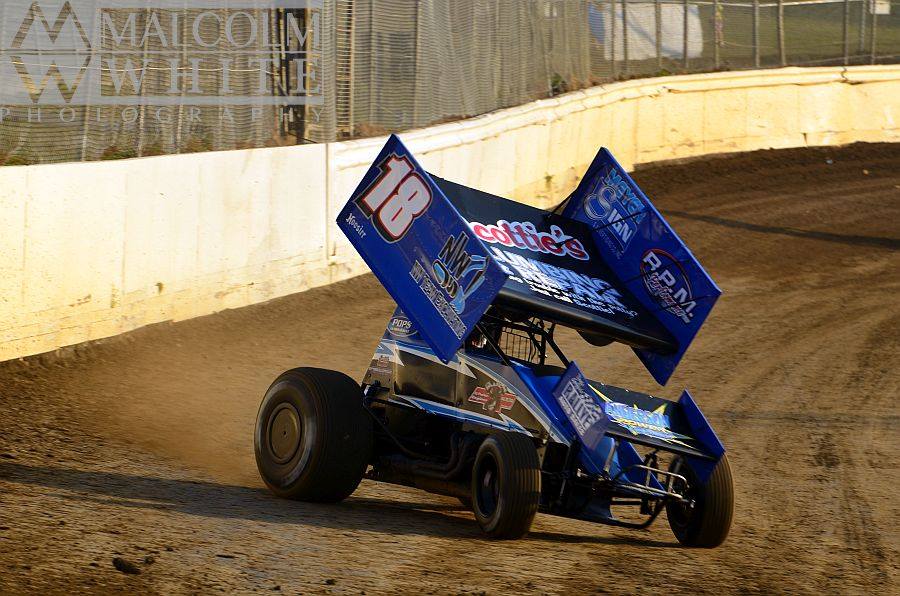 From Kaleb Hart
ALGER, Wa. (May 5, 2018) — A sun drenched crowd enjoyed a spectacular night of racing at Skagit Speedway where Jason Solwold took his second Summer Thunder Sprintcar Series win of the season. Ross Rankine won a caution free 25 lap main in the Northwest Focus Midget Series. Brian Michelson won the Outlaw Tuner feature.
Starting on the outside of the front row, Solwold took the early advantage in the a feature with Greg Hamilton trailing him closely. Solwold, a master in getting through slower traffic, put all of his skills to use in navigating the back of the field, but the young Hamilton matched him stride for stride as the pair blasted through lapped cars. Hamilton nearly took the lead around lap 8 but Solwold fended him off on the bottom side of turn number one, but Hamilton was not done with his bids for the lead. Biding his time, Hamilton tried again on lap 21 down the front straightaway before disaster struck as the pair made contact, resulting in the first yellow of the race for Greg who ended up facing the wrong way. On the ensuing restart, Solwold saw another strong challenge materialize in the form of Garen Lnder, who tried a big slide job in turn two that Jason turned away. A quick yellow gave Linder another shot at a restart, and a second slide attempt that ended short as Solwold found moisture high. As the checkered flag flew, it was Solwold scoring the win, his second in Summer Thunder Sprintcar Series action on the year, with Linder taking a career best finish at Skagit in second and Jared Peterson advancing five spots to take third. Solwold was the fastest qualifier. Heat winners were Colton Heath, who earned the hard charger award in the main with six spots gained, Eric Fisher and Devon Borden.
The Northwest Focus Midget Series continues to cement its place as the premier support division in the Northwest after a 25 lap, non stop main event that saw Ross Rankine pickup the victory in the Bob & Lori Scott owned #7s. Rankine was hounded by Evan Margeson over the course of the feature, but every time Evan put on a move, Rankine had a counter on his way to victory lane. Margeson was joined on the podium by Ryan Cully who passed Tristin Thomas late to take third. Heat wins went to Tristin, Garrett Thomas, Eric Turner and Chris Bullock.
Brian Michelson came out on top of a caution filled Outlaw Tuner main event to grab his first win of 2018. Jon Gunderson and Clint Meins rounded out the podium. Meins and Gunderson won the heats.
Skagit Speedway
Alger, WA
Saturday May 5, 2018
Summer Thunder Sprintcar Series
Fast Time – Jason Solwold 11.498
Heat 1 – Colton Heath, Jason Solwold, Chance Crum, Trevor Cook, Michael Bollinger, Luke Didiuk
Heat 2 – Eric Fisher, Jared Peterson, Lance Sargent, Chase Goetz, Cale Brooke, Chris Ochs
Heat 3 – Devon Borden, Garen Linder, Greg Hamilton, Cam Smith, Matt Jensen, Garrett McClees
Main – Jason Solwold, Linder, Peterson, Heath, Goetz, Fisher, Smith, Crum, Sargent, Cook, Jensen, Didiuk, Ashe, Brooke, Ochs, McClees, Borden, Hamilton
Lap Leaders – Solwold 1-30
Triple X Hard Charger – Colton Heath +6
Northwest Focus Midget Series
Heat 1 – Tristin Thomas, Ross Rankine, MIchael Hodel, Matt Loving, Hannah Lindquist, Renee Angel, Dustin O'Brien
Heat 2 – Garrett Thomas, Evan Margeson, Riley Vaillant, Ryan Cully, Chris Greene, Katie Jackson, Jesse Conway, Breanna Brostrom
Heat 3 – Eric Turner, Alden Ostron, Brian Aune, Shane Smith, Ray Stebbins, Dave Mills, Nick Evans
Heat 4 – Chris Bullock, Greg Thornhill, Jeremiah Franklin, Ashley Thompson, Hailey Bower, AJ Fugitt, Nik Larson
B Main – Nik Larson, Loving, Evans, Lind, Jackson, Fugitt, Angel, Brostrom, Conway, Stebbins, Mills, O'Brien
A Main – Ross Rankine, Margeson, Cully, T Thomas, G Thomas, Ostrom, Turner, Evans, Bullock, Hodel, Smith, Larson, Lindquist, Thornhill, Greene, Vaillant, Loving, Lind, Aune, Franklin, Thompson, Bower
Lap Leaders – Rankine 1-25
Outlaw Tuners
Heat 1 – Jon Gunderson, Brian Michelson, Matt Dunnigan, Rob Dozark, Brandon Jansen
Heat 2 – Clint Meins, Matt Ploeg, TJ Campbell, Brendan Grover, Jack Desrosier
Main – Brian Michelson, Jon Gunderson, Clint Meins, Brandon Jensen, TJ Campbell, Matt Ploeg, Rob Dozark, Brendan Grover, Matt Dunnigan, Jack Desrosier
Lap Leaders – Gunderson 1-3 Michelson 4-17