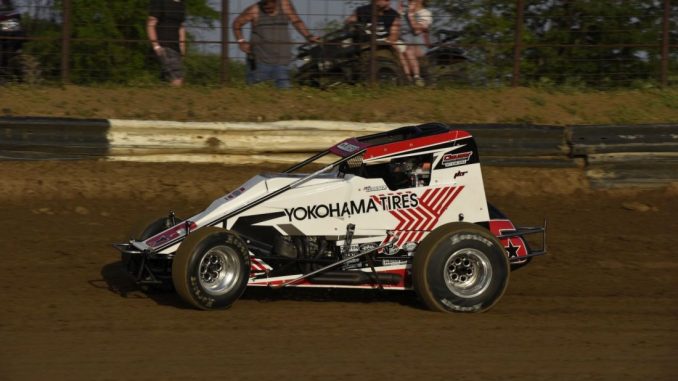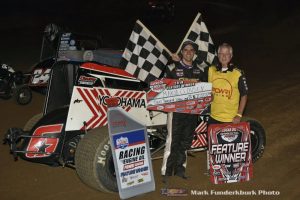 From Brooke Rowden
BROWNSTOWN, Ill. (May 12, 2018) — Mario Clouser triumphed at Fayette County Speedway in Brownstown, Illinois with the POWRi Lucas Oil WAR Wildcard Sprint League to score his first ever sprint car win of his career over hard charging Thomas Meseraull (2nd) and Landon Simon (3rd).
At the start of the 25-lap feature event Mitch Wissmiller took the lead, but Meseraull would sneak by after a few laps were in the books. Meseraull held a comfortable lead until the yellow flag came out for Austin Sears who spun to a stop in turn four.
With one lapped car between race-leader Thomas Meseraull and second-running Landon Simon, the green flag would fly. Meseraull bobbled in turns three and four as his car bounced off the cushion and he somehow kept control to keep going. Simon chased Meseraull down the front straightaway with a momentum-filled run, he threw the slider at Meseraull who crossed back over and they drag raced down the back straightaway. Coming out of turns three and four Meseraull held the lead while Mario Clouser snuck by on the bottom in front of Simon across the line. Soon after, Logan Faucon flipped in turns three and four causing the red flag to be displayed. Faucon would walk away.
Three laps remained in the race with Meseraull still in the lead, Clouser followed him, Simon was third, Korey Weyant ran fourth, and Colten Cottle rounded out the top five. The green flag waved for the final time. Meseraull and Simon laid it all out on the line banging the cushion around the top of the racetrack giving it all they had, but neither could outrun Mario Clouser who found the sweet spot on the bottom groove of the racetrack late in the event.
"It's a great feeling!" Said Clouser in victory lane when asked how it felt to get his first WAR Wildcard win, "I was very close more than once last year to picking up a win, but something always managed to not go my way in the closing laps. It is awesome to finally be able to seal the deal on a win and to do it with some tough competition here tonight makes it even sweeter."
Mario would like to thank Yokohama Tires, Clouser Auto, and Napa of Auburn for their support to his race team.
The POWRi Lucas Oil WAR Wildcard Sprints are back in action Wednesday, May 30 alongside the World of Outlaws Craftsman Sprint Cars at Fairbury American Legion Speedway in Fairbury, Illinois.
The Missouri-based POWRi Lucas Oil WAR Sprint League resumes its season with a two-day weekend coming up. WAR will head back to Lake Ozark Speedway in Eldon, Missouri for the second time this year on Saturday, May 26 followed by a much anticipated trip to Double X Speedway in California, Missouri on Sunday, May 27. Both events are points races for the POWRi Lucas Oil WAR Sprint League.
POWRi Lucas Oil WAR Wildcard Sprint League
5/12/18
Fayette County Speedway – 20 cars
Hinchman Racewear Heat 1 – 8 laps
1. 00-Thomas Meseraull, San Jose, CA (1); 2. 6-Mario Clouser, Auburn, IL (7); 3. 5C-Colten Cottle, Kansas, IL (4); 4. 11-James Lyerla, Hillsboro, IL (5); 5. 88-Terry Babb, Decatur, IL (3); 6. 16-Anthony Nicholson, Bartlett, TN (2); 7. N2-Nic Harris, Atlanta, IL (6)
Bell Helmets Heat 2 – 8 laps
1. 24-Landon Simon, Tipp City, OH (7); 2. 99-Korey Weyant, Springfield, IL (3); 3. 41-Brad Wyatt, Kearney, MO (4); 4. Austin Sears, Macomb, IL (6); 5. 20-Steve Thomas, Rantoul, IL (2); 6. 73-Trent Tackitt, Tuscola, IL (1); 7. 70-Pete Palazzolo, Ballwin, MO (5)
Schure Built Suspension Heat 3 – 8 laps
1. 22S-Slater Helt, Harrisonville, MO (1); 2. 77K-Katlynn Leer, Moulton, IA (3); 3. 1-Mitch Wissmiller, Saybrook, IL (6); 4. 99W-Robbie Standridge, Springfield, IL (2); 5. 52F-Logan Faucon, Elkhart, IL (4); 6. 2T-Willie Tackitt, Tuscola, IL (5)
POWRi Lucas Oil WAR Wildcard Sprints A-Main – 25 laps
1. 6-Mario Clouser (3); 2. 00-Thomas Meseraull (1); 3. 24-Landon Simon (4); 4. 99-Korey Weyant (6); 5. 5C-Colten Cottle (8); 6. 77K-Katlynn Leer (7); 7. 88-Terry Babb (14); 8. 22S-Slater Helt (5); 9. 16-Anthony Nicholson (17); 10. 11-James Lyerla (11); 11. 99W-Robbie Standridge (12); 12. 70-Pete Palazzolo (20); 13. 20-Steve Thomas (15); 14. 2T-Willie Tackitt (16); 15. Trent Tackitt (18); 16. 52F-Logan Faucon (13); 17. N2-Nic Harris (19); 18. 31-Austin Sears (10); 19. Mitch Wissmiller (2); 20. 41-Brad Wyatt (9)