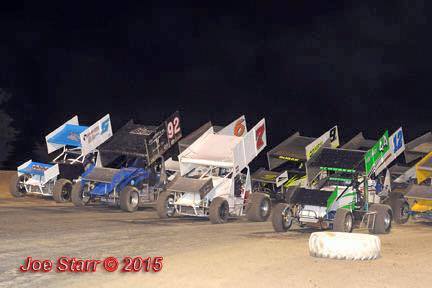 From Rick Salem
The Myers Engines United Rebel Sprint Series will open the season this Memorial Weekend with a double header as the Rebels will visit the beautiful Dodge City Raceway Park in Dodge City, KS on Saturday night and then will head to C Ray Hall's 81 Speedway in Wichita, KS for an all sprint car show on Sunday night.
With weather canceling the first two scheduled races of the season, the weather forecast this weekend appears to be a perfect setting with highs in the 90's and little to no chance of rain.
A great field of cars are IMCA/Racesaver sprint cars are expected to make the two day weekend with a great contingent of cars from Kansas, Colorado, Nebraska and Oklahoma expected to meet the Precise Racing DCRP Sprint cars on Saturday night in Dodge City at one of the nicest facility in the Midwest. Saturday nights action will pay $700 to win with $150 to start the 25 lap A feature.
Sunday the teams will load up and head to Wichita Ks for the Sprint Car Spectacular at the famous 81 Speedway. Along with the Rebels will be the NCRA/Sprint Bandits tour and also the OCRS Sprinters based out of Oklahoma. Last years event brought a total of 97 Sprint Cars with the three divisions and this years event should be as good or better. A huge field of URSS cars are expected for this race as several drivers from Oklahoma, Texas and Kansas will pull double duty and run both the 360 and the 305 portion of the event. Also a few of the Lincoln, NE cars have contacted officials and will plan on making the tow to Wichita and vying for the $1000 to win $200 to start the A feature.
With beautiful weather in the forcast be sure you don't miss any of this weekends action. If you can't make it, be sure to listen to Sunday nights program on racinboys.com with Kyler Fetters calling all the action live.