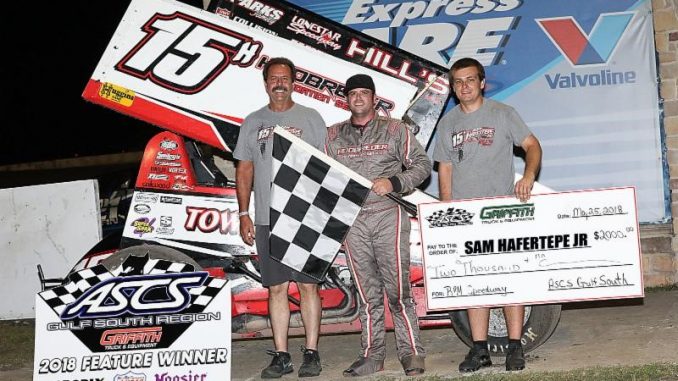 From Bryan Hulbert
CRANDALL, Texas (May 25, 2018) – Winning for the 12th time with the Griffith Truck and Equipment ASCS Gulf South Region, Sam Hafertepe, Jr. picked up his third ASCS sanctioned win in a row with his score at RPM Speedway on Friday night in the Hills Racing Team No. 15h.
Racing from the seventh starting position, Hafertepe rolled to second with the lead in the hands of Terry Gray. Searching the track, the race's final caution with three laps to go sent Hafertepe to the high line on the No. 10 of Gray to secure the top spot. Working back to the bottom of the Speedway, Hafertepe worked to hit his marks as the high line was wide open for Blake Hahn.
Restarting fourth at the Lap 22 caution, Hahn grabbed the runner-up spot from Terry Gray at the wave of the white flag. Letting the Griffith Truck and Equipment No. 52 sail the cushion through the final two turns, the top two spots were nearly nose to tail at the drop of the checkered flag. Terry Gray ended up third with Channin Tankersley and Ray Allen Kulhanek to complete the top-five.
Sixth went to Matt Covington with 12th starting Dustin Gates racing to seventh. Harli White in eighth was followed by Michael Day with Louisiana's Koty Adams moving from 18th to finish 10th.
The Griffith Truck and Equipment ASCS Gulf South Region races again on Saturday, May 26 at Devil's Bowl Speedway in Mesquite, Texas. Gates open at 6:00 P.M. with racing at 8:00 P.M. Along with the Gulf South Region, the night includes USRA Modifieds, Limited Modifieds, and Factory Stocks. Admission is $20 with Seniors, Military, and kids 13-15 admitted for $10. Children 12 and under get into the grandstands for free. Pit Passes are $30.
Devil's Bowl Speedway is located at 1711 Lawson Rd. in Mesquite, Texas. Get more information online at http://www.devilsbowl.com or call (972) 222-2421.
For other news, notes, and information on the American Sprint Car Series, from the National Tour to any of the Regional Tours that make up the over 150 across the ASCS Nation in 2018, log onto http://www.ascsracing.com, follow on Facebook, on Instagram, and on Twitter (@LucasOilASCS).
Race Results:
ASCS Gulf South Region
RPM Speedway – Crandall, Texas
Friday, May 25, 2018
Car Count: 29
Heat 1 (8 Laps): 1. 52-Blake Hahn, [2]; 2. 10-Terry Gray, [4]; 3. 99X-Dalton Stevens, [3]; 4. 2-Michael Day, [5]; 5. 9-Bobby Breen, [6]; 6. 21-Koty Adams, [8]; 7. 5X-Tyson Hall, [7]; 8. 2X-Tucker Doughty, [1]
Heat 2 (8 Laps): 1. 95-Matt Covington, [1]; 2. 21T-Ray Allen Kulhanek, [3]; 3. 6-Dustin Gates, [2]; 4. 58-Gary Floyd, [4]; 5. 24-Ben Silliker, [6]; 6. 27-Andy Shouse, [5]; 7. 02-Harry Yerrington, [7]
Heat 3 (8 Laps): 1. 17W-Harli White, [2]; 2. 15H-Sam Hafertepe Jr, [5]; 3. 12W-Dale Wester, [4]; 4. 10M-Morgan Turpen, [1]; 5. 57-Joseph (Joey) Nyman, [3]; 6. 12H-Travis Rilat, [6]; 7. V8-Robert Vetter, [7]
Heat 4 (8 Laps): 1. 79-Ryan Hall, [2]; 2. 28-Tommy Bryant, [4]; 3. 17-Channin Tankersley, [7]; 4. 51-Caleb Martin, [3]; 5. 3-Raven Culp, [5]; 6. 13M-Chance McCrary, [1]; 7. 48-Cody Stacy, [6]
B Feature (12 Laps): 1. 51-Caleb Martin, [1]; 2. 3-Raven Culp, [6]; 3. 10M-Morgan Turpen, [5]; 4. 21-Koty Adams, [4]; 5. 27-Andy Shouse, [8]; 6. 2X-Tucker Doughty, [13]; 7. 57-Joseph (Joey) Nyman, [7]; 8. 02-Harry Yerrington, [10]; 9. 13M-Chance McCrary, [11]; 10. 9-Bobby Breen, [2]; 11. 48-Cody Stacy, [12]; 12. 24-Ben Silliker, [3]; 13. 5X-Tyson Hall, [9]
A Feature (25 Laps): 1. 15H-Sam Hafertepe Jr, [7]; 2. 52-Blake Hahn, [5]; 3. 10-Terry Gray, [3]; 4. 17-Channin Tankersley, [4]; 5. 21T-Ray Allen Kulhanek, [9]; 6. 95-Matt Covington, [8]; 7. 6-Dustin Gates, [12]; 8. 17W-Harli White, [2]; 9. 2-Michael Day, [13]; 10. 21-Koty Adams, [18]; 11. 3-Raven Culp, [16]; 12. 2X-Tucker Doughty, [20]; 13. 79-Ryan Hall, [1]; 14. 51-Caleb Martin, [15]; 15. 28-Tommy Bryant, [6]; 16. 99X-Dalton Stevens, [11]; 17. 10M-Morgan Turpen, [17]; 18. 12W-Dale Wester, [10]; 19. 58-Gary Floyd, [14]; 20. 27-Andy Shouse, [19]; 21. 57-Joseph (Joey) Nyman, [21]; 22. 02-Harry Yerrington, [22]