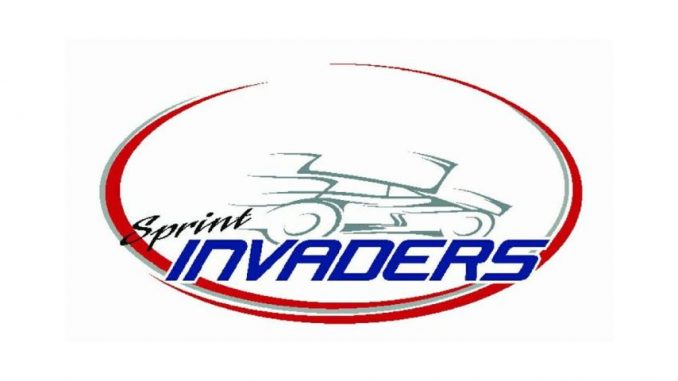 From Bill Wright
WEST BURLINGTON, Iowa (May 25, 2018) — John Schulz had to feel like things had been against him lately at Lee County Speedway in Donnellson, Iowa. In 2017, he had motor issues plague him, and in the four-wide salute on Friday night, a video drone fell out of the sky and struck his car. Despite the obstacles, the veteran from West Burlington, Iowa would hold off ninth row starter, Bill Balog, to win his fourteenth career feature with the Sprint Invaders and his fifth in series' competition at the 3/8-mile oval in the Jimmy Davies Racing #99.
Jamie Ball, a 2017 winner at Lee County, led the 25-lap main event early from his pole position over Schulz and Brayden Gaylord. The track was in excellent condition after new clay was added in the offseason. Three-time series' champ, Ryan Jamison, spun with a lap completed, while all-time series' feature winner leader, Kaley Gharst, exited with mechanical issues.
Cody Wehrle slid in front of Gaylord to claim third on the restart, but a serious shake-up was in order back in the pack. On lap three, Josh Schneiderman advanced from fifth to third, while 17th starting Bill Balog cracked the top five on the fourth circuit.
Contact with another car saw McKenna Haase bend her front axle five laps in. She would retire. Ball led Schulz, Josh Schneiderman, Gaylord and Balog back to green. Jon Agan was also on the move from row seven, and went from sixth to fourth on the restart. Eight laps in, Justin Buchholz went up in smoke, bringing another caution.
The yellow negated a Balog pass of Agan for fourth, but the eight-time IRA champion would shoot up to third on the restart. Young Californian, Mason Daniel, entered the top five on lap ten, and grabbed fourth a lap later, in his first ever Sprint Invaders appearance.
Schulz reeled in Ball and passed him for the point on lap eleven. With five to go, he was back in traffic. Balog worked by Ball for second with three to go. Agan would tap the turn two wall on the same lap and turn over. He was uninjured.
Schulz would hold off Balog for the $1,500 win. Ball held onto third, ahead of Daniel and Gaylord. Jarrod Schneiderman (from 18th), Josh Schneiderman, Wehrle, Jamison and Harold Pohren rounded out the top ten. Haase would win both her heat and the Shake-up Dash. Buchholz and Ball won the other heats.
"That drone just smoked me on the front wing!" Schulz joked in Victory Lane. "I was hoping it wasn't a sign of things to come! It hit pretty hard. This Jimmy Davies Racing team is a hell of a group of people. We were behind from the start last year, and it was one of those years. This year is going a lot better. I knew (Balog) was behind us and had started towards the back. I just told myself not to do anything cute or stupid. If he was going to pass us, it was going to have to be on the top, because I wasn't moving."
"We got the thing working good for the feature," said Balog of his charge aboard Scott Bonar's #50. "It was nice to have a good run, because I haven't been running that well lately. Scott had this thing figured out. It was nice to work with him and be able to come out here and race these guys. The car was awesome. We just needed a mistake by Schulz or something. We could go anywhere with it."
"We thought going in, we had a chance to win, but it just wasn't in the cards tonight," said Ball. "John Schulz and Bill Balog were just better than us. I was really good in three and four, but I couldn't get the car to work in one and two. We battled some stuff early on, and made some changes. We just went the wrong way. We'll learn from this, and we hope to come back with a better result. With the way things have been going with the crashes and blowing up, we're happy to get a good finish."
The Sprint Invaders will return to 34 Raceway in West Burlington, Iowa, Sunday, May 27. For more information on the Shottenkirk.com Sprint Invaders, visit www.SprintInvaders.com or follow us on Facebook and Twitter!
Sprint Invaders A main (started), 25 laps: 1. 99, John Schulz, West Burlington, IA (3) 2. 50, Bill Balog, Hartland, WI (17) 3. 5J, Jamie Ball, Knoxville, IA (1) 4. 33m, Mason Daniel, Springville, CA (8) 5. 13, Brayden Gaylord, Wever, IA (4) 6. 88, Jarrod Schneiderman, West Burlington, IA (18) 7. 49, Josh Schneiderman, West Burlington, IA (7) 8. 40c, Cody Wehrle, Burlington, IA (6) 9. 51J, Ryan Jamison, Mediapolis, IA (12) 10. 50P, Harold Pohren, Lowell, IA (11) 11. 28AU, Allan Woods, Brisbane, QLD, Aust. (9) 12. 9, Daniel Bergquist, Burlington, IA (15) 13. 1st, John Greenwood, Woodward, IA (16) 14. 4, Jon Agan, Knoxville, IA (13) 15. 81, Tanner Gebhart, Burlington, IA (14) 16. 69, Justin Buchholz, Davenport, IA (2) 17. 55, McKenna Haase, Des Moines, IA (5) 18. 84K, Wayne Kniffen, Fort Madison, IA (19) 19. 78, Kaley Gharst, Decatur, IL (10). Lap Leaders: Ball 1-10, Schulz 11-25. Hard-charger: Balog. KSE Hard-charger: Ja. Schneiderman.
Randall's Performance Heat one (started), Passing Points, 8 laps: 1. Justin Buchholz (1) 2. John Schulz (2) 3. Mason Daniel (4) 4. Ryan Jamison (3) 5. Jon Agan (6) 6. Bill Balog (5) 7. Jarrod Schneiderman (7)
CenPeCo Lubricants Heat two (started), Passing Points, 8 laps: 1. McKenna Haase (2) 2. Cody Wehrle (3) 3. Brayden Gaylord (5) 4. Kaley Gharst (4) 5. Tanner Gebhart (6) 6. Wayne Kniffen (1)
Mohrfeld Electric Heat three (started), Passing Points, 8 laps: 1. Jamie Ball (1) 2. Josh Schneiderman (2) 3. Allan Woods (3) 4. Harold Pohren (4) 5. Daniel Bergquist (5) 6. John Greenwood (6)
Budweiser King of Beers – Golden Eagle Distributors Shake-up Dash (started), 6 laps: 1. McKenna Haase (1) 2. Cody Wehrle (4) 3. Jamie Ball (3) 4. Justin Buchholz (2) 5. John Schulz (6) 6. Brayden Gaylord (5)