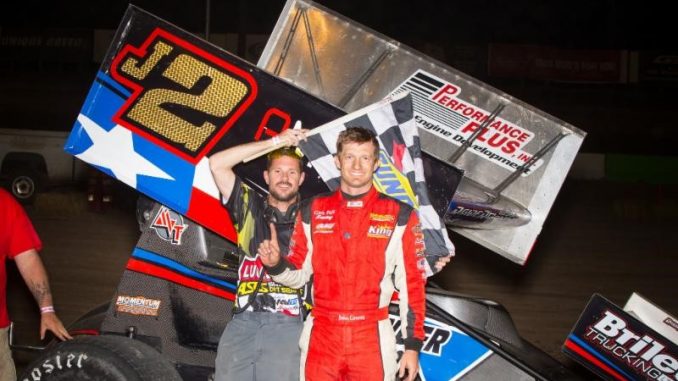 From Bryan Hulbert
LAS CRUCES, N.M. (May 26, 2018) – Taking the win at the Southern New Mexico Speedway, El Paso's John Carney II picked up Saturday's $2,500 victory to open up the Salute to Indy with the ASCS Southwest Region.
Racing back and forth with Rick Ziehl to open the 25-lap affair, Carney secure the top spot before the fifth lap and never relinquished the position through some slower traffic and several cautions. Rick Ziehl's best finish of the season, the No. 20z was joined on the podium by Royal Jones who held off multiple charges by Lorne Wofford who finished fourth. Wes Wofford completed the top-five.
Racing with Ziehl through the first two turns for the lead, Nick Parker slipped off the track but was able to rebound from the tail to sixth. Jesse Baker in seventh was followed by Alex Pettas from 14th. Ricky Holden from 18th crossed ninth with Jett Carney from 17th to make up the top-ten.
The ASCS Southwest Region finishes out the Salute to Indy at the Southern New Mexico Speedway on Sunday, May 27 with another $2,500 winner's check on the line. Gates open 5:00 P.M. with racing getting underway at 7:45 P.M.
The Southern New Mexico Speedway is located 11 miles west of Las Cruces at 10263 Robert Larson Blvd. More information on the track can be found at http;//www.snmspeedway.com or by calling (575) 524-7913.
For other news, notes, and information on the American Sprint Car Series, from the National Tour to any of the Regional Tours that make up the over 150 across the ASCS Nation in 2018, log onto http://www.ascsracing.com, follow on Facebook, on Instagram, and on Twitter (@LucasOilASCS).
Race Results:
ASCS Southwest Region
Southern New Mexico Speedway – Las Cruces, N.M.
Salute to Indy – Night 1
Saturday, May 26, 2018
Car Count: 24
Heat 1: 1. 115-Nick Parker, [3]; 2. J2-John Carney II, [6]; 3. 148-Don Grable, [1]; 4. 19-Wes Wofford, [7]; 5. 57-Jarrett Martin, [8]; 6. 6J-Jett Carney, [4]; 7. 33-Steve Cushman, [2]; 8. 36DD-Matt Ziehl, [5]
Heat 2: 1. 45X-Johnny Herrera, [6]; 2. 77-CJ Hulsey, [1]; 3. 131-Royal Jones, [5]; 4. 21TX-Brandon Schure, [3]; 5. 01-Joshua Shipley, [8]; 6. 15H-Ricky Holden, [2]; 7. 12-Jerry Mosher, [4]; 8. 7-Mark Clark, [7]
Heat 3: 1. 22X-Jesse Baker, [2]; 2. 18-Lorne Wofford, [4]; 3. 20Z-Rick Ziehl, [6]; 4. 2-Alex Pettas, [1]; 5. 2B-Billy Chester III, [3]; 6. 74-Colton Hardy, [5]; 7. 17-Jon McDaniel, [7]
A Feature: 1. J2-John Carney II, [4]; 2. 20Z-Rick Ziehl, [1]; 3. 131-Royal Jones, [3]; 4. 18-Lorne Wofford, [8]; 5. 19-Wes Wofford, [6]; 6. 115-Nick Parker, [2]; 7. 22X-Jesse Baker, [5]; 8. 2-Alex Pettas, [14]; 9. 15H-Ricky Holden, [18]; 10. 6J-Jett Carney, [17]; 11. 33-Steve Cushman, [21]; 12. 21TX-Brandon Schure, [13]; 13. 2B-Billy Chester III, [15]; 14. 01-Joshua Shipley, [11]; 15. 7-Mark Clark, [22]; 16. (DNF) 57-Jarrett Martin, [10]; 17. (DNF) 45X-Johnny Herrera, [7]; 18. (DNF) 74-Colton Hardy, [16]; 19. (DNF) 12-Jerry Mosher, [20]; 20. (DNF) 148-Don Grable, [12]; 21. (DNF) 17-Jon McDaniel, [19]; 22. (DNF) 77-CJ Hulsey, [9]; 23. (DNF) 36DD-Matt Ziehl, [23]; (DNS) 5-Joseph Hernandez,