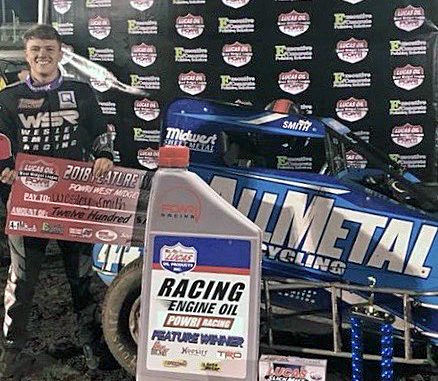 From Lonnie Wheatley
GARDEN CITY, Kan. (May 26, 2018) – A 500-miler is apropos for the Memorial Day holiday weekend.
And that's nearly the distance that Nixa, Missouri's Wesley Smith journeyed for this weekend's "Midget Roundup" at the 1/5-mile Airport Raceway in southwest Kansas pitting the Lucas Oil POWRi West Midget League presented by Executive Concrete NWA against the Lucas Oil POWRi Rocky Mountain Midget Racing Association.
Smith made the most of it in Saturday night's opening leg, emerging from a heated battle through traffic to best a field of 40 competitors for his first POWRi West Midget win of the year. The $1,200 triumph made Smith the seventh different winner in eight events this season as POWRi West shoes swept the podium with Kory Schudy in second and Hank Davis in third.
With Smith gridding the feature field in eighth, Tyler Thomas paced the field in the early going from his front row outside starting position. Eleventh-starter Cannon McIntosh soon entered the fray with the lead duo trading sliders for the point until Thomas got upside down after contact.
Back under way, the battle shifted to McIntosh and Smith with the latter taking command after the 15-year-old McIntosh spun after contact in traffic.
Smith raced on to the checkered flag aboard the All Metal Recycling/Midwest Sheet Metal No. 44 entry with current series points leader Kory Schudy of Springfield, MO< rallying through the field from 16th to capture runner-up honors, giving the Show Me State a one-two Saturday night punch. Fourteen-year-old Hank Davis of Sand Springs, OK, gave the POWRi West forces a sweep of the podium by charging from 14th to claim third. With POWRi West contenders occupying the top three positions, a pair of Colorado racers helped the RMMRA ranks to fill out the top five with Carson Garrett crossing the stripe in fourth and Luke Icke in fifth. Zac Taylor advanced from 17th to sixth with Keith Rauch, 19th-starter Michelle Decker, Hannah Adair ad Greg Schaefer completing the top ten. Adair, Icke, Schaefer, Thomas and Smith topped heat race action with Robert Harr and Schudy splitting "B" Main wins. The TBJ Promotions "Midget Roundup" at Airport Raceway concludes with a $2,000-to-win tilt on Sunday night once again pitting the POWRi West Midget League versus the POWRi Rocky Mountain Midget Racing Association atop the 1/5-mile clay oval. Lucas Oil POWRi West Midget League presented by Executive Concrete NWA vs. Lucas Oil POWRi Rocky Mountain Midget Racing Association Results Airport Raceway (Garden City, KS) – May 26, 2018 Smith Titanium Heat One (8 Laps): 1. 23-Hannah Adair, [6]; 2. 5J-Jeff Crook, [3]; 3. 24-Hunter Fischer, [8]; 4. 10-Lance Bennett, [1]; 5. 89-Patrick Bourke, [2]; 6. 76-Mark Hamilton, [5]; 7. 12-Chris Sheil, [4]; 8. (DNF) 43-Ryan Oerter, [7]. Keizer Wheels Heat Two (8 Laps): 1. 2-Luke Icke, [7]; 2. 27-Keith Rauch, [3]; 3. 28-Kory Schudy, [2]; 4. 71T-Zac Taylor, [5]; 5. 4M-Michelle Decker, [1]; 6. 11-Glenn Waterland, [8]; 7. 16-Ashley Oerter, [6]; (DNS) 10B-Blaze Bennett. Saldana Racing Products Heat Three (8 Laps): 1. 91-Greg Schaefer, [1]; 2. 11C-Chett Gehrke, [2]; 3. 2H-Robert Harr, [3]; 4. 2B-Brett Becker, [7]; 5. 88-Dustin Weland, [5]; 6. 84-Shaun Shapel, [4]; 7. (DNF) 4D-Robert Dalby, [6]; 8. (DNF) 3-Brent Rees, [8]. Rod End Supply Heat Four (8 Laps): 1. 32D-Tyler Thomas, [5]; 2. 42-Hank Davis, [2]; 3. 15C-Carson Garrett, [7]; 4. 56X-Mark Chisholm, [6]; 5. 7-Troy Simpson, [8]; 6. 69-Paul Babich, [3]; 7. 27B-A.J. Burns, [1]; 8. 77-Olivia Bennett, [4]. Pyrotech Heat Five (8 Laps): 1. 44-Wesley Smith, [1]; 2. 08-Cannon McIntosh, [3]; 3. 14-Tony Rossi, [6]; 4. 9H-Emilio Hoover, [5]; 5. 21-Nick Speidel, [2]; 6. 74-Zach Merritt, [7]; 7. 39-Mike Snelling, [8]; (DNS) 24T-Tim Snelling. B Feature 1 (12 Laps): 1. 2H-Robert Harr, [2]; 2. 71T-Zac Taylor, [3]; 3. 4M-Michelle Decker, [7]; 4. 88-Dustin Weland, [5]; 5. 69-Paul Babich, [9]; 6. 11-Glenn Waterland, [4]; 7. 43-Ryan Oerter, [12]; 8. 4D-Robert Dalby, [10]; 9. 89-Patrick Bourke, [6]; 10. 39-Mike Snelling, [8]; 11. (DNF) 56X-Mark Chisholm, [1]; (DNS) 3-Brent Rees, ; (DNS) 10B-Blaze Bennett. B Feature 2 (12 Laps): 1. 28-Kory Schudy, [2]; 2. 21-Nick Speidel, [6]; 3. 7-Troy Simpson, [1]; 4. 10-Lance Bennett, [4]; 5. 76-Mark Hamilton, [7]; 6. 84-Shaun Shapel, [8]; 7. 16-Ashley Oerter, [9]; 8. 77-Olivia Bennett, [11]; 9. (DNF) 9H-Emilio Hoover, [3]; 10. (DNF) 27B-A.J. Burns, [12]; 11. (DNF) 12-Chris Sheil, [10]; 12. (DNF) 74-Zach Merritt, [5]; (DNS) 24T-Tim Snelling, A Feature (25 Laps): 1. 44-Wesley Smith, [8]; 2. 28-Kory Schudy, [16]; 3. 42-Hank Davis, [14]; 4. 15C-Carson Garrett, [5]; 5. 2-Luke Icke, [4]; 6. 71T-Zac Taylor, [17]; 7. 27-Keith Rauch, [10]; 8. 4M-Michelle Decker, [19]; 9. 23-Hannah Adair, [3]; 10. 91-Greg Schaefer, [7]; 11. 14-Tony Rossi, [6]; 12. 11C-Chett Gehrke, [13]; 13. 24-Hunter Fischer, [1]; 14. 32D-Tyler Thomas, [2]; 15. 5J-Jeff Crook, [9]; 16. 2H-Robert Harr, [15]; 17. 08-Cannon McIntosh, [11]; 18. 69-Paul Babich, [21]; 19. 7-Troy Simpson, [20]; 20. 2B-Brett Becker, [12]; 21. (DNF) 21-Nick Speidel, [18]. BOSS Performance High Point Driver: Luke Icke