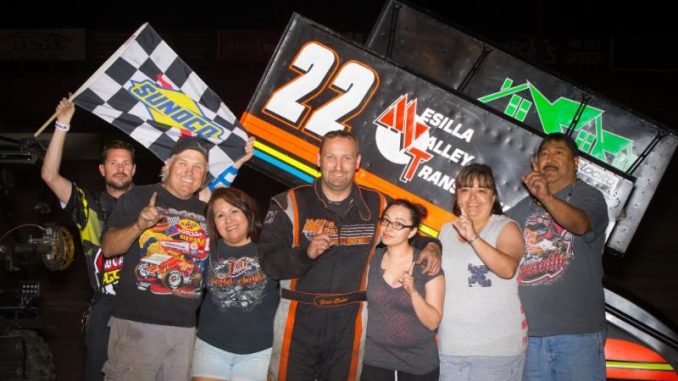 From Bryan Hulbert
LAS CRUCES, N.M. (May 27, 2018) – Getting the jump on Rick Ziehl through the first and second turns of the Southern New Mexico Speedway, Jesse Baker kept his Jackson Compaction No. 22 at the front of the field for 25 laps to pick up Sunday's $2,500 to win Salute to Indy with the ASCS Southwest Region.
Green from the outside of the front row, Baker railed the cushion on the Lucas Oil No. 20z with the pair locked in a battle for the first few laps. Keeping ahead of Ziehl, the line began to migrate with the center starting to come into play. Searching the track while keeping his momentum up, Baker found the line as the leaders hit traffic.
Avoiding a lapped car spinning as they leaders tried to work by, the caution thwarted a run at the lead by Ziehl.
Working back into traffic in a handful of laps, Baker was able to work under slower cars to extend his advantage with a 1.423-second advantage at the checkered flag for this third career ASCS Southwest triumph. Battling back and forth with John Carney II for the runner-up spot, slower traffic played to the advantage of the No. 20z to award Rick Ziehl the silver position. Carney in third was followed by Lorne Wofford with Johnny Herrera coming to finish fifth.
Royal Jones in sixth had Colton Hardy trailing in seventh. Josh Shipley, Wes Wofford, and Billy Chester made up the top-ten.
The ASCS Southwest Region goes green again on Saturday, June 30 at Arizona Speedway.
For other news, notes, and information on the American Sprint Car Series, from the National Tour to any of the Regional Tours that make up the over 150 across the ASCS Nation in 2018, log onto http://www.ascsracing.com, follow on Facebook, on Instagram, and on Twitter (@LucasOilASCS).
Race Results:
ASCS Southwest Region
Southern New Mexico Speedway – Las Cruces, N.M.
Salute to Indy – Night 2
Sunday, May 27, 2018
Car Count: 23
Heat 1 (8 Laps): 1. 115-Nick Parker, [3]; 2. 131-Royal Jones, [2]; 3. 20Z-Rick Ziehl, [7]; 4. 74-Colton Hardy, [6]; 5. 15H-Ricky Holden, [4]; 6. 2-Alex Pettas, [5]; 7. 12-Jerry Mosher, [1]; 8. (DNF) 36DD-Matt Ziehl, [8]
Heat 2 (8 Laps): 1. 18-Lorne Wofford, [2]; 2. 22-Jesse Baker, [1]; 3. 01-Joshua Shipley, [4]; 4. J2-John Carney II, [7]; 5. 17-Jon McDaniel, [3]; 6. 6J-Jett Carney, [5]; 7. (DNF) 21TX-Brandon Schure, [8]; 8. (DNF) 77-CJ Hulsey, [6]
Heat 3 (8 Laps): 1. 19-Wes Wofford, [1]; 2. 45X-Johnny Herrera, [4]; 3. 33-Steve Cushman, [3]; 4. 57-Jarrett Martin, [6]; 5. 2B-Billy Chester III, [5]; 6. 148-Don Grable, [7]; 7. 7-Mark Clark, [2]
A Feature (25 Laps): 1. 22-Jesse Baker, [2]; 2. 20Z-Rick Ziehl, [1]; 3. J2-John Carney II, [6]; 4. 18-Lorne Wofford, [3]; 5. 45X-Johnny Herrera, [7]; 6. 131-Royal Jones, [5]; 7. 74-Colton Hardy, [10]; 8. 01-Joshua Shipley, [9]; 9. 19-Wes Wofford, [8]; 10. 2B-Billy Chester III, [13]; 11. 148-Don Grable, [16]; 12. 57-Jarrett Martin, [11]; 13. 33-Steve Cushman, [12]; 14. 2-Alex Pettas, [17]; 15. 115-Nick Parker, [4]; 16. 15H-Ricky Holden, [14]; 17. 17-Jon McDaniel, [15]; 18. 12-Jerry Mosher, [20]; 19. 7-Mark Clark, [19]; 20. 77-CJ Hulsey, [23]; 21. 36DD-Matt Ziehl, [22]; 22. 21TX-Brandon Schure, [21]; 23. 6J-Jett Carney, [18]