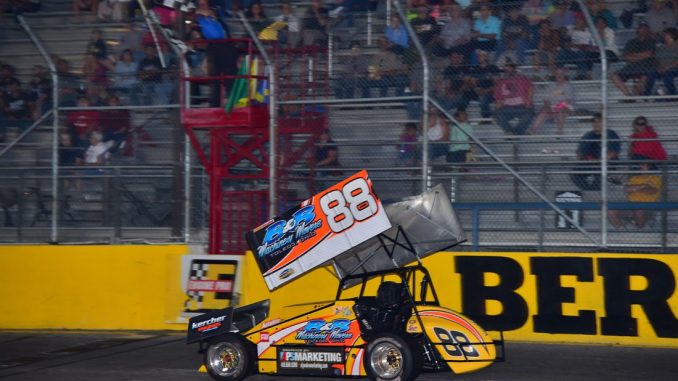 By Jacob Seelman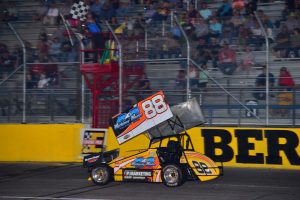 HOLLY, Mich. – Following the excitement of the tour's most recent event at Berlin Raceway, the Must See Racing Sprint Car Series will lead into Independence Day with a Michigan doubleheader this Saturday and Sunday.
The 410ci winged asphalt sprint car series concludes the month of June with the third-annual Firecracker 50 at Owosso Speedway in Ovid, Mich. on June 30 before kicking off the month of July with a rescheduled race at Birch Run Speedway in Birch Run, Mich., on July 1.
Owosso and Birch Run will mark the fourth and fifth races of the Must See Racing season, getting the series back on track after twin rainouts in May disrupted the early portion of the calendar.
Three-time defending series champion Jimmy McCune lead the points chase over fellow veteran Aaron Pierce by 19 markers entering the two-race weekend, as he kicks his pursuit of a fourth-straight title into high gear.
McCune already has two wins in the first three races of the year, winning the season opener at Anderson Motor Speedway on April 20 and tallying his second victory during the rescheduled Must See Racing stop at Berlin Raceway on June 11, which accompanied the Money in the Bank 150.
If that wasn't enough, the Toledo, Ohio driver is the two-time defending champion of the Firecracker 50 and swept the series races at the three-eighths-mile oval, as well as won the non-points Must See Racing special at Birch Run last August. He also has a non-winged sprint car victory at Birch Run as well.
"I'm excited every time we go into a race weekend, but our track record at the two tracks we'll be at this weekend has me really looking forward to chasing a couple of victories," said McCune. "Good runs always give you confidence to come back to a track and repeat that success, but we never take anything for granted and approach each race as a new day because everyone has a clean slate when we open the pit area. We'll go out, try and make the car the best we can and see if we can get our third win of the year on Saturday."
Asked what has made him so good of late at Owosso, McCune chuckled before offering a response.
"Hard work and preparation is really all I can tell you," he said. "I don't know what it is outside of that, but it's always been a special place for me. I got my first win ever in racing there when we won in the midget back early in my career … so it's always been important to me to keep running as well as we can there each time we come back."
McCune will have a list of characters to defeat, however, if he is going to etch his name into the Owosso and Birch Run record books as a winner once again.
National Sprint Car Hall of Famer Jeff Bloom, Pierce, NASCAR modified champion Bobby Santos and former supermodified ace Charlie Schultz are among the expected challengers to the dominance of the No. 88 Abe's Auto Parts and Sales/B&B Machinery Movers sprinter.
Home-state drivers anticipated to compete during the weekend include former Owosso winner Jason Blonde, Ike Beasley, Teddy Alberts and recent Berlin runner-up Tom Jewell.
Alongside the Must See Racing sprint cars, the Midwest Compact Front Wheel Drives and Pro Late Models will also be on the racing card at Owosso, while Sunday's program at Birch Run will include Pure Stocks, Modifieds and Lightning Sprints in addition to the stars of Must See Racing.
Pit gates open at Owosso at noon on Saturday, followed by grandstand gates at 2 p.m.
On Sunday, the Birch Run pit area opens at 9 a.m., with a prayer service at the Must See Racing tent at 10 a.m. Grandstand gates open to the public at noon.
For more information on Must See Racing, visit www.mustseeracing.com.