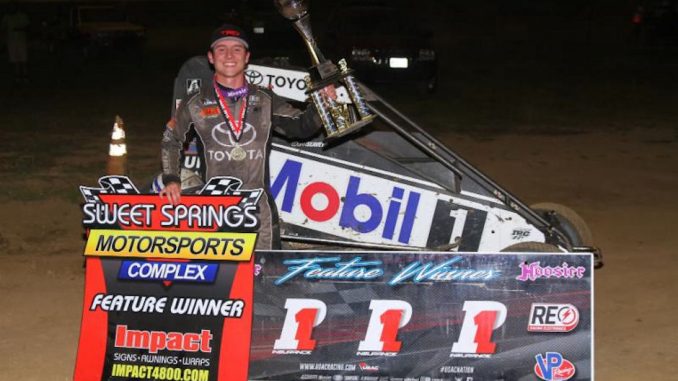 Sweet Springs, Missouri………Second, second, second.  That's what the Logan Seavey personal box score read night after night following three consecutive runner-up finishes leading into Sunday's USAC P1 Insurance National Midget debut at the Sweet Springs Motorsports Complex.
Late in the game, it appeared Seavey would have another bridesmaid honor to add to his resume.  But with four laps to go, the Rookie sensation from Sutter, California was in prime position to pounce when the door cracked open, slipping by fellow Rookie Cole Bodine to win the "John Hinck Championship."
"I got déjà vu there at the end; it feels pretty good to be on the other end of that," Seavey said.  "My teammate Tanner Carrick showed me the top early in the race in (turns) three and four.  I was able to make it work for a while and then I felt like the bottom started coming back in three and four.  I just went to the bottom and watched what Cole was doing and found a little mistake he was making.  Down the straightaways, he was coming up just a little too high.  I was really coming by the end of the straightaway and just tried to get as close as I could, then when I was there, I dove underneath him and got to the entry before he did.  It's just one of those deals when you're leading, it's hard to try to change up what you're doing."
Upstart Bodine, who had a mere six stars in a full midget prior to Sweet Springs, took the lead from the pole position for the first four circuits.  On the fifth lap, Carrick powered around the outside of Bodine, sneaking by at the start/finish line where he would lead the next eight laps.
Bodine looked the part of a veteran on the 13th lap when he got the bottom mo working and was able to reengage the battle with Carrick, beating the 2017 series Rookie of the Year to the entry of turn one to recapture the lead.
On the 19th lap, seventh-starting Seavey was running fourth, and on the chase, when teammate Carrick stumbled atop turn two.  Seavey got by underneath as Carrick jumped back on the horse, gaining all the ground back on the high road where, in turns one and two on lap 24, he did his best impersonation of an airplane tipping its wing to the crowd at an air show.  Somehow, someway, Carrick avoided getting upside down, dropping from sixth to third and out of contention for the victory.
Meanwhile, Seavey capitalized to third and, two laps later, jumped past Bacon to secure the second spot behind leader Bodine.  When Kyle Craker backed into turn three to bring out the caution on lap 30, the question was whether Bodine would be sufficient on the restarts with the point leader on his rear bumper.
On the ensuing restart, Bodine left the door slightly ajar, leaving a car width of daylight open on the bottom, but Seavey wasn't able to get there in time to snag the position.  One lap later, though, Jake Neuman got upside down between turns one and two, forcing another Bodine restart.
This time, though, Bodine was flawless, sticking a doorstop underneath the crack in the doorway, keeping Seavey from making any kind of move on the lap 32 restart.  Yet, Seavey didn't stand and wait by idly.  Instead, he remained within a car length of Bodine for the next four laps until Bodine entered turn one a step off the bottom on lap 37.
Seavey was able to get a hand in the cookie jar and the lid would not be reclosed as the two hit the back straightaway.  Bodine was unable to get back to the bottom of turn three with Seavey's front bumper occupying the bottom lane, allowing Seavey to have total control of his destiny as he passed Bodine and led the remaining four laps to win by eight-tenths of a second over Bodine, Ryan Robinson, Brady Bacon and Tyler Courtney.
Seavey is a student of the game and, and the Rookie had his nose in the books as he observed Bodine's tendencies that he felt he could eventually take advantage of if the opportunity arose.
"On the restarts, he would pull up right about the flag stand and I was able to shoot underneath him there," Seavey detailed.  "He would close the door just in time and I couldn't quite get all the way there.  I kind of studied him and watched when he was making mistakes.  I'm sure there were a lot of nerves running through his head when he's about to win his first USAC race.  I was able to pounce right at the end.  I moved down at the right time.  It's a huge advantage when you're in second.  You get to search and you're able to watch the leader and see what he's doing.  You can always go back to that line if you need it."
Seavey has led the USAC P1 Insurance National Midget standings for all but one race this season and now holds a commanding 100-point lead as he aims to become just the third driver to win the championship in his first season, following in the footsteps of Danny Caruthers (1971) and Christopher Bell (2013).
"I definitely feel like I'm still a rookie," Seavey admits.  "But at the same time, I get into these fast racecars and Keith (Kunz) and Pete (Willoughby) believe in me to win these races.  I just have to do my job and run good, smart races and I was able to do that tonight.  "I do struggle with these racetracks the first time, but at a place like this, I don't feel like I'm at a disadvantage.  For the most part, by feature time, I feel like I should be adapted.  That's what these guys brought me over to do, to win races, so I have to figure it out."
Contingency award winners Sunday night at Sweet Springs Motorsports Complex were Brady Bacon (Simpson Race Products First Heat Winner), Tyler Courtney (Competition Suspension, Inc. Second Heat Winner), Zach Daum (Chalk Stix Third Heat Winner & Wilwood Brakes 13th Place Finisher), Tyler Thomas (Indy Race Parts Fourth Heat Winner), Spencer Bayston (KSE Racing Products Hard Charger) and Maria Cofer (Saldana Racing Products First Non-Transfer).
USAC P1 INSURANCE MIDGET NATIONAL CHAMPIONSHIP RACE RESULTS: July 15, 2018 – Sweet Springs Motorsports Complex – Sweet Springs, Missouri – "John Hinck Championship"
QUALIFYING: 1. Logan Seavey, 67, Kunz/Curb-Agajanian-12.252 (New Track Record); 2. Jason McDougal, 15, Petry/Goff-12.323; 3. Maria Cofer, 35, Petry/Goff-12.446; 4. Ryan Robinson, 71, Kunz/Curb-Agajanian-12.447; 5. Brady Bacon, 76m, FMR-12.481; 6. Tyler Courtney, 7BC, Clauson/Marshall-12.534; 7. Tucker Klaasmeyer, 27, Kunz/Curb-Agajanian-12.606; 8. Riley Kreisel, 93K, DKR-12.772; 9. Kevin Thomas, Jr., 63, Dooling-12.772; 10. Tanner Carrick, 71K, Kunz/Curb-Agajanian-12.784; 11. Cole Bodine, 39BC, Clauson/Marshall-12.859; 12. Holley Hollan, 14, Kunz/Curb-Agajanian-12.880; 13. Chad Boat, 84, Tucker/Boat-12.894; 14. Hudson O'Neal, 51B, Neuman-12.899; 15. Justin Grant, 17BC, Clauson/Marshall/Wood-12.911; 16. Wesley Smith, 44, Smith-12.935; 17. Sam Johnson, 72, Kunz/Curb-Agajanian-12.940; 18. Christopher Bell, 21, Kunz/Curb-Agajanian-12.980; 19. Zane Hendricks, 27z, Tucker/Boat-12.985; 20. Karter Sarff, 21KS, Reynolds-12.989; 21. Jake Neuman, 3N, Neuman-13.008; 22. Kyle Craker, 76E, FMR-13.008; 23. Zach Daum, 5D, Daum-13.009; 24. Tyler Thomas, 91T, Thomas-13.017; 25. Holly Shelton, 67K, Kunz/Curb-Agajanian-13.039; 26. Joe B. Miller, 51, Miller-13.056; 27. Spencer Bayston, 97, Kunz/Curb-Agajanian-13.090; 28. Jerry Coons, Jr., 25, Petry/Goff-13.124; 29. Tyler Nelson, 88, Nelson-13.142; 30. Chase Porter, 81, Shields-13.157; 31. Casey Shuman, 4A, RAMS-13.319; 32. Presley Truedson, 5T, Daum-13.496; 33. Chad Frewaldt, 4F, Frewaldt-13.576; 34. Glenn Waterland, 11c, Waterland-13.640; 35. Dave Darland, 21H, TKH-13.696; 36. Brayton Lynch, 1K, RKR-13.697; 37. Clinton Boyles, 98, Boyles-13.892; 38. Shaun Shapel, 84s, Shapel-13.949; 39. Todd McVay, 89JR, McVay-NT; 40. Chad Winfrey, 321, Winfrey-NT.
SIMPSON RACE PRODUCTS FIRST HEAT: (10 laps, top-4 transfer to feature) 1. Bacon, 2. Neuman, 3. Johnson, 4. Boat, 5. K. Thomas, 6. Seavey, 7. Frewaldt, 8. Nelson, 9. Shelton, 10. Boyles. 2:05.78 (New Track Record)
COMPETITION SUSPENSION (CSI) SECOND HEAT: (10 laps, top-4 transfer to feature) 1. Courtney, 2. Craker, 3. McDougal, 4. Carrick, 5. O'Neal, 6. Miller, 7. Bell, 8. Porter, 9. Waterland, 10. Shapel. NT
CHALK STIX THIRD HEAT: (10 laps, top-4 transfer to feature) 1. Daum, 2. Bodine, 3. Hendricks, 4. Bayston, 5. Klaasmeyer, 6. Grant, 7. Darland, 8. Cofer, 9. Shuman. 2:11.31
INDY RACE PARTS FOURTH HEAT: (10 laps, top-4 transfer to feature) 1. T. Thomas, 2. Sarff, 3. Coons, 4. Robinson, 5. Hollan, 6. Lynch, 7. Truedson, 8. Kreisiel, 9. Smith. NT
C-MAIN: (10 laps, top-4 transfer to the semi) 1. Shuman, 2. Truedson, 3. Frewaldt, 4. Darland, 5. Lynch, 6. Shapel, 7. Boyles, 8. Lynch. 2:18.45
SEMI: (12 laps, top-6 transfer) 1. Seavey, 2. Grant, 3. Bell, 4. Klaasmeyer, 5. K. Thomas, 6. Kreisel, 7. Cofer, 8. Smith, 9. Hollan, 10. Shelton, 11. Shuman, 12. Miller, 13. Darland, 14. Nelson, 15. Truedson, 16. Frewaldt, 17. O'Neal, 18. Porter. NT
FEATURE: (40 laps, starting position in parentheses) 1. Logan Seavey (7), 2. Cole Bodine (1), 3. Ryan Robinson (5), 4. Brady Bacon (4), 5. Tyler Courtney (3), 6. Christopher Bell (14), 7. Spencer Bayston (21), 8. Tanner Carrick (2), 9. Justin Grant (12), 10. Chad Boat (11), 11. Kevin Thomas, Jr. (10), 12. Sam Johnson (13), 13. Zach Daum (19), 14. Jerry Coons, Jr. (22), 15. Brayton Lynch (24), 16. Tucker Klaasmeyer (8), 17. Holly Shelton (23), 18. Riley Kreisel (9), 19. Tyler Thomas (20), 20. Zane Hendricks (15), 21. Kyle Craker (18), 22. Jake Neuman (17), 23. Karter Sarff (16), 24. Jason McDougal (6). NT
—————————-
**Neuman flipped on lap 32 of the feature.
FEATURE LAP LEADERS: Laps 1-4 Bodine, Laps 5-12 Carrick, Laps 13-36 Bodine, Laps 37-40 Seavey.
KSE RACING PRODUCTS HARD CHARGER: Spencer Bayston (21st to 7th)
WILWOOD BRAKES 13TH PLACE FINISHER: Zach Daum
NEW USAC P1 INSURANCE MIDGET NATIONAL CHAMPIONSHIP POINTS: 1-Seavey-696, 2-Bayston-596, 3-Boat-590, 4-Grant-587, 5-K. Thomas-583, 6-Bacon-580, 7-Courtney-572, 8-Carrick-511, 9-Robinson-470, 10-Coons-464.
NEXT USAC P1 INSURANCE MIDGET NATIONAL CHAMPIONSHIP RACES: August 2 – Path Valley Speedway Park – Spring Run, Pennsylvania – "Pennsylvania Midget Week"