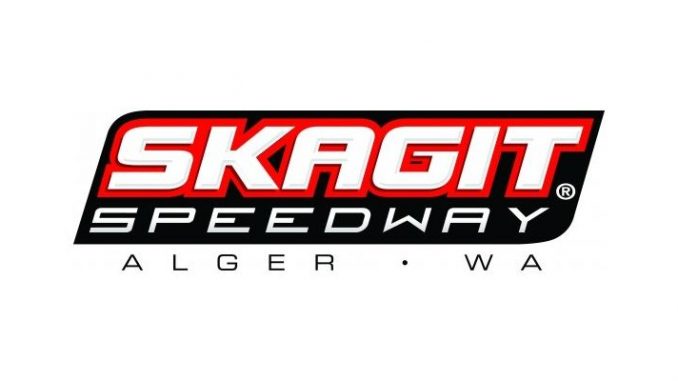 From Kaleb Hart
Alger, WA – Cam Smith picked a good night to secure his first 360 Sprint Car win at Skagit Speedway, taking the victory on night one of the 2018 Bob's Burgers & Brew Summer Nationals. Joining Cam in victory lane were Nick Evans and Kyle Hanson.
Smith started on row one with pole sitter Chase Goetz, and it was Goetz taking the early advantage despite heavy early pressure from Smith. A lap seven restart set Cam up for his later success, as he worked the low side of Goetz getting into turn one, pulling even with the leader down the back straight. Goetz powered off the high side to hold the lead, but it was short lived as Smith used a slidejob in the first and second turns of lap eight, then closed the door on Goetz entering turn three in what would be the race winning move. Smith rolled toward traffic, but a lap 16 caution would give the Mill Creek, WA driver clean air for the final nine circuits and a comfortable margin of victory as the checkered flag fell. Garen Linder ran second, with Buddy Kofoid third and Jason Solwold fourth, securing the four lock in spots to tomorrow nights redraw. Logan Forler set quick time. Heat race winners were Marc Dupperon, Greg Hamilton, Eric Fisher, Austen Wheatley and Jake Wheeler. Wheatley was the Triple X Hard Charger, moving forward seven spots in the A Main.
The Northwest Focus Midget Series ran as one of the two support divisions on the evening. Nick Evans made a gigantic move the inside of turn three on race leader Jayme Barnes to take the top spot on lap eight to take the lead. The veteran driver then made all the right moves as he led comfortably for the rest of the race to score his first win in over a year. Hannah Lindquist took the runner up position with Barnes rounding out the podium. Todd Hartmann, Barnes, Jesse Conway and Tristin Thomas won the heat races.
After twelve years away from racing while serving in the armed forces, Kyle Hanson raced to victory lane at Skagit Speedway in the Outlaw Tuners. Hanson passed Cliff Ballenger on lap six and held off a hard charging Jon Gunderson to grab the win. Gunderson and Cliff Ballenger were the top three. Gunderson and Vance Hibbard won the heats.
Summer Thunder Sprintcar Series
Fast Time – Logan Forler 11.615
Heat 1 – Marc Dupperon, Chris Schmelzle, Logan Forler, JJ Hickle, Reece Goetz, Bailey Sucich, Chris Ochs, Devin Barnes
Heat 2 – Greg Hamilton, Buddy Kofoid, Garen Linder, Robbie Price, Luke Didiuk, Brian Boswell, Bill Rude, Ashleigh Johnson
Heat 3 – Eric Fisher, Jared Peterson, Trevor Cook, Justin Youngquist, Bud Ashe, Jason Reed, Steve James, Ryan Cully
Heat 4 – Austen Wheatley, Cam Smith, Chase Goetz, Kyle Miller, Chance Crum, Cale Brooke, Michael Bollinger
Heat 5 – Jake Wheeler, Colton Heath, Jason Solwold, Devin Borden, Cory Swatzina, Michael Hodel, Steve Reeves
B Main 1 – JJ Hickle, Youngquist, Crum, Miller, Didiuk, Swatzina, Bollinger, Rude, Ochs, Barnes, Reed, Cully
B Main 2 – Robbie Price, R Goetz, Sucich, Reeves, Brooke, Borden, Ashe, James, Johnson, Boswell, Hodel
A Main – Cam Smith, Linder, Kofoid, Solwold, Schmelzle, Fisher, Heath, Peterson, Wheatley, Hickle, Forler, Wheeler, R Goetz, Crum, Hamilton, Price, Youngquist, Borden, Sucich, C Goetz, Cook, Dupperon
Lap Leaders – C Goetz 1-7 Smith 8-25
Triple X Hard Charger – Wheatley +7
Northwest Focus Midget Series
Heat 1 – Todd Hartmann, Katie Jackson, Hannah Lindquist, Sawyer Lind, AJ Fugitt, Chris Bullock, Dana Geary
Heat 2 – Jayme Barnes, Nick Evans, Shane Smith, Riley Vaillant, Brian Hayes, Glenn Bittrolf, Hailey Bower
Heat 3 – Jesse Conway, Alden Ostrom, Breanna Brostrom, Ashley Thompson, Brian Aune, Randy Hodel, Anthony Lopresto
Heat 4 – Tristin Thomas, Ross Rankine, Chris Greene, Ray Stebbins, Renee Angel, Brenden White, Matt Loving
B Main – Matt Loving, Aune, Angel, Bullock, Stebbins, Hodel, Hayes, Bower, Lopresto, White, Geary, Bittrolf
A Main – Nick Evans, Lindquist, Barnes, Rankine, Smith, Thomas, Loving, Conway, Ostrom, Jackson, Vaillant, Thompson, Greene, Aune, Lind, Fugitt, Brostrom, Bullock, Hartmann, Angel
Lap Leaders – Barnes 1-7 Evans 8-26
Outlaw Tuners
Heat 1 – Vance Hibbard, Cliff Ballenger, Ryan Ellis, Brandon Jansen, Clint Meins, Matt Shaw, Jack Desrosier, Curtis Ellis
Heat 2 – Jon Gunderson, Kyle Hanson, Brian Michelson, JC Lemay, Matt Ploeg, TJ Campbell, Max Sanford, Rob Dozark, Cody Bunting
Main – Kyle Hanson, Gunderson, Ballenger, Michelson, Shaw, Sanford, Jansen, Dozark, Ploeg, Campbell, Bunting, Hibbard, R Ellis, Meins, Lemay, Desrosier
Lap Leaders – Ballenger 1-5 Hanson 6-17