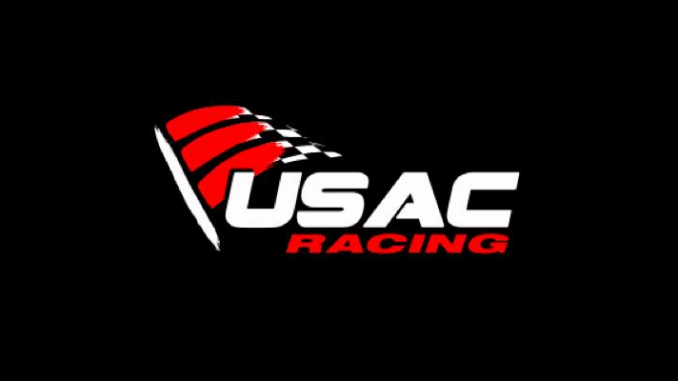 From USAC
Ventura, CA……..Tyler Slay of Watsonville, CA scored his first USAC win Wednesday night at the Ventura County Fair. He passed Randi Pankratz on lap nine and led the rest of the way to win the 20-lapper over Jimmy May, Keoni Texeira, Joey Iest and Mike Leach.
USAC SPEED2 WESTERN MIDGET PAVEMENT RACE RESULTS: August 1, 2018 – Ventura, California – Ventura Raceway – "Ventura County Fair"
FIRST HEAT: (8 laps) 1. Jimmy May (#73 McCluney), 2. Randi Pankratz (#1 Pankrratz), 3. Tres Van Dyne (#37 Pankratz), 4. Adam Lemke (#41 Lemke). NT
SECOND HEAT: (8 laps) 1. Keoni Texeira (#22R Neverlift), 2. Tyler Slay (#15 Breidinger), 3. Chris Tramel (#26 Tramel), 4. Mike Leach (#33 Leach), 5. Joey Iest (#17 Iest). NT
FEATURE: (20 laps) 1. Tyler Slay, 2. Jimmy May, 3. Keoni Texeira, 4. Joey Iest, 5. Mike Leach, 6. Tres Van Dyne, 7. Randi Pankratz, 8. Chris Tramel, 9. Adam Lemke. NT
—————————–
FEATURE LAP LEADERS: Laps 1-8 Pankratz, Laps 9-20 Slay,
NEW USAC SPEED2 WESTERN OVERALL MIDGET STANDINGS: 1-Lemke-703, 2-Iest-526, 3-Blake Brannon-509, 4-Johnny Nichols-279, 5-Cody Jessop-219, 6-Slay-216, 7-Texeira-137, 8-Ariel Biggs-82, 9-May-75, 10-Toni Breidinger-72.
NEW USAC SPEED2 WESTERN DIRT MIDGET STANDINGS: 1-Slay-216, 2-Lemke-210, 3-Iest-208, 4-Texeira-137, 5-Ariel Biggs-82, 6-May-75, 7-Ashley Heredia-72, 8-Blake Brannon-70, 9-James Prickett-69, 10-Leach-63.
NEXT USAC SPEED2 WESTERN MIDGET RACE: August 11 – Madera (CA) Speedway