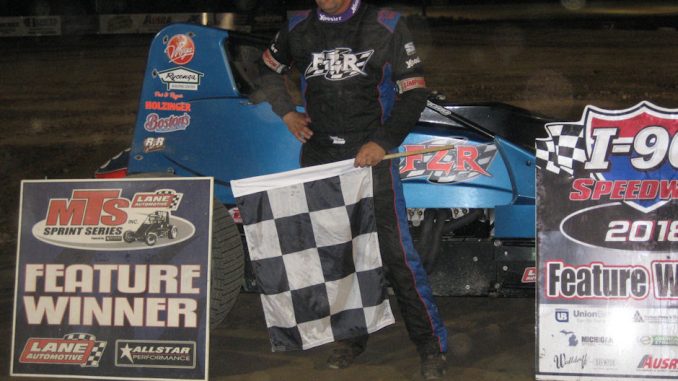 By Bob Buffenbarger
Lake Odessa, Mi.(8-3-18)- Steve Irwin came from the tail during a restart to capture the 20 lap Michigan Traditional Sprints feature at I-96 Speedway Friday night. Joe Bares started on the pole with Mike Burkin along side with Bares jumping out to a big early lead.
As Bares was looking strong running the high line, 4th starting Steve Irwin was beginning to make up some ground with Mike Galajda, Burkin and John Watson all in tow. Lap six saw Bares loose his lead as he spun off the track in turn two. Just as action resumed, the #40 of Jeff Wilson spun to bring out another caution. On the restart, the two lead cars of Irwin and Galajda made some contact at the flagstand and the following lap found Irwin going to the work area for a flat left rear.
Now Bares was making up ground from the tail as Irwin also went to the back for the restart. At half way Bares had climbed through the field and was contending for the lead again. By the 13th circuit Irwin had raced his way up to 2nd after some daring passes. Lap 15 found Irwin getting around Bares and taking the lead once again. Irwin maintained his advantage and went on to take the checkers over Bares, Mike Burkin, Galajda, Mike Astrauskas and Joh Watson.
Heat races went to Mike Galajda, Steve Irwin and John Watson.
(results are not official, complete results to follow)